A very interesting name to watch over the next week or so is BlackBerry (NASDAQ:BBRY). The company will be reporting earnings in about a week, and investors will be listening for clues on how the company's long-awaited turnaround is going. This is likely to be an ugly earnings report compared to the prior-year period. However, investors will be waiting to see how the new phone is selling, and how the company's balance sheet is holding up. Today, I'll detail the latest news on BlackBerry, preview the earnings report, and discuss an interesting development that some may not have expected. I'll also detail a preferred trade for the earnings report.
Earnings almost here:
Last week, BlackBerry announced its official earnings date. The company will be reporting earnings on June 19th, which is next Thursday. A conference call and live webcast will begin at 8AM Eastern. This report will cover the first fiscal quarter of 2015, which ended on May 31st. BlackBerry's current fiscal year ends on February 28, 2015, so this is not a calendar year company.
On the face of it, this report is likely to be ugly. Current estimates call for $969.56 million in revenues, down more than 68% from the prior-year period. Revenue estimates have declined since the Q4 report, at which time estimates for this Q1 period stood at $1.11 billion. That had to do with the company's revenue miss for Q4. On the flip side, the Q4 adjusted loss was not as much as expected. That has led analysts to raise their EPS estimates. Analysts are now looking for a $0.25 adjusted loss per share, which is wider than the $0.13 loss in the year-ago period. However, going into the Q4 report, analysts were looking for a $0.38 loss.
Likewise, we've seen a similar trend for fiscal year estimates. Since the Q4 report, the average fiscal 2015 revenue estimate has dipped from $4.16 billion to $3.93 billion. The current figure would represent a loss of more than 42%. However, analysts are only now looking for a $0.94 adjusted loss in the period, as compared to the expectation for a $1.29 loss when Q4 was reported. In the year-ago period, the adjusted loss was $1.35.
Time for the turnaround to kick into gear:
BlackBerry has been a major turnaround candidate for a few years now. Current CEO John Chen has sounded upbeat, saying that he is "quite confident that the patient can be saved." He gave himself an 80% chance. Chen says that the company's massive restructuring is nearing an end. I detailed above how loss expectations are improving, as BlackBerry looks to be profitable again in fiscal 2016.
Part of this turnaround is a partnership with Foxconn. Recently, BlackBerry launched the Z3, the first phone made available under the Foxconn partnership. The phone was launched initially in Indonesia, a market where BlackBerry still has a decent base. While the launch was late in the quarter, early sales numbers will be key. Analysts are expecting a sequential rise in revenues for Q2, and the year over year revenue loss is expected to be much less.
Another part of this turnaround is getting back to cash flow breakeven. The company is aiming to be cash flow positive by the end of this fiscal year. At the end of fiscal Q4, the company had approximately $2.66 billion in cash and investments, along with about $1.63 billion in long-term debt. The company has been selling off some of its real estate to raise funds, so we'll see some interesting balance sheet changes next week. Cash burn will be closely watched as the company tries to get back to breakeven.
This is a company that had nearly $20 billion in annual revenues a few years ago, so BlackBerry will not be "back" anytime soon. Investors need to get used to a smaller and more streamlined company. Revenues are currently expected to decline in fiscal 2016, but there's a while until that fiscal period starts. If BlackBerry's revenues start to improve, next year could see a year over year rise. If the company can reduce losses and get back to cash flow positive, investors will be more convinced in this company's future. This turnaround will continue to take time, and this quarterly report and commentary will be key. While I don't expect this stock to get back to $20 or the triple digits we saw in the past anytime soon, even a jump to $10 or $12 would be a tremendous return for investors.
Short interest continues lower:
One of the biggest parts of the bull case for BlackBerry in recent years was that a massive short squeeze could occur. BlackBerry has been a very highly shorted stock, and rightly so given the company's troubles. However, it was about this time last year where short interest peaked. Since then, as you can see in the chart below, short interest has fallen quite a bit.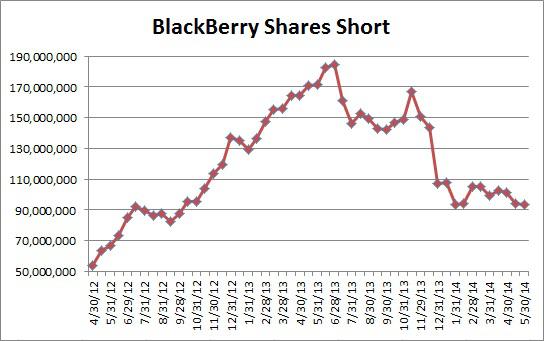 At the latest update from NASDAQ, short interest in BlackBerry was a little more than 93.4 million shares. That is the lowest short interest number since the late September 2012 update. Since the peak in late June 2013, short interest has nearly been halved. Nearly 20% of BlackBerry's float is still short, however, so the short squeeze thesis still has some merit. Obviously, the short squeeze potential is not as great as it used to be, but it is still there. This is especially true because average volume recently has been around 9 million shares, meaning it would take roughly two full weeks of trading volume for all shorts to cover. A good report next week could easily be a catalyst for a potential squeeze.
Final thoughts:
BlackBerry is in the midst of a turnaround, and it is time to get things going. The company has raised cash through debt and real estate sales, and that has strengthened the balance sheet. Part of this turnaround was a deal with Foxconn, and the Z3 phone was recently launched. It's time for the Foxconn deal to start paying off, and BlackBerry has nearly completed its massive restructuring. Next week's earnings report should provide some key clues as to how this turnaround is going. With over 93 million shares still short, any good news could send this name flying higher. The fact that so many shorts have already covered is encouraging, with short interest almost at a 2-year low.
For those that want to be long through the report, you could buy $8 puts that expire next week for just $0.49 currently, and those are in the money right now. For a couple pennies more, you could instead buy puts that expire the following week, providing protection in case of an extended slide. That kind of protection is probably smart. While you won't fully partake in a rally on good news, you don't want to be long only if shares drop on bad news. In the end, it is time for BlackBerry to get going.
Disclosure: The author has no positions in any stocks mentioned, and no plans to initiate any positions within the next 72 hours. The author wrote this article themselves, and it expresses their own opinions. The author is not receiving compensation for it (other than from Seeking Alpha). The author has no business relationship with any company whose stock is mentioned in this article.
Additional disclosure: Investors are always reminded that before making any investment, you should do your own proper due diligence on any name directly or indirectly mentioned in this article. Investors should also consider seeking advice from a broker or financial adviser before making any investment decisions. Any material in this article should be considered general information, and not relied on as a formal investment recommendation.