It is a common refrain heard from many cocksure investors today. Sure, the market is a bit expensive and overdue for a correction, but I'll simply wait for the inevitable -10% pullback, buy the dip and ride the market to new heights. But does such a strategy make sense at this stage of the graying bull market? A check on market history over the last century provides some useful clues.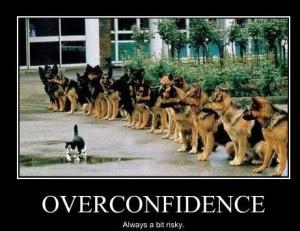 Today's ongoing and relentless bull market is running at 1,323 trading days and counting as of Tuesday's close. This marks the fourth longest running bull in market history. The only three that have run longer are listed below:
June 1949 to August 1956: 1,789 trading days
October 1974 to November 1980: 1,555 trading days
December 1987 to March 2000: 3,110 trading days
In short, we are currently operating in fairly rarefied air at this stage of the bull market. And of the three that are listed above, the bull market from 1974 to 1980 must be taken with a massive block of salt given the scorching case of inflation the U.S. economy was dealing with during this time. For when examining the S&P 500 Index (NYSEARCA:SPY) on an inflation-adjusted basis over this period, one could easily contend that any bull market at the time ended in September 1976 and the real price of the stock market actually drifted lower for the next six years until the end of the secular bear market in 1982. But for the purpose of this analysis, we will take the nominal prices for what they are.
Given that we are now sailing in market waters that have been traveled only three other times in past bull markets, how frequently did corrections in excess of -10% occur during the comparable late stages of these past bull markets? And how did the market respond once these corrections took place?
To make this assessment, the price performance of the last three bull markets was examined starting from the 1,324th trading day through to the end of each cycle. This was done to try and assess what we might expect if such a -10% correction took place starting from here forward in the current bull market.
During the 1949 to 1956 bull market, only one such -10% correction took place. From September 23 to October 11, 1955, or over the course of 12 trading days, the stock market declined by -10.58%. Was buying the dip rewarded in this circumstance? Initially the answer was yes, as the market did go on to rally with fits and starts over the next nine months. But what followed was a longer than average bear market that lasted nearly 15 months and took -21.63% off of the S&P 500 Index. In the end, investors could have bought back into the market at a lower price more than two years later in December 1957 after the bear market was over and spared themselves the pain of the decline along the way.
During the faux 1974 to 1980 bull market, stocks also only experienced one such correction in the form of a -17.07% nominal price pullback from February 13 to March 27, 1980, or 30 trading days. Was buying the dip rewarded in this case? Sure, on a nominal basis. But after taking inflation into account at the time, investors had the opportunity to buy back in at lower prices more than two years later in late 1982 after what was a 21-month bear market that broke out only a few months later and took -27.11% off of the nominal price of the S&P 500 Index.
What about the monster bull market from 1987 to 2000? The stock market experienced two post 1323 trading day corrections in excess of -10% toward the end of its record run. The first episode was of Long-Term Capital Management fame that helped take moral hazard to the next level and occurred from July 17 to August 31, 1998. The total decline was -19.34% lasting over 31 trading days. The second pullback came almost exactly one year later running from July 16 to October 15, 1999. This was a relatively longer decline at 64 trading days and shaved -12.08% off the market at the time. Was buying the dip rewarded in either of these two cases? Once again, the strategy was awarded initially, as stocks went on to rally through early 2000. Of course, as we all know now, investors ended up having two opportunities to buy back in at much lower prices after either of the two epic bear markets that followed. In short, an investor could have obtained a better price for waiting to buy in July 2009 than what they would have received buying the dip in the midst of the LTCM debacle more than a decade earlier.
Bottom Line
Corrections in excess of -10% have historically not occurred very often at this late of a stage in bull markets. And when they have taken place, buying the dips have been fraught with risk and challenges. For while those that are traders may have been nimble enough to capitalize on the dip in capturing some near-term upside before getting out, the longer-term investor ended up having ample opportunities to buy back into the market at lower prices, in some cases considerably so, at least more than two years later in each past instance.
Perhaps today's market is different and the next fleeting pullback in excess of -10% will represent a great opportunity for investors to capture attractive long-term entry points. But if such a correction were to take place, it would be the first time at this stage of our current long lasting bull market that stocks were able to pull off such a feat without eventually hitting even lower prices in any extended bear market that soon followed.
As a result, it may be prudent when buying any major dips in today's bull market to do so with extreme care and either nimble footing or the expectation that additional longer-term declines may eventually be sustained before it is all said and done.
Disclosure: This article is for information purposes only. There are risks involved with investing including loss of principal. Gerring Capital Partners makes no explicit or implicit guarantee with respect to performance or the outcome of any investment or projections made. There is no guarantee that the goals of the strategies discussed by Gerring Capital Partners will be met.
Disclosure: The author has no positions in any stocks mentioned, and no plans to initiate any positions within the next 72 hours. The author wrote this article themselves, and it expresses their own opinions. The author is not receiving compensation for it (other than from Seeking Alpha). The author has no business relationship with any company whose stock is mentioned in this article.
Additional disclosure: I am long stocks via the SPLV and XLU as well as selected individual names. I also hold a meaningful allocation to cash at the present time.