Peabody Energy (BTU) is the leading coal company in the U.S. The company's performance in the recent past has remained weak due to difficult coal market conditions. Lower natural gas prices, strict regulations and weak global economic conditions have taken a toll on the coal market. In the current business environment, coal companies, including BTU, have been cutting their costs to support earnings. However, I believe BTU's large operational scale and management strength position the company well to benefit from a coal market rebound in the future. Also, the company's current valuations remain depressed, consistent with the current industry environment, which makes it an attractive investment for long-term investors willing to play a coal market rebound.
The U.S. thermal coal market is expected to improve in upcoming quarters, as utility coal stockpiles at electricity power producers have dropped to their lowest levels since March 2006. In March, the coal stockpiles dropped to 118 million tons, down 24% since November 2013.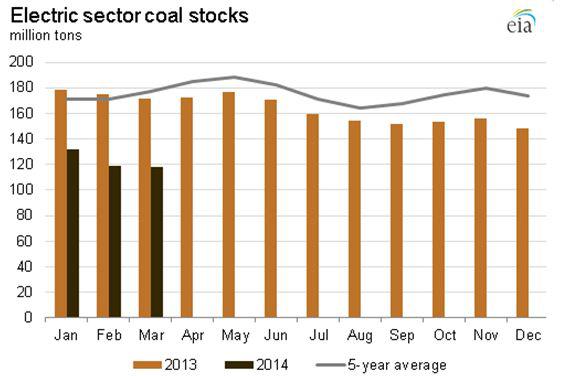 Source: eia.gov
As BTU is the largest thermal coal producer in the U.S. it is likely to benefit from higher coal-fired electricity generation. As coal prices have dropped and natural gas prices have strengthened in the recent past, coal-fired electricity generation has been trending upwards, which will portend well for BTU and the U.S. Coal Industry. In the recent first quarter, natural gas accounted for 23.5% of total U.S. electricity generation, whereas coal accounted for 42.5%, as compared to 40% and 36.5% in the first quarters of 2013 and 2012, respectively. According to EIA estimates, coal-fired electricity generation is expected to increase by 2% year-on-year in 2014. As coal-fired electricity generation will increase, it will improve thermal coal market fundamentals and result in a coal price recovery.
Financial Performance
The company reported an adjusted EPS of $(0.19), down from $(0.05) in 1Q2013. Lower-than-expected tax benefit had a negative effect of $0.16 per share on the recent first quarter's earnings. Also, a $14 million charge related to port logistic and a $15.6 million charge in relation to dispute under termination of Eastern U.S. Sourcing Agreement adversely affected 1Q2014 earnings. Excluding the charges, EBITDA for the quarter was $206 million, within the company's guidance range of $170-$230 million. EBITDA for the company's Australian operations came out to be $2 million for 1Q2014, which was adversely affected by lower coal prices.
The company was able to increase its sales volume to 61 million tons, up 7.2% year-on-year. Despite the higher sales volume for the recent first quarter, total revenues for the company dropped to $1.62 billion, down 7% year-on-year, as a result of lower realized price. BTU's revenue per ton in Australia and the U.S. dropped by 16% and 6.5% year-on-year to $74.48 and $20.65, respectively, in 1Q2014. Coal prices have been decreasing due to weak coal demand and oversupplied coal markets.
As coal market conditions remain weak, the company has been working to lower its cost curve to support earnings. Operational costs for the company were flat quarter-on-quarter in 1Q2014. The company's earnings could benefit from a repeal of the carbon tax, which would have a positive impact of $1-to-$2 per ton.
Guidance
The company also provided guidance for 2Q2014; BTU is expecting EPS of ($0.39) to ($0.14), as compared to consensus estimates of ($0.19). For the full-year 2014, the company lowered its CAPEX guidance by $27.5 million, while it maintained its sales volume and cost guidance.
The company now expects to realize 4%-to-7% lower prices in the U.S. in 2014, as compared to prior estimates of 5%-to-8%. In 1Q2014, the company also increased its contracted and price positions for 2014 and 2015. For 2014, the company increased its contracted position from 85%-to-90% to 90%-to-95%, and for 2015, the contracted position increased to 50%-to-60%, up from 45%-to-60%. The lower contracted position can be viewed as a positive for BTU, as it will allow the company to benefit from a recovery in price.
Conclusion
I am bullish on BTU and believe the stock remains a good investment for long-term investors to benefit from a coal market rebound. The U.S. coal market is likely to improve due to increased coal demand and better supply management. Also, higher natural gas prices and efforts undertaken by the company to lower its cost structure will portend well for the stock price. Moreover, the current valuations remain attractive, as the stock is trading at depressed valuations; P/S of 0.65x and P/B of 1.15x.
Disclosure: The author has no positions in any stocks mentioned, and no plans to initiate any positions within the next 72 hours. The author wrote this article themselves, and it expresses their own opinions. The author is not receiving compensation for it (other than from Seeking Alpha). The author has no business relationship with any company whose stock is mentioned in this article.