We are very pleased to report that J.C. Penney delivered its second consecutive quarter of comparable store sales growth, as well as continued gross margin improvement. It is clear that our efforts to re-merchandise many areas of the store and revamp our messaging to the customer are taking hold. Despite a difficult retail environment, our strong performance during the Easter holiday period and other key promotional events enabled us to deliver better than anticipated sales results. We expect to carry this momentum into the second quarter as we continue to position the company for long-term profitable growth.
-Myron E. Ullman, III, Chief Executive Officer J.C. Penney
Bearish investors usually make one crucial mistake when analyzing restructuring investments: They extrapolate the status quo. Just look at J.C. Penney (NYSE:JCP). After years of unnerving sales declines, most investors are worn down and emotionally drained. After all, when a company posts so many quarters of sequential sales declines, why should it change now?
Though the headline above is provocative, it quite succinctly illustrates the potential benefits of contrarian investing. There is a reason why highly successful investors such as Warren Buffett or Peter Lynch advocate buying when a stock gets hammered. Sentences such as "Buy when there is blood in the streets" or "be fearful when others are greedy, be greedy when others are fearful" capture essential investing wisdom that has been proven over and over again in history. Not convinced yet?
Then go back to 2008 when retail and institutional investors were panicking about the state of the U.S. financial sector and were throwing their bank and insurance shares on the market in a fascinating show of a market panic. Of course, some hardened contrarians snatched up those shares at a fraction of their real value. Just a few years later, people who bought in the midst of the panic came out on top and were laughing all the way to the bank. What is the similarity to J.C. Penney, you ask?
J.C. Penney is an equally despised retail investment and can be compared to a variety of other turnaround investments in the marketplace. Independent of industry, sector or asset class, panics always evolve the same way. And, most importantly, it is my investing experience that most turnarounds actually do succeed. In fact, the more buckets of dirt the community empties over a company and kicks it while it is on the ground, the more attractive the risk/reward ratio. Why?
First, capitalism works. When vested insiders and seasoned executives are threatened with a loss of wealth, jobs and reputation, creative forces are unleashed in order to come up with new solutions to existing problems. I have seen this over and over in the distressed securities business and I venture to guess, that this time will not be different -- as opposed to Bears who still believe the company is on the brink of failure.
Secondly, panics can be extremely lucrative (and entertaining) for investors who want to make selective investments. This is because investors are subject to herd behavior and rarely think about the fundamentals of investing when panic gets a hold of them. Also, things are never really as bad as they seem on first glance and investors clearly have a tendency to overreact.
Thirdly, restructuring investments such as J.C. Penney usually have bad financial characteristics; a high cash burn, a bad balance sheet, declining sales and margins. I do acknowledge that. However, the current state of J.C. Penney does not have to be the future state of the company.
J.C. Penney's metrics are improving across the board. Fourth quarter 2013 and first quarter 2014 results have shown that sales are strongly rebounding. First quarter comparable same store sales increased 6.2% y-o-y and SG&A expenses were pushed down 6.4% y-o-y -- this is some solid improvement right there. Gross margin improvements and an upbeat outlook for the remainder of the year are all positive signs that the ship is turning course.
Short interest
Another characteristic of a promising turnaround investment -- which I find absolutely fascinating -- is, that short interest often peaks just when the stock is bottoming out. I have written at some point, that BlackBerry's (NASDAQ:BBRY) short interest also peaked just when the shares found their bottom and it indeed is a fascinating observation.
The short interest overview below highlights that J.C. Penney's short interest peaked in February 2014, and, as you can see in the stock chart further below, just about when J.C. Penney's stock bottomed out in the $5 region.
$5 for J.C. Penney was clearly absolutely bargain level and I have aggressively recommended the stock for contrarian investors in my article "Whoa, Just $5 Per Share But I Will Buy More".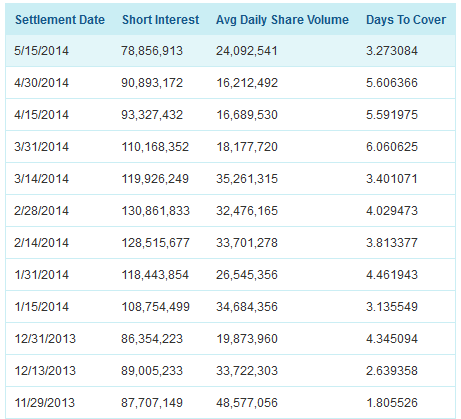 (Source: Nasdaq)
Chart situation
J.C. Penney's stock did not only rebound strongly after fourth quarter 2013 results, but also managed to defend its ground over the last three months. J.C. Penney is now trading in the $8-9 region and I expect less intense upward movement over the course of the year.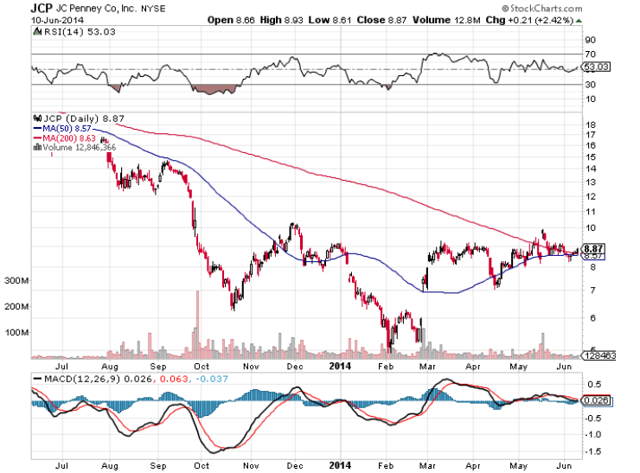 Conclusion
Investors who doubt the return potential of J.C. Penney, or any other restructuring investment for that matter, don't really have much to do other than to head over to articles about Bank of America (NYSE:BAC) written in 2011/2012 or articles about Rite Aid (NYSE:RAD) in 2012 to realize 1. how overwhelmingly negative investors were with regard to these stocks and 2. how reality really played out for the stocks in question: Returns way north of 100% since their lows were the reward for investors who didn't listen to the insistent denigrating of such companies.
While Bears did raise some valid points in the past about cash burn, liquidity and other issues, I wholeheartedly disagree with the approach, that we just extrapolate J.C. Penney's cash burn rates and declining margins (they aren't declining any more, though) until we reach zero and then the last investor standing turns off the lights.
Investing doesn't work like this. In my experience, and this is a subjective measure, 95% of companies that are rumored to go bankrupt will not go bankrupt. I would venture to guess, that even RadioShack (NYSE:RSH) will not go bankrupt, but will find an alternative restructuring solution. With operating leverage, a return of investor confidence and stabilizing sales growth, J.C. Penney has got all the tools in place to pull off a Rite Aid-like turnaround story. Strong Buy.
Disclosure: The author is long JCP, BBRY, BAC. The author wrote this article themselves, and it expresses their own opinions. The author is not receiving compensation for it (other than from Seeking Alpha). The author has no business relationship with any company whose stock is mentioned in this article.