Our view over the last few months has been - and still is - that the combination of better economic and consumer news should be good for Canadian risk assets, outweighing the credit and inflation fears that continue to rumble. It appears that the market has worried too much about the road ahead. Based on reasonable growth data, improving readings from manufacturing activities, and ongoing healing in the private sector, it appears the balance of risks points to medium-term upside in iShares MSCI Canada ETF (NYSEARCA:EWC).
The latest economic data is consistent with a moderate expansion of industrial activity in Canada. Despite the weakness in economic growth trends, with corporate profits holding up reasonably well. As long as the economic data continues to allow the market to take down recession risk, these themes are likely to run further. Furthermore, we expect business investment to continue growing at a healthy pace, which should also help the more positive tone to markets.
As a net exporter of commodities including oil and gas, Canada benefits from higher commodity prices. With a significant portion of Canada's exports coming out of the energy sector, the continued price growth was a clear windfall for the nation's GDP growth. In the financial markets, the strong positive correlation between energy prices and Canada's stock index is instrumental in identifying trends. With a bullish view on the commodity complex, and energy prices in particular, we think that Canada's stock index will be a clear beneficiary given its significant weights in oil and natural gas.
Looking at the near-term data calendar and improved expectations for the news flow, we do need to point out that it is harder than it was a few weeks ago to identify the source of the next surprise. However, it now seems likely that some stabilization in industrial production will follow and the growth picture will look a little better for a while, consistent with our forecasts. Given the current economic condition, we still have a positive tilt in our view on EWC. When we get more confirmation of improvements in the broader economics, we can position for even more cyclical exposures to Canada's asset markets.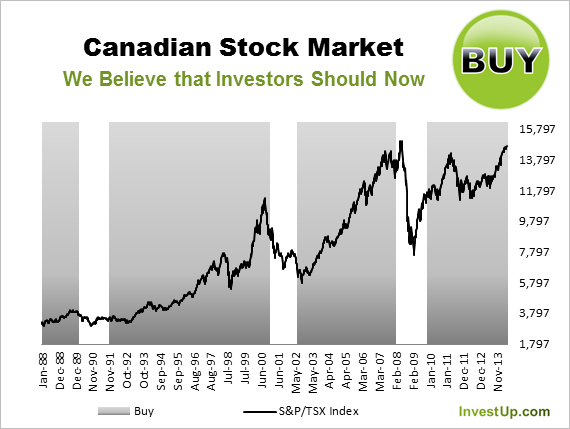 Disclosure: The author has no positions in any stocks mentioned, and no plans to initiate any positions within the next 72 hours.
Business relationship disclosure: The article has been written by Invest Up Inc., Senior Strategist. Invest Up Inc. is not receiving compensation for it (other than from Seeking Alpha). Invest Up Inc. has no business relationship with any company whose stock is mentioned in this article.