Introduction
Earlier this week we got a glimpse into the future of Apple's (NASDAQ:AAPL) upcoming operating system updates iOS 8 and OS X Yosemite through the World Wide Developer Conference (WDDC). For these new versions, Apple discussed a barrage of new features for both the Mac and iPhone while also emphasizing a strong unity that they will be forming. Unlike Microsoft (NASDAQ:MSFT) which suffers from the lack of a compelling mobile phone and Google (NASDAQ:GOOG) which lacks a compelling computer operating system, Apple has both an incredible phone and computer. Apple is the only company which manufacturers its own mobile phones, tablets, & computers and in doing so Apple has created an ecosystem that's unmatched by any other company.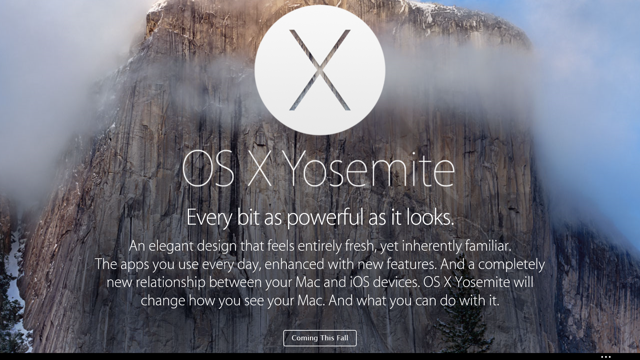 Source: Apple
iOS 8
For WDDC 2014, there were a large number of improvements to iOS 8, including the implementation of features that have already existed in other devices like predictive text messaging and battery usage breakdown. However, we all know that when Apple finally decides to launch a technology, it does so with perfection; with some exceptions of course, like Maps and Apple TV.
Some of the major improvements in iOS were centered on the Messages app which has arguably become the best default messaging application in any phone. With the new Messages app, users will now experience features similar to what they can find on Facebook (NASDAQ:FB) Messenger, Whatsapp and other third-party messenger apps. With Messages, users will now be able to create group messages where you can add or remove other users at any time while being able to leave the conversation or stop notifications. In addition, users of Messages will be able to voluntarily share their exact location which can be viewed by anyone, which can be very useful for meeting up. The only problem with this system is its exclusivity to Apple and while normally this is a problem, an attractive ecosystem somehow makes it more acceptable.
Yosemite
With the upcoming OS X Yosemite, we can see that the new interface gets its inspiration from the good looks found in iOS 7. As smooth and incredible as it is to see multi-window viewing with powerful transitions, Mac's look has been getting a little outdated. Although Yosemite doesn't look as attractive as iOS 7, there is an overhaul in attractive new icons in a more translucent design and when looking at the notification center, you'll find it to look exactly like iOS.
In addition to good looks, Yosemite also sports an improved Spotlight search tool that will now be able to search for people, mail, events and more. We're also seeing the introduction to an online storage system similar to Skydrive and Google Drive and it will be known as iCloud Drive and it will be available in a similar fashion from all Apple platforms as well as the web. However, the most important feature coming to Yosemite, or at least for iPhone users, is the integration between the two.
The Unity
One of the greatest advantages Apple has is a well-diversified ecosystem. By itself, it has built strong foundations in computers, tablets, and phones and with iOS 8 and Yosemite - they will now be closer to each other. While Apple's mobile phone and tablet dominates the market, the Mac is still at a very small market share compared to Windows, but with the assistance of the strong implementations that they will both share, I believe that Macs are going to start to become slightly more popular. To label a few of the advantages, here's a list of some of the new features that help unify Mac and iOS:
Handoff - A feature that can allow you to switch from one device to the other and continue doing the same task such as web browsing or emailing.
Yosemite will be able to accept incoming calls from the user's iPhone as well as dial out.
All text messages can be synced, received, and sent to Mac, including SMS
Instant Hot Spot feature can allow the user to generate an automatic hot spot without complicated configurations
Files can be shared through iCloud
Mac and iPhones will now be able to transfer files between each other via AirDrop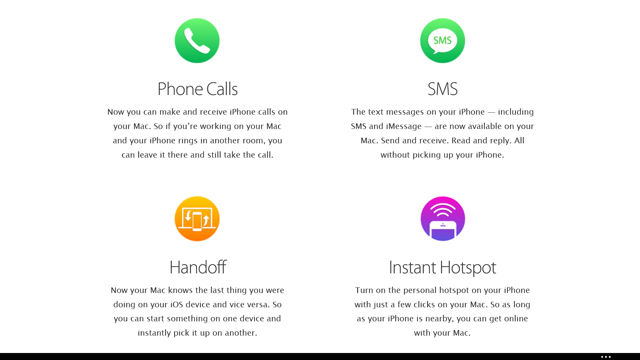 Source: Apple
The advantage here is that there is no other satisfying consumer laptop & phone combo that can match this and there will be many users who realize this and will desire it. Personally, I don't own an iPhone or Mac and I use a Surface Pro and Android device. I use Surface Pro to take notes, view books, and write articles and its convenience is unmatched, as I don't even need to take a notebook or book with me to class. However, I plan on upgrading to an iPhone in the near future and I will likely embrace the entire ecosystem and upgrade to a MacBook as well. The ecosystem just can't be matched.
It Will Take Time
By creating an ecosystem that both computer users and mobile phone will desire, a big opportunity to create revenue growth is present. However, it's going to take some time due to the life cycle of the computer. Unlike cell phones where users are eager to get a new device as soon as the latest technology launches, PCs tend to last a while longer. This is because PCs generally cost more and are purchased as an investment. In most cases you'll find that people will try to keep their computers for as long as possible, no matter how good the latest technology is. This usually puts the life span of a computer in the range of a few years to more than a decade. As an example of a long life cycle, we saw a slight jump in PC sales following Microsoft's move to end support for the 13 year-old Windows XP operating system. If you couple this with a slowed PC market, any major transition of PC sales in favor of Apple could take several years. However, I believe that it could still happen.
Conclusion
During WWDC, Apple mentioned that 98% of Fortune 500 enterprises used iOS for their mobile devices. Even though they want to haul in that last two percent, I find that the ecosystem Apple has created for iOS and OS X Yosemite will have a much greater impact on future revenue growth. You can't question the strong growing user base as it's crystal clear. During the last earnings conference call, Apple stated that half of the newly registered iPhones came from first-time users. For iPads, first-time users accounted for two-thirds of newly registered iPads.
From an investor's standpoint - this is very good news. Apple, which thrives on the halo effect has embraced new customers that, with the more attractive ecosystem, will find them with an even deeper inclination to buy Mac computers. Even with the entire PC market shrinking, the total addressable market can contribute to continued growth for Apple's future. This is why Apple's PC sales are still growing and I expect the trend to continue. I also find this to be supportive of my outlook in seeing Apple's future dominate the PC market.
Disclosure: The author has no positions in any stocks mentioned, and no plans to initiate any positions within the next 72 hours. The author wrote this article themselves, and it expresses their own opinions. The author is not receiving compensation for it (other than from Seeking Alpha). The author has no business relationship with any company whose stock is mentioned in this article.