This is the seventh of several articles I am writing to show you exactly what I am doing to cope with an unexpected job loss after middle age, but before retirement age. The first installment, titled Part 1, was introductory. In Part 2, I began to explore my strategy in asset allocation and I covered the Business Development Companies I chose for my portfolio. In Parts 3, 4, and 5 I explored my Real Estate Investment Trust choices, banks and energy companies, and Utility companies. In Part 6, I began to look at the largest of my categories which I call "USA Industrials." Today in Part 7, we will complete our discussion of "USA Industrials." Some may disagree with my logic, some may complain that I have the advantage of age and a head start, but everyone can rest assured that I will honestly tell you exactly what I am doing with my own money.
______________________________
Today we continue looking at the asset allocations I used for my Rollover IRA. If this is the first time you are reading one of my articles, I suggest you go back and read "Unplanned Early Retirement, Part 1" to get the background on my situation. You might also want to read Parts 2, 3, 4, 5, and 6 depending on which types of investments interest you.
My 401k to IRA Rollover action plan consisted of asset allocations and specific dollar targets for each security within each asset class. I was looking for positions that either had dividend growth with a yield at least 3% or 4%, or in the absence of dividend growth, I wanted yields in the 5% to 6% range or higher. I allowed myself some flexibility on these rules for the sake of diversification. I avoided positions that might generate foreign taxes or otherwise would make no sense in a tax deferred account. My final asset allocation plan, as executed in January and February 2014, was as shown in the following table: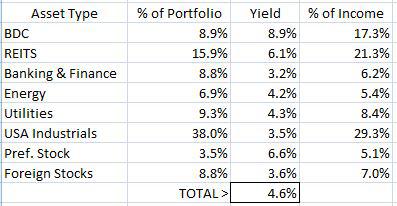 As I state in one of my disclaimers, I am not a certified financial planner of any kind. You may notice that not all of the companies I discuss today would be classified as "Industrials" in an educated financial setting. The term "Industrials" typically refers to companies that are engaged in manufacturing. For my purposes, however, I included fast food companies and retailers. These are the companies that Americans know either by name or by product. They provide "things" for American people from food to drugs to electronics to household goods. The amount of each stock that I purchased is a reflection of my opinion of the company and its price on the day of purchase balanced against my knowledge of the amount of that stock I already owned in my taxable account. I have 20 different companies in this list. In Part 6, I discussed the first 10 positions, so in this installment I will discuss the remaining 10 companies. Without further discussion, in order from largest investment to smallest, here are positions 11 through 20 in my "USA Industrials" category.
Company number 11 is General Mills, Inc. (NYSE:GIS). GIS is the owner and purveyor of a large number of iconic American brands. I suppose almost every American child knows Cheerios. Our kids started eating them as finger food as soon as they began teething. Their other brands of packaged foods are also as familiar as everyday life. The company was founded in 1928 and is based in Minneapolis. The current dividend yield is 3.0% and has been rising. I put 1.89% of my Rollover account in GIS on 1/31, and as of today it is up 15% in a little over 4 months including reinvested dividends.
Selection number 12 is a drug company, Pfizer Inc. (NYSE:PFE). Like Eli Lilly, discussed in Part 6, PFE makes many of the name brand drugs on which our population is dependent. PFE classifies itself as a biopharmaceutical company and has Primary Care and Specialty Care divisions. The Specialty Care division also includes oncology. They are a worldwide company with distribution to all corners of the globe. Company debt is very low and margins are very good. Revenue growth is a big question mark. Current yield is 3.5% and payout ratio is only about 31%. Dividends have been rising annually for several years. I have owned PFE for many years in my taxable account, and have had decent success with it, but as with all drug companies, new drug pipelines are a key for revenue growth. As patents expire new products must come out just to maintain revenues. This is the biggest risk in drug companies, but rewards can also be great. You must make sure you get in at a good price. I put 1.79% of my Rollover in PFE, but unfortunately that position is down almost 2% in four months including reinvested dividends. Apparently, my purchase price in this case was not as good as I thought.
Company number 13 is Johnson & Johnson (NYSE:JNJ). JNJ is also a drug company, but they are so much more. They operate in three segments including Consumer, Pharmaceutical, and Medical Devices & Diagnostics. The Consumer group produces many familiar brands such as Listerine and Splenda covering the gamut from personal care products to artificial sweeteners. The Pharmaceutical group is a full line drug research, manufacturing, and distribution company. JNJ was founded in 1885 and is based in New Jersey. Company debt is very low and margins are good. Revenue and earnings have both been growing. Current yield is only 2.7% and payout ratio is about 50%, but dividends have been rising every year for 52 years. This is my kind of company for sure. I have owned JNJ in my taxable account for many years and a small original investment has become a large part of my account through dividend growth and reinvestment. I put 1.73% of my Rollover in JNJ, and that position is up almost 18.3% in four months including reinvested dividends.
My fourteenth pick is The Clorox Company (NYSE:CLX). I have had CLX on my watch list for a long time for various reasons. One of the most important reasons is that they have raised their dividend every year for the past 37 years and that now stands at 3.3% with a 64% payout ratio. Clorox is another iconic American brand, though that phrase is beginning to sound redundant when discussing this part of my portfolio. One of the reasons I never bought any shares before was that I thought of the company as playing to a limited market, dependent largely on repackaging sodium hypochlorite in various forms from Clorox bleach to Liquid-Plumr, and frankly knowing what I know about manufacturing, I thought they lacked one key ingredient I wanted, namely a barrier to entry that could protect their markets. After all, in my own household we often buy store-brand bleach. I should have looked more closely, however, because CLX is not a one trick pony. They own Glad, Fresh Step, Scoop Away, Kingsford, and Match Light. In packaged foods they own Hidden Valley and KC Masterpiece. They own Brita and Burts Bees. Good brand names with quality reputations are barriers to entry in themselves. Besides, who can argue with dividend increase history? I put 1.71% of my Rollover in CLX and including reinvested dividends that investment is up 5.8% in a little over 4 months.
Pick number 15 is Target Corp. (NYSE:TGT). I do not know if some you are laughing now, or if some of you just now decided not to read any more of my articles. You may think this pick looks a little out of character for me, but I had several reasons. Everyone knows Target, most of you have probably shopped there, and I am sure most of you know all the bad press they had for exposing customer credit cards to ID theft hackers. The stock got hammered for that blunder and that bad publicity. That hammering led me to take two actions. First, I signed up with a major identity theft protection company. I got the full blown protection package on myself and the basic package for each member of my family. The second action I took was to buy TGT. Why? Because I firmly believe you get a better value if you buy a stock when it is down, but the business has not fundamentally changed. The fact that TGT was hacked is not an indictment of TGT itself, in my opinion. It could have just as well been Wal-Mart or Sears. So I think I got TGT at a good price. In the meantime, I have a stock that at today's price pays a current yield of 3% and has increased that payout every year for the past 46 years. Surprising, huh? TGT is a dividend champion. I put 1.64% of my Rollover IRA in TGT and in 4 months that investment is up 7% including dividends.
Pick number 16 is Pepsico, Inc. (NYSE:PEP). I have owned Coke (NYSE:KO) in my taxable account a lot longer than I have owned Pepsi, and I really favor Coke, but Pepsi has a lot to recommend it. Pepsi is another iconic American brand, though not as well known worldwide as Coke. I consider Coke to be the king of non-alcoholic beverages and distribution, but Pepsi has the Frito-Lay part of the company for which KO has no answer. When I say Pepsi and Frito-Lay I do not really need to explain anything else about their markets. PEP pays a current dividend of 3% and has raised the payout every year for 42 years. I love that kind of consistency. I put 1.57% of my IRA in PEP and that investment is up 10.9% in 4 months with dividends reinvested.
Pick number 17 is The Procter & Gamble Company (NYSE:PG). PG was founded in 1837 and is based in Cincinnati, Ohio. Everyone knows the products from PG. From personal care products like Head & Shoulders, Olay, and Pantene to devices from Braun, Fusion, and Gillette to Oral-B and Crest toothpaste, PG brands are everywhere. Then you have products as diverse as Dawn dishwashing liquid, Tide laundry detergent, Bounty paper towels, Charmin toilet paper, and Duracell batteries. PG is a major consumer manufacturing and marketing force. The current dividend payout at today's stock price is 3.2% and the payout has increased every year for the past 58 years. Not bad. I put 1.49% of the IRA in PG and that investment is up 6.1% in 4 months including reinvested dividends.
Pick number 18 is the king of retail, Wal-Mart Stores Inc. (NYSE:WMT). To be honest, this was not a high conviction pick. I own WMT in my taxable account, and it has been good, but the current yield at today's price is only 2.5% which is below my stated guidelines for this account. WMT does have a 41 year history of dividend increases, however, and I looked at the price as a bargain. I put 1.45% of my IRA in WMT and that investment is up 4.3% including dividends.
Pick number 19 is Sonoco Products Co. (NYSE:SON). Unlike many of my other picks, most people will not recognize SON. This is kind of a down home pick for me. Sonoco was once known as the Southern Novelty Company and is based in the small town of Hartsville, SC. Sonoco makes some very mundane, but necessary, products such as paperboard, box stock, paperboard tubes, plastic bottles, jugs, and various other packaging products. Some of these products are actually very high tech. This is a good basic industrial company based near the area where I grew up. When I was a boy, we would gather a pickup truck load of scrap cardboard boxes and take them to Sonoco in Hartsville for recycling when we needed a little cash. Sonoco would pay us by the pound to recycle "trash." (Now we pay our trash companies and local governments for that privilege.) At today's price, SON pays a 3% dividend and they have increased the payout every year for the past 32 years. Not bad for a company based in Hartsville. I put 0.81% of my IRA in SON and that investment is up 4.2% so far including dividends.
My last pick in this segment is Diebold, Incorporated (NYSE:DBD), a champion of Dividend Aristocrats. DBD has increased its payout every year for the past 60 years. That goes back to the Korean War, and precedes my time on this earth. When I think of Diebold, I think of bank vaults and safes, but DBD is really a technology company. They make high tech devices to handle high value products, such as automated teller machines to dispense money. They also offer everything for security from cameras to pneumatic tube delivery systems (which I thought were so cool when I was a kid) to bullet resistant glass. At today's price their dividend yield is 3.1%. I put only 0.64% of my IRA in DBD. As of today that investment is up 16.7% in 4 months. I do not know why I did not buy more when I had the chance.
In looking at this group of investments I classified as "USA Industrials" you probably caught on to the fact that I really do like solid companies, with good business fundamentals, who return cash to the shareholders by increasing payouts on a regular basis. The summaries above illustrate one important feature you can discover with a little work and a calculator. When you get a quality dividend growth company at a good, depressed price, the price will go up sooner or later, and those increasing payouts will compound quickly. The result is a rapidly growing yield on cost. For example, if you look at DBD above, the current yield is only 3.1%, but my yield on cost is actually 3.6%, and I expect that to continue to grow over the years. Pick strong companies, with solid dividend growth history, and buy them when the overall market drags them down for no apparent fundamental reason. Those are good rules for investing in stocks.
Please note that there is no way to do an exhaustive essay on any one of these companies when I am trying to cover several of them in one article. In my own research, I considered a lot more aspects than I can cover here. If this article generates some interest, please study carefully and do your own due diligence before investing your hard-earned money.
In my next installment, I will discuss preferred stocks and foreign companies and maybe I can bring this series of articles to a close. I hope you will tune in.
Disclosure: The author is long CLX, DBD, GIS, JNJ, KO, PEP, PFE, PG, SON, TGT, WMT. The author wrote this article themselves, and it expresses their own opinions. The author is not receiving compensation for it (other than from Seeking Alpha). The author has no business relationship with any company whose stock is mentioned in this article.
Additional disclosure: I am not a certified financial expert of any kind. This essay serves as a journal of my own experience.