2013 was a good year for McDonald's (NYSE:MCD). The company showed decent growth in its top and bottom lines, and delivered a high return on equity. Although, its share price moved only 8% last year, the company also rewarded its shareholders with a 10% increase to its dividend. Year-to-date, the stock surged nearly 4%.
McDonald's operates in the fast food industry. The company holds a market share of 31% in the industry. Because the domestic market is saturated, major industry players like McDonald's are expanding their operations in emerging markets, particularly China, where they have promising growth opportunities. The U.S. fast food restaurant industry is expected to grow 10% during the period of 2013-2018. Emerging economies are attractive to fast food players due to their large populations, fast paced population growth, concentration of younger consumers, and growing affinity for Western diets.
China is an important growth market for McDonald's. It is the third largest market for the company after the U.S. and Japan. McDonald's holds a 15.6% market share of China's fast-food market. The company is experiencing strong growth in the region. Its comparable sales in China increased 6.6% in Q1 2014. China will provide great growth opportunities to McDonald's. China's fast food & takeaway market grew 80% from 2007-2012 to RMB 1 trillion ($162 billion). The market is expected to hit RMB 1.8 trillion ($292 billion) by 2017, driven by the economic growth and development in lower-tier cities. McDonald's is investing heavily in China to benefit from this growing market. The company will spend $3 billion this year to open 1,600 new restaurants around the globe, China will get one of the biggest shares. It will open 300 locations in China, up from 250 last year and quadruple the number in 2004. The company's goal is to have more than 2,000 restaurants in China by the end of 2014.
McDonald's also plans to grow its franchising business in China. Currently, 15% of the company's restaurants in the country are franchised, and the chain's goal is to increase this percentage to 20%-25% within the next quarter. Franchising is critical to the growth and success of McDonald's. Franchises require less capital expenditure than the company-owned model, but still provide a steady stream of rent and royalty income with relatively low costs. Beyond risk mitigation franchises also place greater responsibility upon local owners. Growing through franchises will help to keep McDonald's capital expenses lower, avoid risk, and provide a diversified revenue stream. Further, franchising expansion in international markets will allow for the company to receive greater income from countries with lower tax rates.
Recently, McDonald's entered Vietnam, and opened its first restaurant in the southern City of Ho Chi Minh. The company sees tremendous growth opportunity in Vietnam's fast-food market. The first outlet in the region served more than 400,000 customers in its first month of business. The fast-food market in Vietnam grew 13.9% in 2012 and is expected to grow by 15% in 2014. McDonald's intends to expand its presence in the region to benefit from the growing fast-food market. After the success of the first restaurant, the company will open one more restaurant in Vietnam by the end of this year.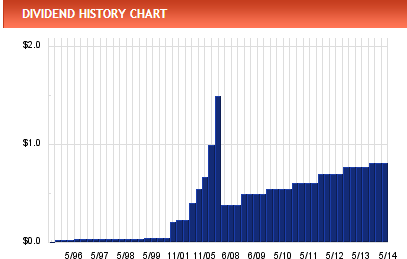 Source: dividendchannel.com
McDonald's is also attractive for dividend investors, offering a current yield of 3.20%. The company has paid a dividend since 1976, and has increased dividends in each of the last 36 years. It returned $1.2 billion to shareholders through dividends and share repurchases in the first quarter of 2014. Over the past five years, McDonald's has increased its annual dividend by over 10% per year, which is quite nice. A 10% growth in dividends translates into the dividend payment doubling almost every seven years. Analysts are expecting that the company will report revenue of $28.92 billion this year and $29.77 billion next year. EPS is estimated to be $5.75 and $6.27 in the current year and next year, respectively. As the company's revenue is expected to grow, so are its dividends. McDonald's plans to return $18 billion to $20 billion to its shareholders through dividends and share repurchases during the period of 2014-2016. Its current dividend payout ratio is 57%, which leaves room for future payout growth.
Bottom Line
The future of McDonald's looks bright. The company has great growth opportunities in emerging markets such as China and Vietnam. It is a great dividend stock for long-term investors. The strong financial position of McDonald's will allow it to pay dividends for years to come. In my opinion, McDonald's is an attractive investment for long-term investors.
Disclosure: The author has no positions in any stocks mentioned, and no plans to initiate any positions within the next 72 hours. The author wrote this article themselves, and it expresses their own opinions. The author is not receiving compensation for it (other than from Seeking Alpha). The author has no business relationship with any company whose stock is mentioned in this article.