This is the third article in a series of articles where I will highlight the "best-of-breed" stock for each of the nine major sectors covered by the SPDRs. For this article, I will be covering the holdings of the Energy SPDR (NYSEARCA:XLE) and the Materials SPDR (NYSEARCA:XLB) to find the top stock in each. To aid in my search, I will be using the Finviz.com stock screener to screen for fundamentals, corporate governance data from Institutional Shareholder Services [ISS], and glassdoor.com for CEO approval ratings. The reason why I chose these three categories was that I wanted to find companies with strong fundamentals, good corporate governance, and companies with employees who believe in management.
Best of Breed Part 1: Technology & Utilities
Best of Breed Part 2: Staples & Discretionary
Step #1: Finviz Screener Criteria
I downloaded the holdings for XLE and XLB into a spreadsheet, and copied them into the Finviz stock screener. I then used the following bullets below, which are the screen criteria I used to get my initial list of stocks. I found that only 2 stocks of the 44 holdings for XLE and 4 of the 30 holdings for XLB met the criteria I set below, and those companies are listed in the table below my criteria.
Return on Equity: +10%
Return on Investment: +5%
EPS Growth Past 5 years: Positive
EPS Growth Next 5 years: Positive
LT Debt/Equity: <1
Dividend Yield: Positive
Operating Margin: >20%
Profit Margin: >10%
Float Short: <5%
Performance [1 year]: Up
Energy

Materials

(NYSE:COP)

ConocoPhillips

(NYSE:CF)

CF Industries Holdings

(NYSE:SLB)

Schlumberger Ltd.

(NYSE:FCX)

Freeport-McMoRan Copper & Gold

(NYSE:MON)

Monsanto Co.

(NASDAQ:SIAL)

Sigma-Aldrich Corp.
Step #2: ISS Corporate Governance
For this step, I looked at the corporate governance score from ISS to see which companies had the lowest score. The score ISS gives is from 1-10, with 1 being the best score, which means that company has the lowest governance risk, whereas a score of 10 means that company has a high governance risk. The governance score for each company is listed in the table below, and the top 50% are highlighted, and those stocks will make it to my final step.
Energy

Materials

Governance Rating

Governance Rating

SLB

Schlumberger Ltd.

1

SIAL

Sigma-Aldrich Corp.

1

COP

ConocoPhillips

6

MON

Monsanto Co.

3

CF

CF Industries Holdings

8

FCX

Freeport-McMoRan Copper & Gold

9
Step #3: CEO Approval
For this step, I looked at the CEO approval ratings for each of the top companies from my corporate governance section above for Energy and Materials, and the results are shown in the table below. In addition, even though SLB was the stock with the best governance score above, I still included COP to show that COP has a slightly higher CEO approval rating of 92%, which is only slightly above the 89% rating SLB received. Based on the results of my governance test, I determined that Schlumberger was the winner because of its higher governance rating. The Materials company with the highest CEO approval rating was Monsanto, with 93%, and thus is the company that I have determined is the "best-of-breed" stock for the consumer discretionary sector, beating out Sigma-Aldrich.
Energy

Materials

CEO Approval

CEO Approval

SLB

Schlumberger Ltd.

89%

MON

Monsanto Co.

93%

COP

ConocoPhillips

92%

SIAL

Sigma-Aldrich Corp.

57%
Performance of Schlumberger and Monsanto
The two charts below show the performance of SLB and MON compared to XLE and XLB since the inception in 1998 for XLE, and since October 2000 for XLB, since that was the first month of trading for MON. As you can see, SLB steadily outperformed XLE, and MON has significantly outperformed the XLB with a return that is over triple that of XLB over that same period.
Chart #1: Schlumberger [Black line] vs. XLE [Blue Line]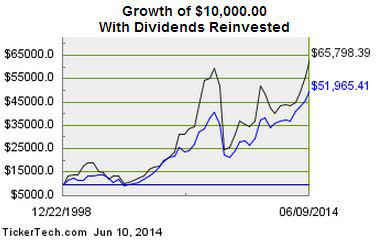 Chart #2: Monsanto [Black line] vs. XLB [Blue Line]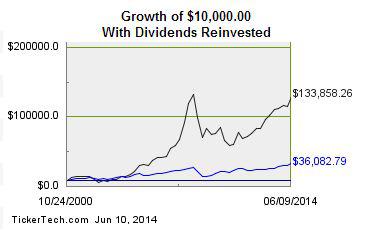 The pair of charts below show the yearly dividend totals for SLB and MON, and shows that SLB has grown its dividend steadily since 2006. In addition, the SLB dividend chart shows that leading up to the financial crisis, SLB was raising its dividend, then during the crisis, it remained flat, which tells me the management can effectively manage during a crisis period. MON has been a strong dividend growth stock, raising its dividend every year since 2006, and it even raised the dividend during the financial crisis. [Dividend Data from Dividendchannel.com]


Closing thoughts
I believe Schlumberger and Monsanto are worth a deeper look, because they met all my fundamental criteria, which I believe are important factors that make each company strong. In addition, including additional factors like corporate governance and how employees view management, I believe when combined with strong fundamentals, is a solid method of determining stocks that are best-of-breed. In my next article, I will be covering the Financials and Industrials.
Disclosure: The author has no positions in any stocks mentioned, and no plans to initiate any positions within the next 72 hours. The author wrote this article themselves, and it expresses their own opinions. The author is not receiving compensation for it (other than from Seeking Alpha). The author has no business relationship with any company whose stock is mentioned in this article.