Everyone currently invested in the tobacco sector is wise to exercise caution considering the payout ratios we are currently seeing amongst all the major companies.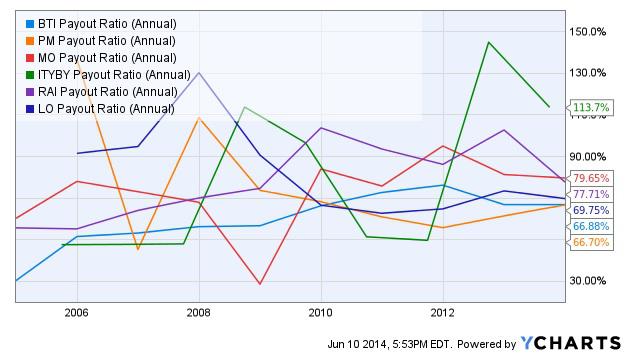 For this article I will be giving my thoughts on British American Tobacco (NYSEMKT:BTI) which I currently own in my portfolio representing a 4.76% holding. I also hold Imperial Tobacco (ITYBY) and if you invested after reading my very first publication here on Seeking Alpha titled "Building An Empire With Imperial Tobacco" you would presently be enjoying 19.23% in stock appreciation. Imperial Tobacco represents 9.14% of my portfolio .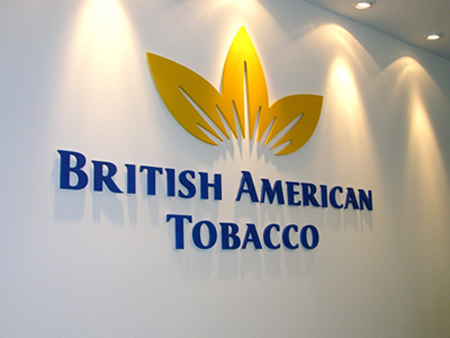 British American Tobacco is the world's second largest tobacco company by market share, which stands at $111.43 billion. The company boasts over 200 brands in over 200 markets and employs more than 57,000 people to handle this major diversity. The five global brands that help drive the company forward are Dunhill, Kent, Lucky Strike, Pall Mall and Rothmans. These brands represent more than a third of the company's sales in the financial year. In October 2013 the company became the first international tobacco company to launch an e-cigarette in the UK known as Vype.
Recent Events
It is currently an interesting time in the tobacco sector, as Reynolds American (NYSE:RAI) and Lorillard (NYSE:LO) are in advanced talks to combine, this is a smart move to enhance their market share when global cigarette sales are falling. Reynolds American has strong brands such as Camel and Winston while Lorillard has Newport the top selling menthol cigarette. Lorillard's e-cigarette called "blu" already has strong market share as the brand is well presented on the shelves in convenience / grocery and gasoline stores.
What is interesting to note is that British American Tobacco currently owns a 42% stake in Reynolds, giving the company a few options to play with. According to an article on the Wall Street Journal, a 10 year agreement between the 2 companies expires next month. British American Tobacco will have to assess its position and game play before revealing its hand. If the company proposed an acquisition of Reynolds American and Lorillard, it would become the largest tobacco company worth $165 billion, compared to Philip Morris International's (NYSE:PM) market cap of $139 billion.
Dividends
The dividends are not as impressive as they are on its London Stock Exchange counterpart under the ticker BATS, as the stock enjoys 15 years of dividend growth while expecting a 7.4% increase for this financial year. As you can see from the chart below the dividend growth on every metric has been fantastic. No one can say that they didn't get a great return or double their income every 6-7 years, this is the reason why everyone loves dividend growth stocks along with the tobacco industry. I bet most of us are who are still working normal jobs are only getting pay rises that match inflation or slightly above it (dare I ask if anyone is NOT getting a pay rise?). This is the power of having your money work for you in strong companies who are leaders in their fields.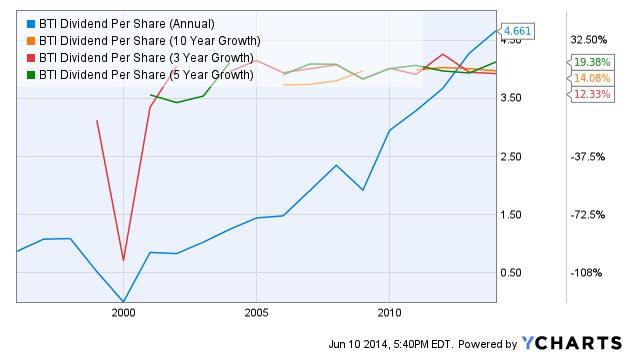 For the year of 2013 British American Tobacco had a DPS of $4.66, for the ex-dividend date set on August 20th, I'm going to put the Final DPS around the ballpark of $4.87-$4.93 as a conservative 5% growth estimate.
For sustainable dividend growth we need to have EPS growth accompanied by an increase in revenue. British American Tobacco is looking to achieve this by increasing its efficiency and margins, while undercutting its rivals in key areas such as New Zealand and Australia. The company saw its biggest annual profit in New Zealand in at least 14 years, according to Business Scoop.
The EPS for the financial year ending 2013 was $6.77, a 7.53% increase on $6.26 for 2012. Analysts over at Reuters are predicting an EPS of $7.13 for 2014, this would give a 5.05% increase. Share buybacks are playing a small factor also into increasing this EPS figure, only a rate of 1.5% but every little helps at this moment in time.
At the current share price of $119.19, the dividend yield is forecasted to be from 3.90-4.20%.
Valuation
The current price at $119.19 a share gives a P/E ratio of 18.38 with the forward P/E sitting at 16.64. Any share below 20 is considered attractively valued as that gives an earnings yield of 5% (100/20). The company's P/CF comes in at 15.62, according to Zacks (a contributor here at Seeking Alpha) this would normally give an average annual return of 10%. I usually don't go above 20 for P/E or P/CF as a general rule.
From the chart below I feel like we missed the boat back in February, it seems like the forward P/E doesn't go too far below 14 so that would be a good place to buy on dips in my opinion.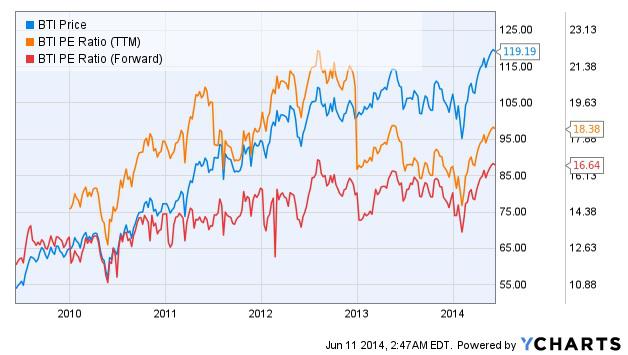 If we are looking at the tobacco industry as a whole, the only real stock attractively valued is Imperial Tobacco that is currently sitting at a forward P/E of 12.43. Though its payout ratio is considerably worse and needs further due diligence.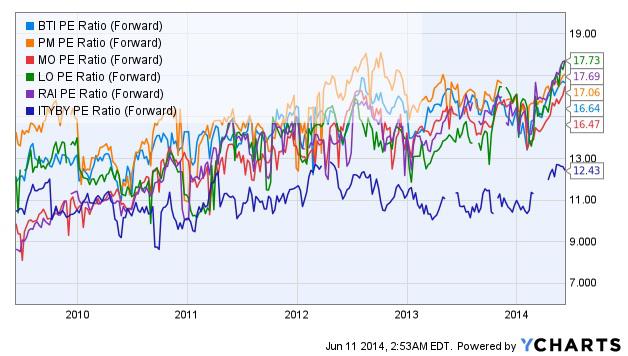 Margins
Though British American Tobacco has the highest gross margin, Philip Morris is able to convert the proceeds into a larger net profit. The difference between 23.68% and 28.08% is respectable considering the competitiveness of the industry. I was quite surprised to see that the market leader also has the largest net profit margin.
Though I'm not going to include the chart for the Return of Assets, Equity and Investment, you would be pleased to know that Philip Morris destroyed again, maybe I should have written the article about the market leader instead? Oh well!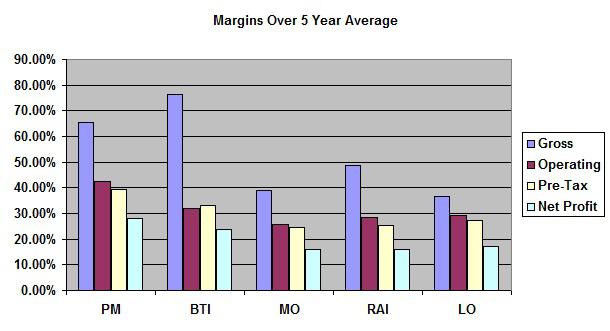 Technicals
We are clearly in an uptrend as evidenced by the chart, even though the P/E ratio was still within our requirements to enter a buy position I still wouldn't enter here considering my research. If you are going to enter a position, I would suggest you buy in the demand zone around the bullish engulfing candle in February at a price around $92, if this support area breaks then $75 would be a great area to shoot for to get in at a great discount during a stock market crash or correction. The chart is pretty self explanatory, above all 3 moving averages and 30.40% away from the 52 week low gives added risk.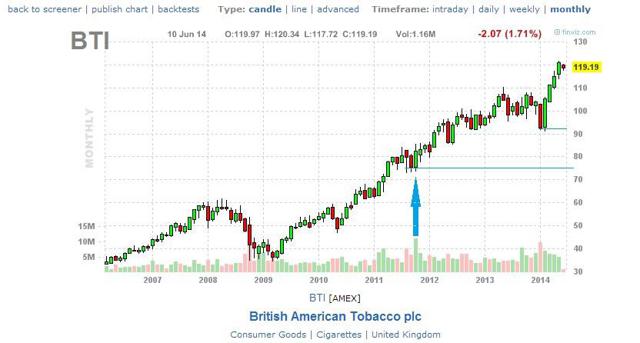 Conclusion
Though British American Tobacco is a great company currently offering a 4% dividend yield with 4-7% dividend growth. Investors should be wary of the payout ratio being dangerously close to 70%. The company is looking to greatly improve its effectiveness to cut costs and increase margins where possible and I believe they will grab a decent share of the e-cigarette market.
The main thing to look for is whether or not Reynolds American and Lorillard will merge, and if so, what British American Tobacco's move will be? The 42% they own in Reynolds American gives them great leverage with options to consider a huge acquisition that would change the industry.
The only way our dividends will grow at the pace we have enjoyed depends on the success level in the emerging markets.
Considering the price of the stock, Philip Morris looks like a superior purchase being $30 cheaper with greater margins and effectiveness.
If you are a current shareholder in British American Tobacco, I'd recommend a HOLD, if you are a new investor looking to open a position, there are better opportunities elsewhere.
Disclosure: The author is long BTI, ITYBY. The author wrote this article themselves, and it expresses their own opinions. The author is not receiving compensation for it (other than from Seeking Alpha). The author has no business relationship with any company whose stock is mentioned in this article.
Additional disclosure: All information was provided by Finviz and Reuters, links have been given where needed and I'd like to thank YCharts for their great website.