Over the last several years, I have been all over the board when it comes to Apple (NASDAQ:AAPL). During its parabolic rise in price about 2 years ago, I wrote several articles urging investors to take some chips off the table, and then when it hit some low points, I suggested it might be time to buy the stock, which I did, but not just for my growth portfolio. The stock seemed to have become a value stock with a rather strong dividend, so I placed it in 3 of my portfolios, and have held it ever since in 2 of the 3 portfolios I currently manage.
As of several months ago, I added APPL to my newest retirement portfolio, "Buy The Dips Portfolio", or BTDP. The stock is now going to be held for the very long term in at least 3 out of 4 of my various portfolios, mainly for dividend income investors, but with an eye towards another strong round of growth.
Apple Is More Than A Reborn Growth Stock, It Is Also A Future Dividend Champion
The recent shareholder-friendly moves that Apple has made should ignite even more intense interest in the stock for both dividend-seeking investors, as well as for growth investors.
The dividends have been increased for the 3rd consecutive year.
The 7-1 stock split will now place the stock on many more radar screens, as it has become more reasonable to purchase round lots of shares (100 shares at a time). That might be more psychological than anything else, but the entire market falls into that category.
The enormous amount of cash is now being returned to shareholders in the form of massive stock buybacks, as well as consecutive dividend increases to the tune of more than 10% annually.
New products are continuing to roll out, and the company has bitten the bullet in China with a lower-priced version of its legacy product; the iPhone.
It would be appropriate at this time to offer a chart that I used in a previous article. Since the stock has now officially split and is selling for roughly $94/share, it is important to note the massive cash and equivalents the company has.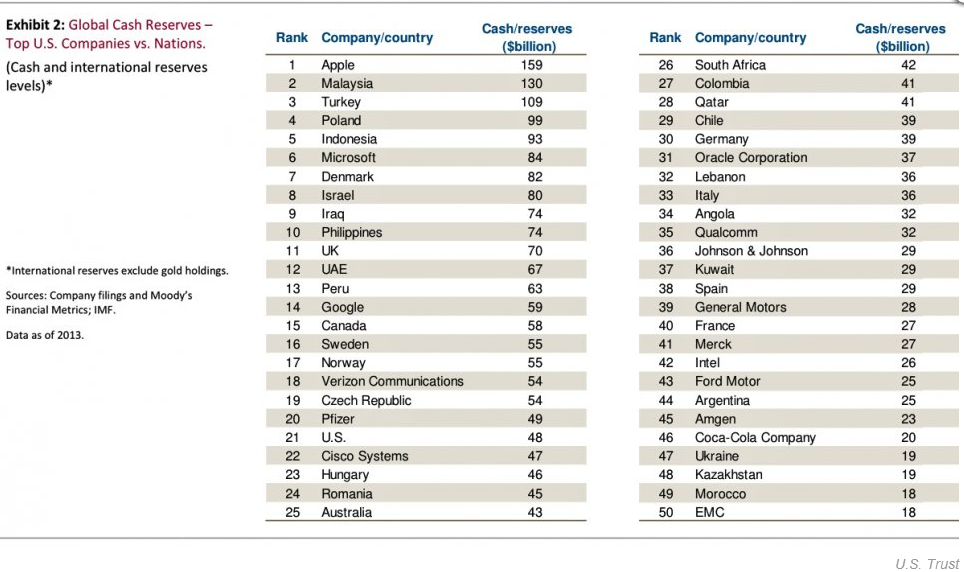 The company has more money than most of the countries listed in this amazing chart. Apple can virtually do anything it wants, in any direction it chooses, and still return shareholder value in the form of continually increased dividends.
Not only that, but with its increase in capex, the desire to return to massive growth is quite clear. $11 billion added to this budget is nothing to pooh-pooh, as noted here:
Approximately $550 million of it is budgeted for retail store facilities - some 30 new stores and remodeling of approximately 20 existing ones. The rest - all $10.5 billion of it - is allocated to "other capital expenditures," specifically "product tooling and manufacturing process equipment, and corporate facilities and infrastructure, including information systems hardware, software and enhancements."

So Apple continues to invest in its ability to build certain products and components in-house, or in cultivating that ability in its manufacturing partners by outfitting them with tooling equipment and whatnot. It's also likely pushing money into new data center capacity to bolster its iCloud and iTunes back end; the company is still hard at work building its massive new data centers in the Pacific Northwest and Reno, Nev.
Standard stuff, I suppose. Apple's just spending quite a bit more money on it than in years past. The company's capital expenditures budget for fiscal 2010 was just $1.9 billion. Today, it's more than five times that.
Of course, as Carl Icahn would be quick to remind us, it's not like Apple is short of cash.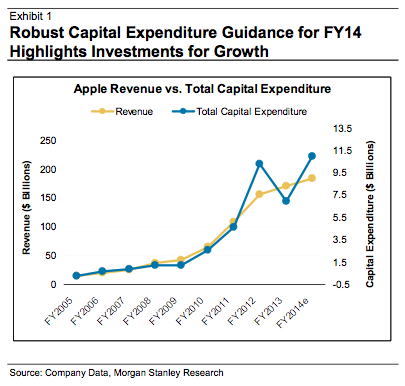 Obviously, all investors should love this chart and the trajectory of both revenues and Capex. Forget about any ONE specific product right now, the company is committed to overall growth. With over $150 billion in cash, and net earnings flooding in at the rate of roughly $13.5 billion last quarter, Apple will continue to stockpile cash even as it distributes more of it back to shareholders.
"We generated $13.5 billion in cash flow from operations and returned almost $21 billion in cash to shareholders through dividends and share repurchases during the March quarter," said CFO Peter Oppenheimer. "That brings cumulative payments under our capital return program to $66 billion."
Growth plus shareholder value in terms of both dividends and huge shareholder buybacks is making my head spin at where the actual share price could wind up in the short, intermediate, and long term.
Not to mention the margins that are being generated, even with the lower-priced products, as noted in the last earnings conference call:
"Now, as we move ahead into the June quarter, I'd like to review our outlook which includes the types of forward-looking information that Nancy referred to at the beginning of the call. We expect revenue to be between $36 billion and $38 billion compared to $35.3 billion in the year ago quarter. We expect gross margins to be between 37% and 38%"....stated Luca Maestri, VP of Finance and Corporate Controller.
I Want The Largest Company On Earth In My Portfolio
Just look at these basic fundamentals:
An enterprise value of about $540 billion, which is $100 billion more than Exxon Mobil (NYSE:XOM).
A forward P/E of just 13.74, which is lower than the S&P 500 average of about 16.00, and for a tech growth company, almost ridiculous.
A dividend payout ratio of just 29%, which bodes more than very well for continued dividend increases well into the future.
62% of all outstanding shares are held by institutions.
Both revenue growth (4.70%) and earnings growth (7.10%) year-over-year from last quarter's report.
A cash-to-debt ratio of 3:1, with more cash flowing in every minute of every day.
Finally, cash flow. Look at this chart gleaned from Yahoo Finance: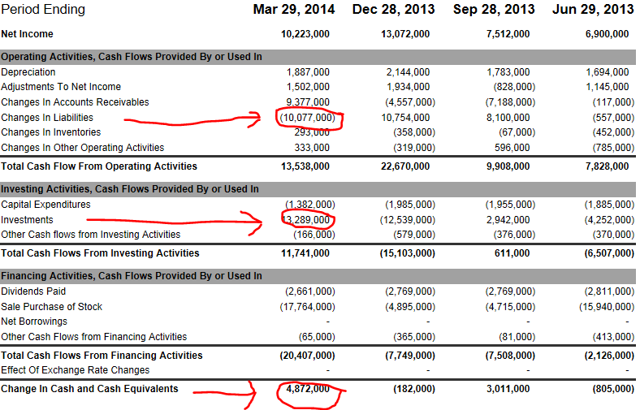 Click to enlarge
Cash flow is the mother's milk of any growth engine, for any company, and there is not one single company anywhere that comes close to Apple.
Now add these financials and fundamentals to the launch of all of the new products Apple will have just in 2014. I can see no reason why the shares of this stock will not reach $125 by the end of this year.
The Bottom Line
New products and massive amounts of revenue and earnings make this company an ongoing story yet to be told. That being said, for dividend income investors of any kind, Apple offers a ground floor opportunity to get in at the virtual beginning of a new dividend champion stock.
The 7:1 split has taken effect, and the price is $94/share.
I am a strong buyer right now.
Disclaimer: The opinions of this author are not recommendations to either buy or sell any security. Please remember to do your own research prior to making any investment decisions.
Disclosure: The author is long AAPL, XOM. The author wrote this article themselves, and it expresses their own opinions. The author is not receiving compensation for it (other than from Seeking Alpha). The author has no business relationship with any company whose stock is mentioned in this article.