Introduction
Dividend growth investors seek companies that have a strong history of increasing dividends and work toward balancing current yield versus dividend growth to achieve a balanced portfolio. This article focuses on stocks in the financial sector that have exhibited superior dividend growth and maintain a current yield over 2%.
Infinity Property and Casualty Corporation (IPCC)
This auto insurance provider currently yields 2.16% and provides "non-standard" auto insurance to high risk drivers. I will admit this sounds scary at first glance. There's not as much dividend history to draw from as other dividend stalwarts and it's on the small side with a market capitalization under $1B; Infinity has only been around since 2002 (not to say its constituent companies haven't been around awhile) and started paying a dividend day one. However, the impressive rate of compound annual dividend growth of over 20% is appealing. This stock deserves some consideration in a DGI portfolio, even if only in modest amounts.
Financially, the company's earnings have been inconsistent; albeit profitable every year. Recent sales growth has churned along at around 12% over the last three years and earnings growth is down over the same period, but up 20% last quarter. The payout ratio has settled in around 42% over the last couple of years, as such it would appear there is room for continued growth.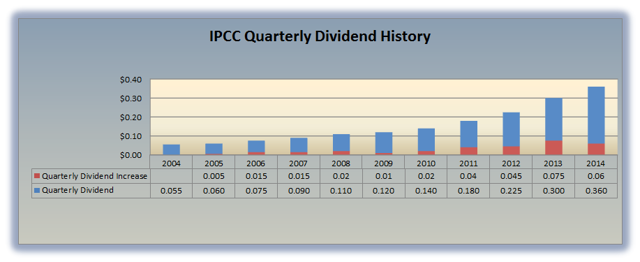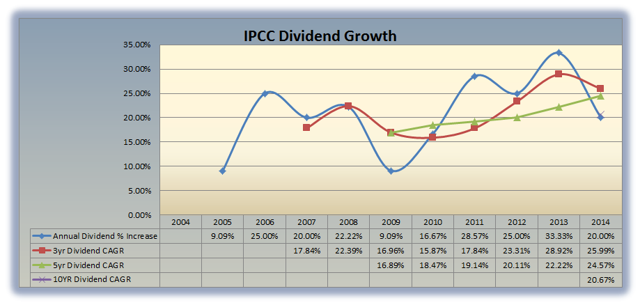 The Travelers Companies (TRV)
A much larger insurance company that offers more than just auto insurance, Traveler's currently yields 2.32%. Dividend growth has remained very consistent at 10% for the last decade and the current payout ratio is low at 20%.
A good measurement of insurance company performance is through using the combined ratio. Traveler's combined ratio has been dropping in recent years in no small part due to a reduction in catastrophe losses. The ratio has fallen from 105.1% to 89.8% from 2011 to 2013 and further to 85.7% in the first quarter of 2014. Management has become more efficient in lowering the combined ratio, but the effects of lower catastrophe losses have been the primary reason for the drop. For comparative purposes, IPCC currently has a combined ratio of 97.8%.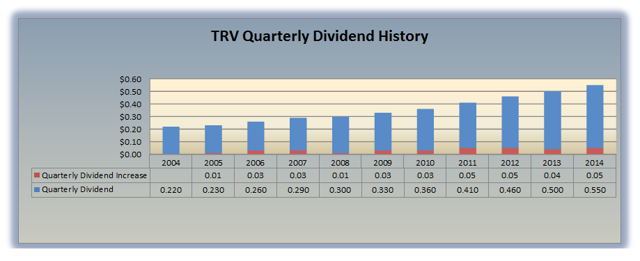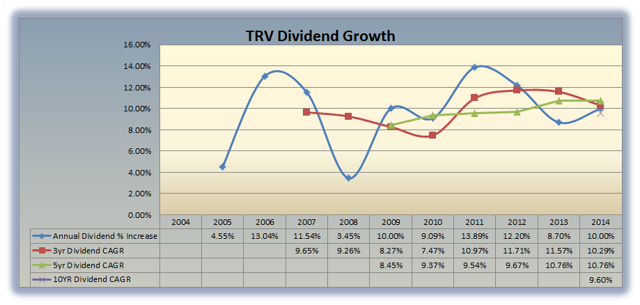 T. Rowe Price Group (TROW)
This mutual fund operator, whose brochures and other literature might be recognized by the big horn sheep logo, currently yields 2.10%. Compound annual dividend growth has exceeded 16% over the last decade and the company demonstrated confidence during the financial crises where it continued to increase the dividend in 2009; even if it was only by a penny.
The company should benefit from increasing numbers of baby boomers reaching retirement age over the next several years. The amount of assets moved into TROW funds remains to be seen. The recent recession has affected the timing given many retirement age individuals are now finding they can't afford to retire quite yet.
Sales and earnings growth have been consistent, chugging along at a compound annual rate of 12% over the last decade. T. Rowe Price's balance sheet carries no debt and the payout ratio has hovered around 40% for the last few years.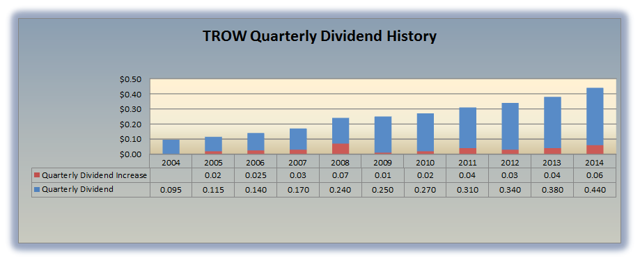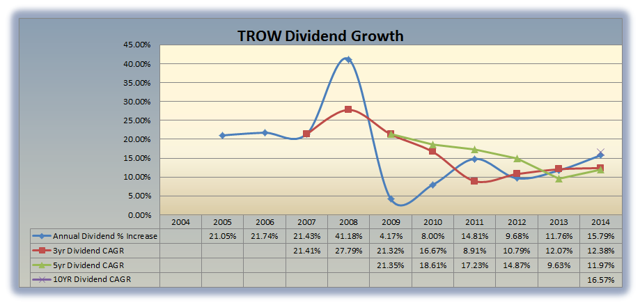 Eaton Vance (EV)
Another fund manager and investment management company, Eaton Vance currently yields 2.35%. The company, which manages $281 billion, has been accommodative toward dividend growth with a compound growth rate approaching 14% over the last decade.
Increases have tailed off since 2009 and this has depressed the 3 and 5 year growth rates, but the most recent increase of 10% may signify stronger increases are ahead. It's also important to note the company paid a special $1.00 dividend, in addition to the regular dividend, back in 2012. My growth numbers do not include this.
Eaton Vance trails the much larger T. Rowe Price, who manages almost $700 billion, in many categories. It has a higher payout ratio, lower sales and earnings growth, and slightly lower dividend growth. However, for those looking to diversify asset management holdings, Eaton Vance would make a solid second choice to compliment T. Rowe Price.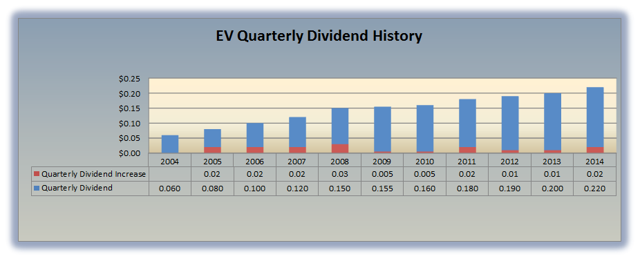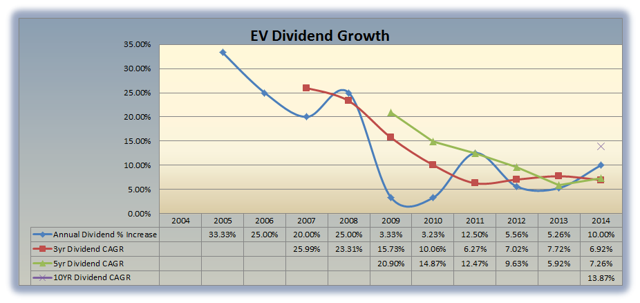 Equity LifeStyle Properties (ELS)
This REIT is in the business of operating manufactured home properties, mainly retirement communities and RV parks. Its current property portfolio consists of 379 properties containing over 140,000 residential sites. These properties are geographically diverse being spread across 32 states.
We will have to throw out ELS's 10 year dividend growth rate, as it's artificially inflated due to the company paying a very, very small quarterly dividend in 2004 amounting to $0.007. This leads to an almost 50% growth rate over the last decade. The 3 and 5 year compound growth rate are better representatives of dividend growth and still exceed 20%. Even better, the last quarterly increase was 30%.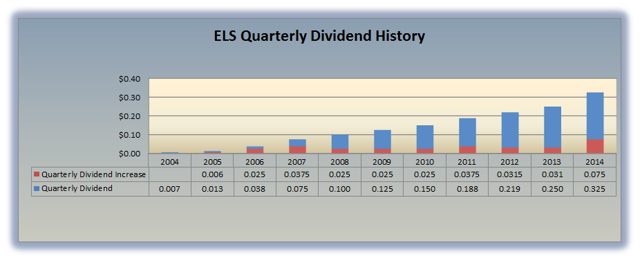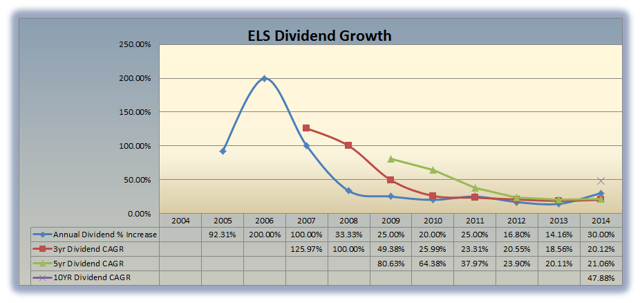 Conclusion
All of the companies highlighted in this article are consistently profitable, have had at least 10 years of annual dividend increases, and have shown relatively high dividend growth rates with low payout ratios. In my opinion, they all have a role in a diversified dividend growth portfolio.
Disclosure: The author is long TRV, IPCC, EV, TROW, ELS. The author wrote this article themselves, and it expresses their own opinions. The author is not receiving compensation for it (other than from Seeking Alpha). The author has no business relationship with any company whose stock is mentioned in this article.