The past weeks have been terrible for eBay (NASDAQ:EBAY). First, there was the massive data breach and then there was the huge drop in eBay.com's Google (NASDAQ:GOOG) (NASDAQ:GOOGL) search engine visibility. eBay's lifeblood is online selling and Google's punitive action last month hurts eBay's overall business health.
The sellers on eBay will have to put up with the -48% drop in eBay's SEO visibility. Consequently, eBay's revenue will feel the pain if the current situation lingers.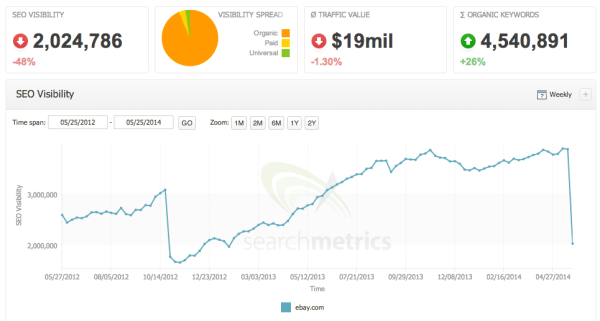 Source: Searchmetrics
I believe this unfortunate event is more dangerous than David Marcus' defection to Facebook (NASDAQ:FB). In spite of Marcus' expertise, it will still take a long time for him to develop a Facebook-owned clone of PayPal.
The grave threat now is for online sellers to abandon eBay. Google's delisting or blacklisting of eBay-listed products for sale is strong incentive for online shops to defect to Amazon (NASDAQ:AMZN). As far as I know, Google has not yet taken any punitive action against Amazon.
Amazon has been outpacing eBay in terms of revenue growth for the past seven years. Google's act will further worsen the situation.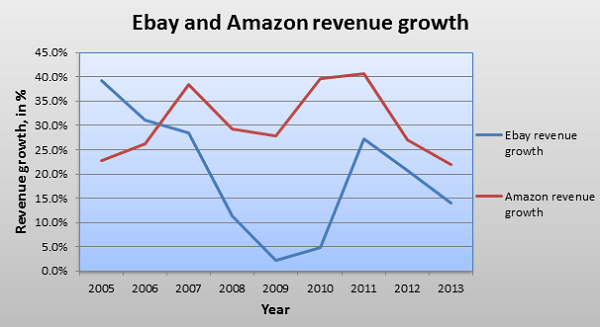 Source: Amigobulls.com
Manual Delisting By Google
A Recode article alleges that Google manually deleted/blacklisted a lot of eBay's clever "doorway pages" from search results. The said "doorway pages" were category or sub-category pages that were allegedly created and optimized to increase the search engine ranking of eBay-listed products.
In the eyes of Google, this is bad SEO practice. Getting a lot of your website content delisted from Google's Index is just terrible. The manual action may also be a strong reminder to eBay to correct its behavior. Google's dominant search position makes it the almighty judge in deciding which websites get traffic or no traffic.
Everybody who wants to prosper online have to play by Google's rules. A more in-depth explanation on how eBay might suffer from Google's action is at Refugeek. Google's latest search algorithm may also assess other eBay product pages as low-quality content. Yes, Google's new Panda 4.0 update is more deliberate in identifying non-high quality webpages (such as those from online retailers or news aggregator sites) for delisting.
Google is not singling-out eBay in its quest to rid the internet of content farmers. Google is trying to protect its search advertising cash cow. Junk search results offend users, which causes significant ad revenue loss. Even Ask.com, the top most visible U.S. paid search advertiser, was one of Panda 4.0 update's biggest losers.
Why It Matters to Investors
Investors are already griping about EBAY trading near its 52-week low price. The loss of many keywords of eBay on Google search may lead to lower sales for eBay sellers. Low sales due to unfavorable Google search rankings of eBay-listed products affects the top line and bottom line.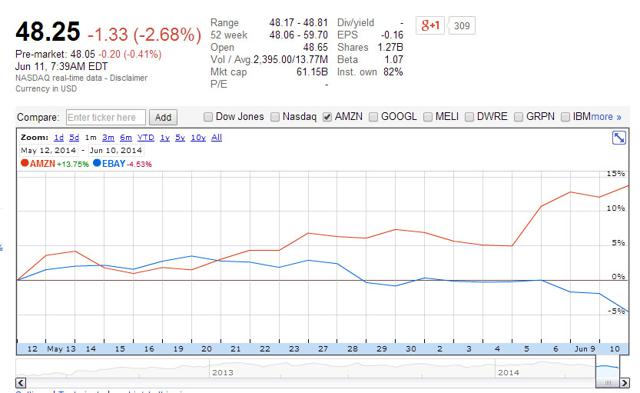 Source: Google Finance
Amazon will continue to outgrow eBay and Google's act might increase the disparity. However, investors can take comfort that PayPal is still the world's largest online payment processor. Carl Icahn has lost interest but eBay investors should not lose hope that Donahoe will eventually spin off PayPal.
Icahn seems to have accepted John Donahoe's explanation that PayPal operating as an independent unit, will kill the current synergy it has with eBay's e-commerce business. In my book, a PayPal spinoff and IPO will make it far more valuable than eBay's Marketplace.
Conclusion
UBS still rates EBAY as a Buy but it reduced its price target to $60. Eighteen analysts at BarChart are also endorsing eBay as a Buy. However, it might be more prudent for Seeking Alpha users to wait for the stock to become cheaper.
BarChart's technical indicators are saying a 100% SELL for eBay. The double tornado of Marcus' defection to Facebook and Google's act are inspiring the bears to descend on EBAY.
Google's punitive action against eBay is a major setback. On the other hand, eBay has smart people working for it. Donahoe's underlings should already be plotting up a replacement for the "doorway pages" SEO tactic.
Lastly, EBAY has a long-term tailwind in PayPal. I don't use eBay anymore for online shopping. However, I am still very dependent on PayPal. There are alternatives to eBay but PayPal will remain king of digital wallets for many years. Google Wallet, Apple iPayments, or Facebook e-money transfer, will still take many years to mature before they can match PayPal's pervasive success.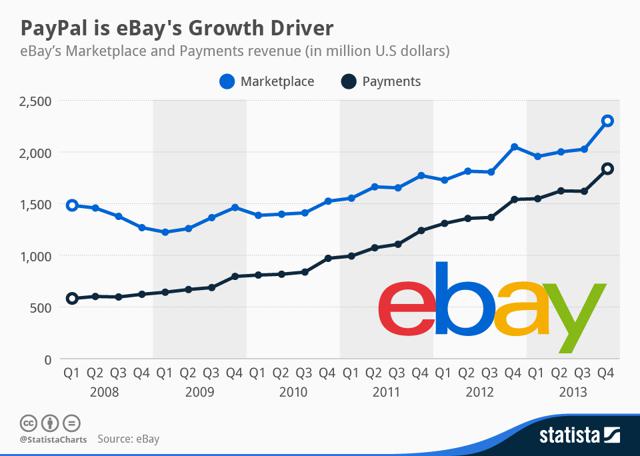 The infographics below explains why eBay is still a Buy for long-term investors.
Source of Images: Adhugger.com
Disclosure: The author is long FB, GOOG. The author wrote this article themselves, and it expresses their own opinions. The author is not receiving compensation for it (other than from Seeking Alpha). The author has no business relationship with any company whose stock is mentioned in this article.