In this article we research the fundamentals of Aegean Marine Petroleum Network Inc (NYSE:ANW) in order to come to conclusions regarding the stock's ability to grow over the mid-term. We also examine its price in relation with its key ratios in order to identify entry opportunities.
The Company
Aegean Marine Petroleum Network is "an international marine fuel logistics company that markets and physically supplies refined marine fuel and lubricants to ships in port and at sea. The Company procures product from various sources (such as refineries, oil producers, and traders) and resells it to a diverse group of customers across all major commercial shipping sectors and leading cruise lines. Currently, Aegean has a global presence in 26 markets, including Vancouver, Montreal, Mexico, Jamaica, Trinidad and Tobago, Gibraltar, U.K., Northern Europe, Piraeus, Patras, the United Arab Emirates, Singapore, Morocco, the Antwerp-Rotterdam-Amsterdam (NYSE:ARA) region, Las Palmas, Tenerife, Panama, Hong Kong, Barcelona, US East Coast and Algeciras. The Company has also entered into a strategic alliance to extend its global reach to China". Aegean Marine Petroleum Network 2014 Q1 financial results press release.
The numbers
In this sector, I conduct an analysis of the company's ratios, which, I believe give us some insights regarding its growth prospects. My methodology involves looking back to year 2009 and see how these key numbers have evolved until now. Average values are derived and then compared with the 2014 estimates. In addition, a PEG ratio is derived for the whole period (2009 - 2014e) and then compared with the share's price for that period, in order to gain a more objective opinion regarding the share's pricing level.
EPS
Following the excessive USD 1.17 EPS of 2009, and some turbulence for the next couple of years, regarding the year to year EPS change, the company will average a 9.97% annual EPS growth at the end of 2014, should the 2014 estimates be confirmed. However, the Q1 results were somehow disappointing in this measure, as they missed by 33%, which leads us to be rather conservative with estimations including 2014e figures. Even with this in mind, though, EPS growth is virtually impossible to be less than the 5 year average, 9.97%.
Pre-Tax Profit Margins
Another interesting measure to have in mind when examining for growth potential in a share is the Pre-Tax Profit Margin. Again, except for the peak in 2009 (1.95%), it ranged from 0.25% to 0.44% during the 2010 - 2013 period, with an estimate of 0,51% for 2014. Although the average profit margin since 2009 is 0,69%, excluding the outlier of 2009, gives us an average of 0.37%. Again, 2014 estimate is higher than the "normalized" 2010 - 2013 average.
Return on Equity
Same picture here, with the outlier of 2009 (14.57%) not being able to distort the average ROE during the 2009 - 2014e period to the extent that it exceeds the 2014e figure of 6.97% (Avg: 5.94%). Again, excluding the peak price of 2009 from our sample, leads to even lower average ROE (3.78%) which can still allow for any misses from the 2014 estimates.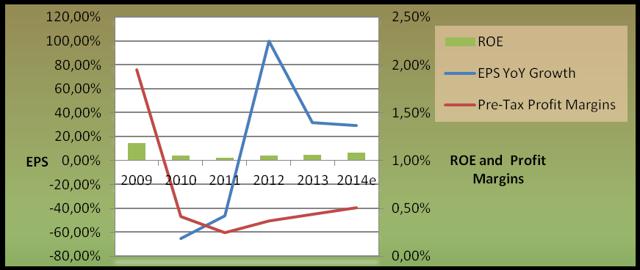 Source: ANW annual reports, self constructed
Some value perhaps?
In order to assess whether the share is undervalued or not we employ a classic PEG ratio. According to the estimated P/E and EPS growth for 2014, a PEG of 0,48 was computed for this year. Again, like EPS estimates, due to the important miss in Q1 results, this figure is likely to be a little higher in reality, but the fact that the company's share is trading at a nice discount, even after its recent run, and with a possibility of a general correction, can't be ignored.
| | | | | | | |
| --- | --- | --- | --- | --- | --- | --- |
| | 2009 | 2010 | 2011 | 2012 | 2013 | 2014e |
| P/E | 24,49 | 19,86 | 17,87 | 13,04 | 19,02 | 14 |
| EPS YoY Growth | | -64,96 | -46,34 | 100,00 | 31,82 | 29,31 |
| PEG | | -0,31 | -0,39 | 0,13 | 0,60 | 0,48 |
Source: ANW annual reports, self constructed
So when do we start?
Taking a look at this stock's chart below one can see clearly defined swings that may, to some extent, be there due to factors such as low volume at times, great shorting percentage and doubts about the prospects of the marine fuel industry.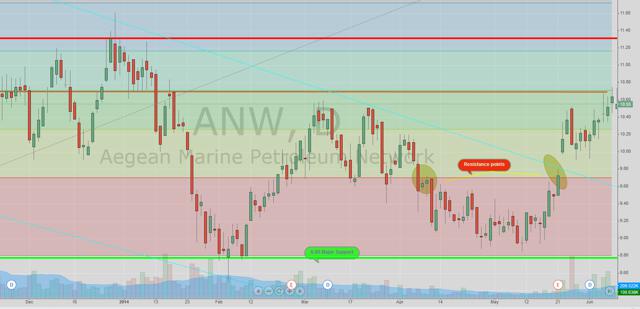 Source: TradingView
The light blue lines indicate a downtrend which has been recently broken (Q1 results). The thick red and green lines indicate a major resistance and support levels. Also, a fibonacci retracement indicator has been applied. We believe that 0.236 fibonacci level (USD 9.70) can be used as an entry point. This particular level has been confirmed four times, twice as a support and twice as a resistance. We believe that a general correction is preparing to be unleashed. Current levels (USD 10.65) indicate that a change to 9.70 (-8.9%) can happen in the short run, but we would suggest an early entry point of USD 10.25 - 10.35, depending of the severity of the overall market retracement.
Conclusions
Aegean Marine Petroleum Network seems to be a good choice, regarding its growth potential. It has estimated EPS growth, profit margin, and ROE for the full year 2014 larger than its last 5 year average, in some cases even including the outlier figures of 2009. As for is value, PEG based on full year P/E estimate gives an outcome of 0.48, meaning that the company is undervalued. Consensus average target price is USD 13.60. I would suggest buying this stock for either long term growth or for speculative long or short positions, at the USD 10.25 - 10.35 level or even better at the USD 9.70 support, if and when it reaches that point.
Disclosure: The author has no positions in any stocks mentioned, and no plans to initiate any positions within the next 72 hours. The author wrote this article themselves, and it expresses their own opinions. The author is not receiving compensation for it (other than from Seeking Alpha). The author has no business relationship with any company whose stock is mentioned in this article.