In the continuing saga of the London interbank offered rate (LIBOR) scandal the Financial Conduct Authority, UK's rule-making, investigative and enforcement watchdog over the financial services industry, fined former Deutsche Bank trader Christian Bittar $17 million (£10 million) for trying to rig the benchmark interest rate.
Mr. Bittar is a former Deutsche Bank Managing Director who had to forfeit his $53 million (£40 million) bonus when he was let go in 2011 in relation to the scandal.
The bank is currently cooperating with the various ongoing regulatory investigations, but this is simply one of the many issues facing the bank as of late.
Clear Evidence of Collusion
Transcripts of conversation between traders have shown clear evidence of collusion, which made it only a matter of time before other international regulators also followed suit. In March of this year, the Federal Deposit Insurance Corporation (FDIC) began a suit against 16 of the world's largest banks, one of which is Deutsche Bank (NYSE:DB), accusing them of collusion in setting LIBOR. The FDIC claims that the collusion led to substantial losses at 38 banks that the FDIC eventually took into receivership since 2008.
At its annual shareholder's meeting last month, Stefan Krause, Deutsche Bank's chief financial officer, stated, "We are involved currently in around 1,000 suits that have a value of over 100,000 (Euros)" with a total number of lawsuits of more than 6,000. In 2013 the bank paid 350 million Euros ($478 million) in legal advisory fees and is expecting "continued headwinds from legal matters".
Deutsche Bank Investors Unhappy
In an attempt to defend an 8 billion Euros ($11 billion) capital raise in order to meet upcoming euro-zone capital ratio regulation, co-Chief Executive Anshu Jain urged shareholders to be patient and supportive of management's strategy, but with the bank's stock price down almost 20% from a year ago, patience is not virtue many shareholders appear to be holding dear.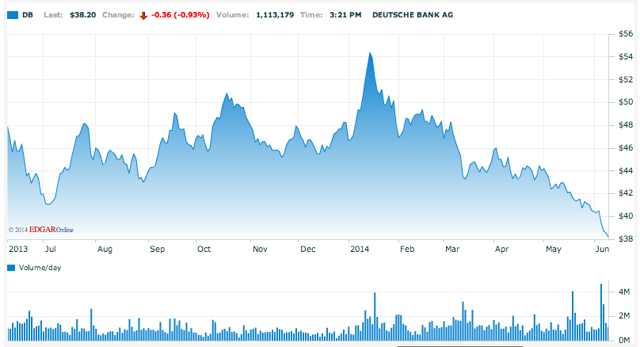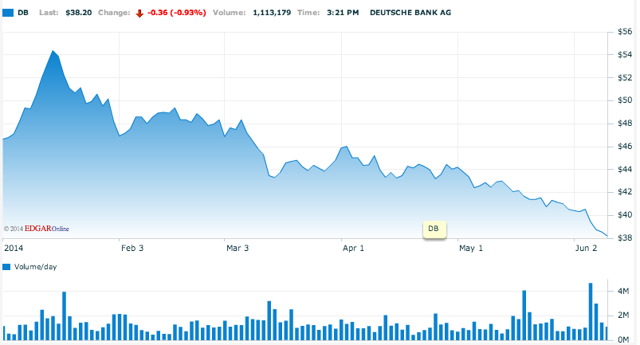 (Both charts from Nasdaq.com)
The bank has stated publicly that it is committed to achieving a 10% equity capital ratio by the end of the first quarter of 2015. To achieve this, it is issuing hybrid bonds, which convert to equity in times of stress, along with approximately 300 million new shares to the public and 60 million new shares to the royal family of Qatar.
This along with asset sales such as The Cosmopolitan of Las Vegas to Blackstone Real Estate Partners for $1.73 billion will hopefully help it achieve this goal.
30% Decrease in Profits Reported in Q1
The need for this additional capital is being caused by the banks recent week financial performance. The goal of meeting the 10% capital ratio through the retained earnings was shattered after it announcing it first quarter 2014 performance in which the bank reported a 30% decrease in profits, driven by lower revenues in its Corporate Banking & Securities and Asset & Wealth Management segments.
Both charts below: Source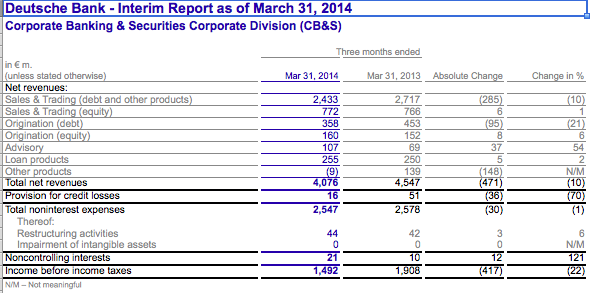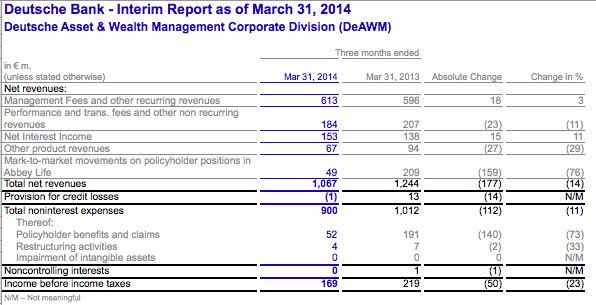 This resulted in a 9.5% Tier 1 capital ratio, which is below Basel III rules.
The consensus analyst estimate for the second quarter of 2014 is currently at $1.11 per share, which represents an 18% decline from the same period last year.
For Investors: Deutsche Bank Not Out of the Water Yet
While some suggest Deutsche Bank's turnaround efforts are not far away, we are very discouraged by its Q1 2014 report and continued negative press.
DB is not out of the water yet, and we do not see this as a buying opportunity at this time; however, if the bank can crawl itself out of the capital hole to meet upcoming regulatory requirements, and posts stronger results in Q2, these could be points for reconsideration.
Disclosure: The author has no positions in any stocks mentioned, and no plans to initiate any positions within the next 72 hours. The author wrote this article themselves, and it expresses their own opinions. The author is not receiving compensation for it (other than from Seeking Alpha). The author has no business relationship with any company whose stock is mentioned in this article.