Trust the hometown crowd to keep the faith. BlackBerry (NASDAQ:BBRY) sales in Toronto have been running at a rate about 15% higher than the iPhone year-to-date as of May 2014.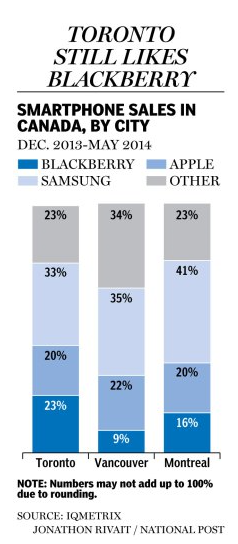 The same source indicates that Samsung (OTC:SSNLF) has been outselling the iPhone throughout North America so far this year, with a 39% market share for Samsung versus 28% for the iPhone. If the iPhone market share in North America does not pick up with the iPhone 6 launch this fall, Apple (NASDAQ:AAPL) will put up some pretty dismal numbers for its North American sales this year. The data also show BlackBerry's North American sales at 6%, which has to be an upward surprise of some magnitude for many observers. Not many would have expected to see BlackBerry in third place in North America.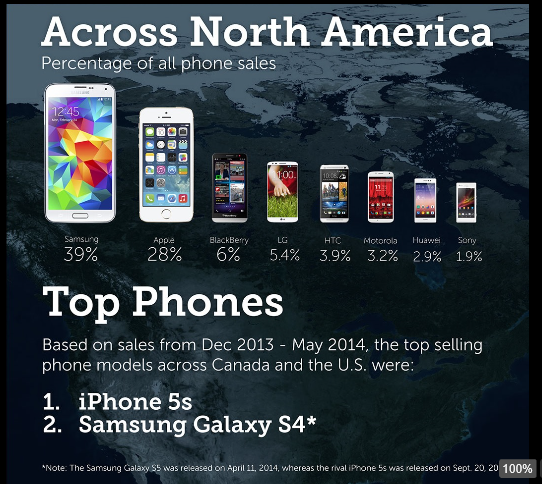 Source: Phonearena.com
It seems like the Toronto crowd (me included) is keeping BlackBerry alive.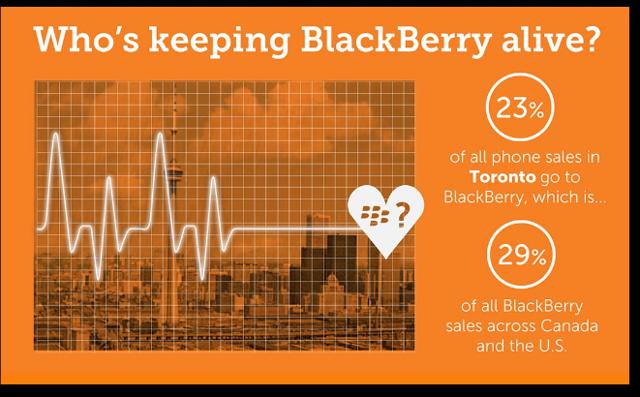 Source: Phonearena.com
BlackBerry intends to launch a new, keyboard equipped flagship phone later this year, according to sources. The new BlackBerry could well be the most innovative ever from the company, although its "leaked" images suggest it is not pretty.
Regional preferences are idiosyncratic. While many SA readers are so committed to Apple they seem oblivious to anything else, there are regions in the United States where Apple is simply second fiddle. They include Glendale, Arizona, where consumers prefer LG and HTC by quite a wide margin. Even Nokia (NYSE:NOK) has pockets of strength, with a 7.2% share in Colorado Springs.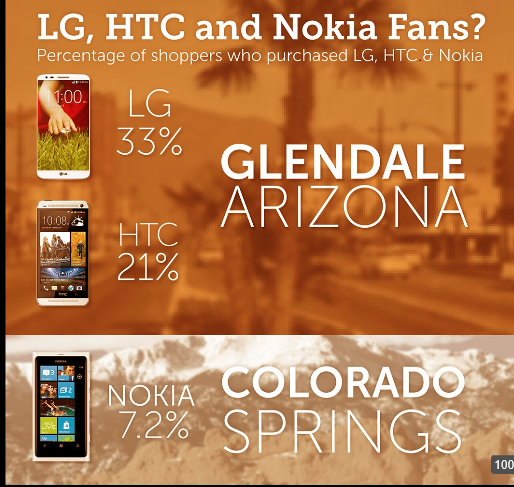 Source: Phonearena.com
In BlackBerry's case, its raison d'etre remains its terrific following in English speaking Canada.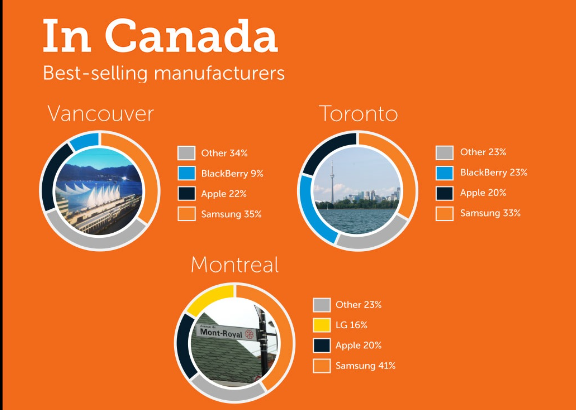 Source: Phonearena.com
Whether that strength will be matched in other former BlackBerry strongholds like South Africa and Indonesia remains to be seen. Certainly the company is targeting those markets with the launch of the Z3 in Indonesia in recent weeks and as recently as last fall reportedly passed Samsung in market share in South Africa.
I hold some calls on BlackBerry and a few shares. The company is high risk but still alive and it would not take a great deal of success to propel its stock higher given just how far it has fallen from the glory days of a few years back.
Disclosure: The author is long BBRY. The author wrote this article themselves, and it expresses their own opinions. The author is not receiving compensation for it (other than from Seeking Alpha). The author has no business relationship with any company whose stock is mentioned in this article.
Additional disclosure: I am also short AAPL