Overview

According to a breaking report from the Canadian Association of Petroleum Producers, shipments of crude oil by rail from Western Canada are expected to more than triple in the next two years to approximately 700,000 barrels per day in 2016 from 200,000 in late 2013 amid a severe shortage in pipeline capacity. You can read the entire report here. This fact coupled with several other key developments bodes well for Kinder Morgan (NYSE:KMI), (NYSE:KMP). In the following piece I will lay out my case in support of this assertion.
The Unstoppable force that is the Canadian Oil Sands
There are three major takeaways from the recently released report published by the Canadian Association of Petroleum Producers. The major points from the report follow.
1) Canadian oil production growth is driven by the oil sands, which is expected to grow 2.5 times from current production of 1.9 million barrels per day to 4.8 million barrels per day by 2030. Total conventional production, inclusive of condensate, grows slightly and will contribute 1.5 million barrels per day to total production. This is a reversal of the declining trend in condensate production previously forecast.
Production Details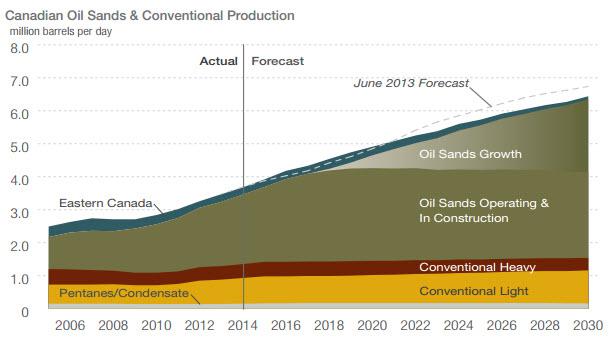 (Source: Canadian Association of Petroleum Producers)
Supply Statistics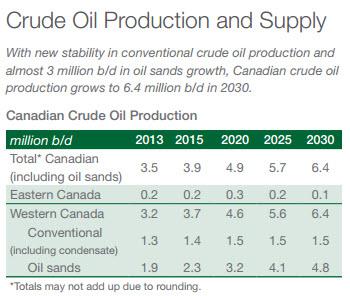 (Source: Canadian Association of Petroleum Producers)
2) Multiple markets are expressing growing interest in crude oil from Western Canada. There are opportunities to replace foreign crude oil imports in Canada and the United States at refineries along the East Coast, West Coast and Gulf Coast. Demand from global markets, such as Asia and Europe, could be met but requires access to tidewater. There are projects in the regulatory process and others being considered to achieve this.
Demand Markets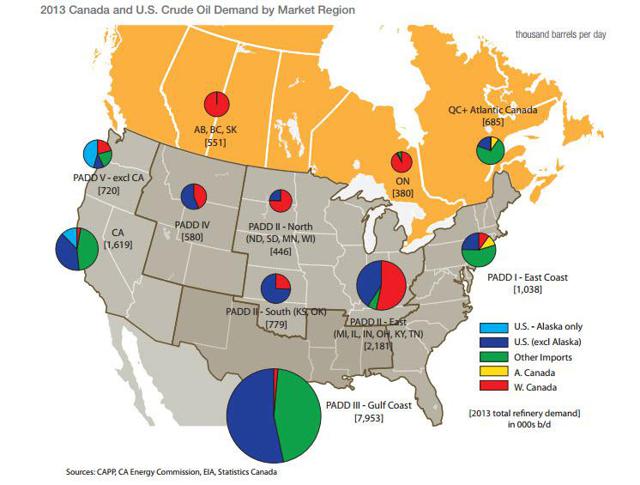 (Source: Canadian Association of Petroleum Producers)
3) Longer timelines for new pipeline capacity have led to a developing role for rail in the crude oil transportation network. The use of rail can increase overall crude oil transportation capacity quickly. Nonetheless, everyone knows this is not the final solution. Let's discuss the rail solution further.
Transporting oil and gas by rail alternative
Rail transportation is widely regarded as more dangerous than pipelines. In my mind, there is no comparison between the safe and secure transportation of petrochemicals by pipelines to that of by rail. This was made abundantly clear by the recent devastating disaster in the Canadian town of Lac-Mégantic.
The Lac-Mégantic Rail Oil Transport Disaster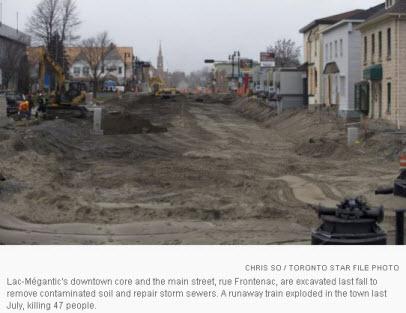 The Lac-Mégantic's downtown core and the main street, Rue Frontenac, were excavated last fall to remove contaminated soil and repair storm sewers. A runaway train transporting oil and gas exploded in the town in July. The unfortunate incident cost the lives of 47 individuals. A fair amount of the community's downtown was completely destroyed when a runaway freight train loaded with volatile fuel oil derailed from the tracks and exploded in the middle of the town center.
Rail transportation of crude oil is vastly more dangerous
Rail transportation of petrochemicals is widely regarded as far more dangerous than pipelines. The only reason why rail being ramped up at this time is the industry is not as highly regulated as the pipelines. Further, due to the lack of regulation, oil trains can be ramped up fast in response to market demand.
This is a disaster in the making in my opinion. In a recently released report, the U.S. State Department estimated the increase in oil train traffic resulting from blocking Keystone XL project alone could result in 18 to 30 fatalities on railroad tracks per year. This is an abhorrent statistic. I find it hard to believe Canadians will stand for this for very long.
The only reason the rail solution is being implemented today is because the oil trains can be slapped together quickly to meet market demand. Nonetheless, I believe the Canadian public will see the light regarding the superior safety attributes of the pipelines in short order and expedite the approval process for the Trans Mountain pipeline. Let's take a deeper look at what exists today and what is planned for the Trans Mountain pipeline expansion project.
Existing Kinder Morgan Trans Mountain Pipeline Details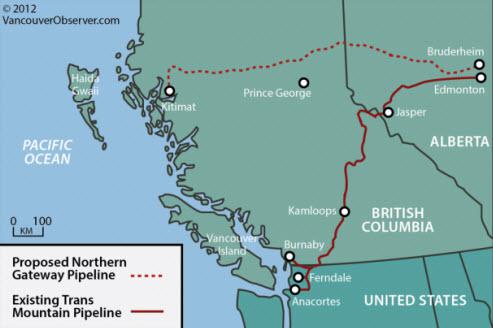 The Trans Mountain system, which has been in operation since 1953, is currently the only crude oil pipeline to Canada's West Coast. It originates at Edmonton, Alberta, delivering both crude oil and petroleum products, to Washington and to points in British Columbia, including the Westridge marine terminal located at Burnaby. From the marine terminal, crude oil is loaded onto vessels for offshore exports destined to California, the U.S. Gulf Coast and Asia. The proposed Northern Gateway pipeline project is shown by the dotted line. This project cuts through completely virgin territory which presents an entirely new set of risks that have yet be determined.
The current capacity of the Trans Mountain pipeline system is 300,000 barrels per day. Of the total capacity, 221,000 barrels per day are allocated to refineries with connections in British Columbia and Washington State with 79,000 barrels per day allocated to the Westridge terminal for marine exports. Of the capacity designated to the marine terminal, 54,000 barrels per day, or 68%, are underpinned by firm contracts. The remainder is available for spot shipments. Demand for access to this pipeline has been high. The nominations for service on this pipeline have been apportioned since late 2010.
Kinder Morgan Proposed Trans Mountain Expansion Details
On December 16, 2013, Kinder Morgan submitted an application to the National Energy Board for an expansion to its existing Trans Mountain pipeline. The capital cost for the Trans Mountain Pipeline Expansion project is estimated at $5.5 billion. If approved and constructed, the expanded system would be comprised of two parallel pipelines. Line 1 would consist of existing pipeline segments and could transport 350,000 barrels per day of refined petroleum products and light crude or potentially heavy crude oil. The proposed Line 2 would have a capacity of 540,000 barrels per day and would be allocated to the transportation of heavy crude oil. This new pipeline and configuration set-up would add 590,000 barrels per day to the existing system for a total capacity of 890,000 barrels per day.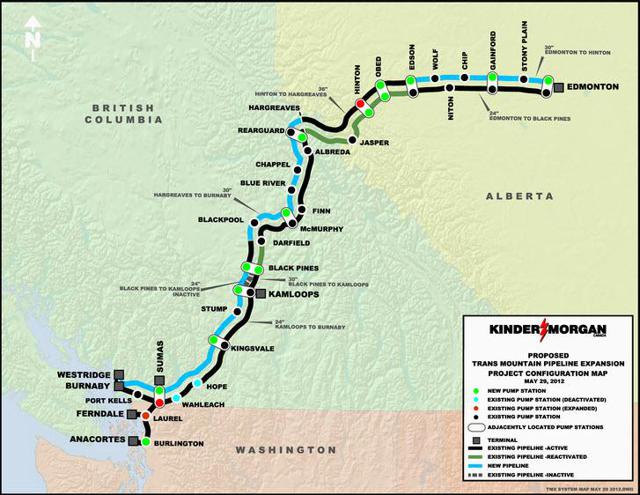 (Source: Kinder Morgan)
The expansion is underpinned by contracts totaling 707,500 barrels per day under 15 and 20 year commitments from 13 shippers. If approval was recommended in a NEB decision by July 2015, and final approval granted by Governor in Council three months later, construction could start in late 2015 with the proposed expanded system in operation in December 2017.
Conclusion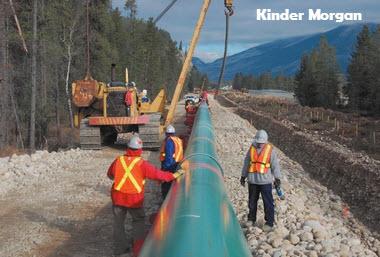 There has been opposition to Kinder Morgan's Trans Mountain plan expressed by a small, but highly vocal group of constituents. Furthermore, a plethora of questions regarding the plan have recently been submitted. Some have cited this as the beginning of the end for the project. Yet, I think it's more like the end of the beginning of the approval process. Once the pros and cons of transporting crude oil by rail rather than by pipeline sinks in, I think the people of Canada will see the light and very quickly approve the expansion. After all, it is merely adding a new line next to the existing one while the other proposed pipeline project cuts through virgin territory and rail transport safety risks are exponentially higher.
Final Thought
The bottom line is the oil is going to be transported out of the oil sands one way or the other. The Trans Mountain pipeline expansion project offers the safest alternative. This is essentially a win-win-win scenario for everyone involved. Canadians win because this development assures residents that they will have low energy costs, plenty of jobs, and economic stability. It bodes well for Kinder Morgan and the Oil Sands producers because they will be to increase revenues and profits. And finally, this amazing discovery may help to ease global energy costs. This may result in a global economic recovery that will all people around the globe today. When you look at it from this perspective, it becomes abundantly clear the right thing to do to expedite the approve process and get the Trans Mountain pipeline expansion up and running as soon as possible.
Disclosure: The author has no positions in any stocks mentioned, and no plans to initiate any positions within the next 72 hours. The author wrote this article themselves, and it expresses their own opinions. The author is not receiving compensation for it (other than from Seeking Alpha). The author has no business relationship with any company whose stock is mentioned in this article.