Business Overview
Arctic Cat (NASDAQ:ACAT) designs, engineers and manufactures snowmobiles (39% of sales), ATVs and side-by-side/ROVs (45%), as well as parts, garments and accessories (16%). Distribution and sales are carried out by a global network of independent distributors totaling over 1,500: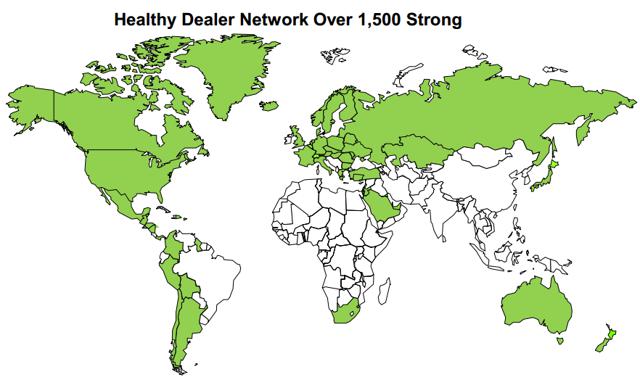 The company was founded in 1960 by the inventor/"father" of the snowmobile, Edgar Hetteen, after he departed from his original company (and ACAT's closest competitor today), Polaris Industries (NYSE:PII).
Economics
The markets ACAT participates in seem pretty consolidated. The following shows market share in North America for FY14. Though ACAT products are sold globally, 85% of sales come from the US and Canada, so this graphic is more relevant to ACAT than a global breakdown: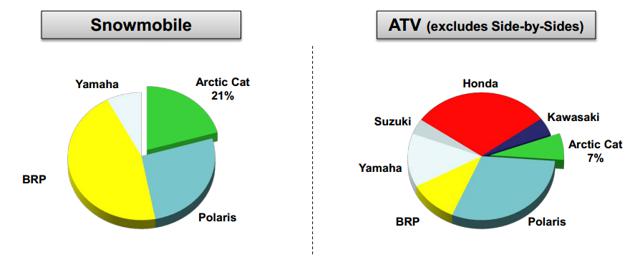 (Source: ACAT Investor Presentation)
Four companies handle virtually all of the snowmobile industry and seven for ATVs. ACAT has significant share in both industries and claims to have taken share in both FY14 but I believe the company's market share has fluctuated longer term. From the 2014 10-K:
We believe there are currently more significant barriers to entry into the snowmobile market than existed in the 1970s. These barriers include increased brand loyalty, long-standing dealer and distributor networks and relationships, emission and safety regulations, four-stroke engine development costs, manufacturing and engineering expertise and higher initial start-up costs.
The above claims seem reasonable.
The same is not said about ATVs though and ACAT has far smaller market share in that market. ACAT's name ("Arctic") and the fact that it was founded on snowmobiles also suggests that that market is the primary focus of the company. Further, the company has some high quality competition in both markets in Polaris.
Finally, I like that the company has a strong brand evidenced by its ability to leverage it through garment and accessory sales and its 50-plus years in existence.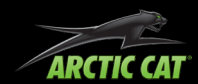 It also has a good deal of scale through that large distributor network.
To sum it up:
Positives

Consolidated industry
Significant market share
Increased market share recently
Strong, historic brand
Large distribution network and long-standing dealer relationships
Niche industry requiring manufacturing and engineering expertise

Negatives

High quality competition
Not best of breed fundamentally
Less significant presence in ATVs and side-by-sides
Fluctuating market share longer-term indicates competitive market
I think the company has a pretty average competitive position in a consolidated but competitive market.
Industry Prospects
It was difficult to find graphical industry data. What I was able to gather is a bit dated and shows trends but not the actual numbers as it comes from a preview of an expensive report.
ATV & Side-By-Side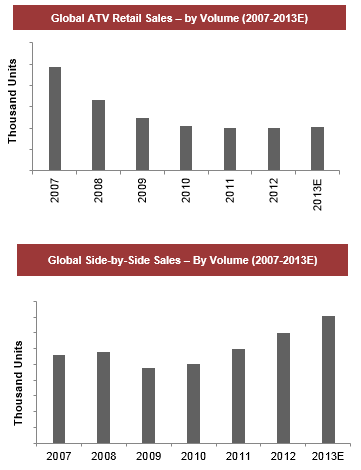 (Source: Academia.edu)
From PII 2014 10-K:
By 1985, the number of three- and four-wheel ATVs sold in North America had grown to approximately 650,000 units per year, then dropped dramatically to a low of 148,000 in 1989. The ATV industry then grew each year in North America from 1990 until 2005, but declined between 2005 and 2011, primarily due to weak overall economic conditions and a move to side-by-side vehicles, until returning to growth in 2012. Internationally, ATVs are also sold primarily in Western European countries by similar manufacturers as in North America. Due primarily to a decline in ATV sales in Western Europe, we estimate that during 2013 world-wide industry sales decreased approximately two percent from 2012 levels with an estimated 407,000 ATVs sold worldwide.

We estimate that the side-by-side vehicle market sales increased approximately ten percent during 2013 over 2012 levels with an estimated 385,000 side-by-side vehicles sold worldwide. The side-by-side market is up primarily due to continued innovation by existing and new manufacturers. We estimate that total off-road vehicle industry sales for 2013, which includes core ATVs and side-by-side vehicles, increased three percent from 2012 levels with an estimated 792,000 units sold worldwide.
ATVs can be used for serious purposes with attachments for towing, plowing, mowing, tilling, etc., but the vast majority of usage is recreational. As such, it is usually a discretionary purchase, and so it is not surprising that sales took a big hit with the recession. Sales seem to be growing the majority of the time, but the declines have caused a cumulative decline. In 1985, 650K units were sold. PII estimated only 407K in 2013. That works out to -1.6% annually. It looks like there are far less being sold now than pre-crisis in 2007 though, so maybe there is still a good deal of room to run before the next sales peak.
Side-by-sides seem to be the higher growth area and may be the beneficiary of a shift away from ATVs.
When thought about together, total unit sales have increased over time outside of the business cycle. This is a good sign.
Snowmobiles
From PII 10-K again:
From the mid-1950s through the late 1960s, over 100 producers entered the snowmobile market and snowmobile sales reached a peak of approximately 495,000 units in 1971. The Polaris product survived the industry decline in which snowmobile sales fell to a low point of approximately 87,000 units in 1983 and the number of snowmobile manufacturers serving the North American market declined to four: Yamaha, BRP's Ski-Doo product line, Arctic Cat and Polaris. These four manufacturers also sell snowmobiles in certain overseas markets where the climate is conducive to snowmobile riding. From 1984 to 1997 the industry grew to approximately 260,000 units before gradually declining through the 2012 season. We estimate that during the season ended March 31, 2013, industry sales of snowmobiles on a worldwide basis are estimated at 136,000 units, up approximately four percent from the previous season.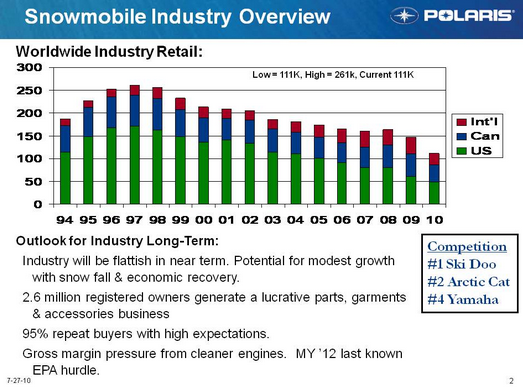 (Source: Polaris 2010 Investor Meeting)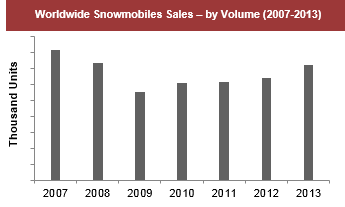 The snowmobile is a 60-year-old product that has not changed in basic design since its beginnings, so I would not be surprised if the industry is indeed in long-term decline.
I usually shy away from highly unpredictable trends, so it is concerning to me that I cannot say with much confidence what is going on in these markets. My best interpretation is:
ATVs are being cannibalized by side-by-sides
ATVs are in long-term decline
Side-by-sides are increasing and at a higher rate than the ATV decline, such that the combination of the two is growing over time
Snowmobile design is becoming outdated and in long-term decline
The trends are not horrible like that of something like the cigarette industry, but they are not great either and, again, the fluctuations make me uncomfortable.
Timeliness


(Source: FinViz.com)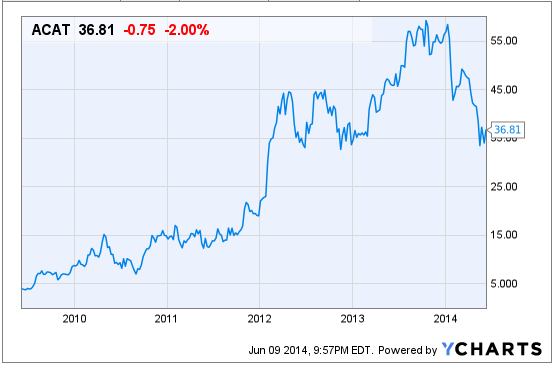 ACAT stock has declined a great deal since the beginning of 2014 on somewhat disappointing performance, Canadian currency headwinds and the sudden resignation of CEO and Chairman Claude Jordan.
This is around the lowest it has been in about a year and below moving averages - the stock is extremely timely.
Performance And Valuation
Since about 1991, EPS has increased 7.9% annually. However, the company's guidance of $2.33-2.43 for FY15 implies 6.6% growth over the same interval.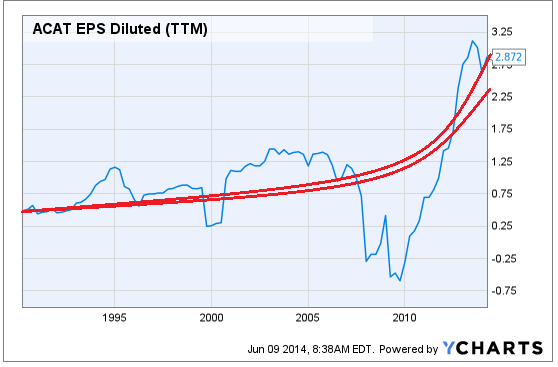 Cash flow has grown a similar 6.7% annually in that time.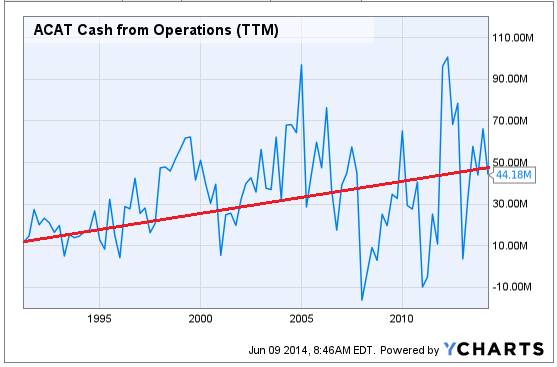 Including this most recent decline, the stock has increased 9.2% annually and dividend yields over that time have probably added about 1.5% to annual returns. Not bad.
The business has also produced mostly satisfactory ROA and ROIC over time: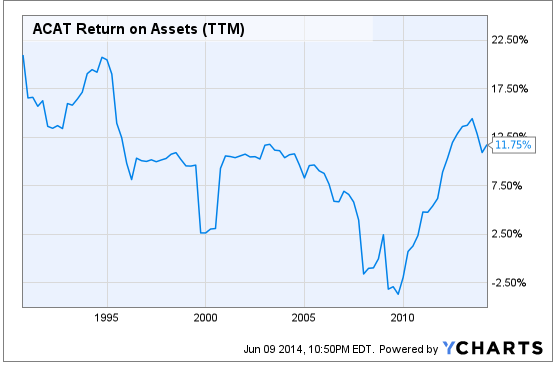 Current pre-tax ROIC, defined here as EBIT over total assets less current liabilities, is a very solid 32.5%, and that is substantially better if you factor out the excess cash the franchise is carrying.
In a recent investor presentation, the company provided a long-term goal of $80M in net income in FY19: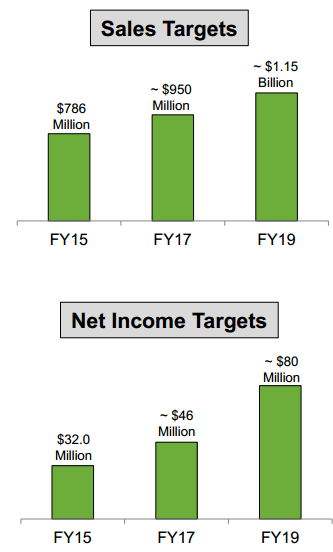 (Source: ACAT IR presentation)
If I assume an exit multiple of 12, account for the company's $82.5M net cash position, and assume share count reductions and the dividend continues as they have historically, this implies 23% annualized returns from the $37 today over the next 5 years: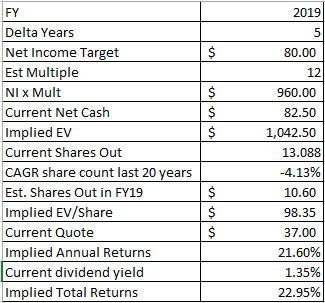 If I don't assume any decline in share count, it still implies 18% annual returns.
This shows some promising potential, but I'm a bit skeptical. Achieving $80M in net income in 2019 would mean growing net income 27% annually from FY15-19. That seems highly unlikely for a business that would have only grown net income 3.7% annually in the previous 21 years if the company meets its FY15 guidance. It also seems tough considering snowmobiles, which make up 39% of the company's sales, are in decline and the company's long time CEO and Chairman just resigned.
I think 6-10% long-term EPS growth seems more reasonable. In that case, the business is probably worth 10-12x current earnings along with an adjustment for cash, or $37.87/share. That's about right where the stock is now.
Resignation
The sudden and unexplained resignation of long-time Chairman and CEO Claude Jordan makes me very uneasy. It was, however, followed by the purchase of 3,000 shares by a director at a cost of just over $100K on June 4.
Conclusion
Arctic Cat seems to have an OK competitive position in a market dominated by just a few companies that is surprisingly competitive. Prospects for the company's ATV and side-by-side sales are OK, but snowmobiles are in clear decline. The stock seems extremely timely and very, very cheap relative to the company's long-term guidance, but I'm highly skeptical of this guidance. It makes me wonder if maybe management and many investors are being too short sighted looking at a business that has historically posted fluctuating results in a somewhat cyclical industry as if it has been a steady performer. With more reasonable expectations that align with what the company has done over extended periods in the past, ACAT seems fairly valued. Uncertainty surrounding the sudden management transition is the icing on the cake to keep me away from this stock right now.
Disclosure: The author has no positions in any stocks mentioned, and no plans to initiate any positions within the next 72 hours. The author wrote this article themselves, and it expresses their own opinions. The author is not receiving compensation for it (other than from Seeking Alpha). The author has no business relationship with any company whose stock is mentioned in this article.