The Strategy:
Buying oversold stocks with strong rebound potential is one of my favorite strategies. I recently wrote about the oversold opportunity I saw in Voxx International (NASDAQ:VOXX) when it was trading for just $7.81 per share. It has already rebounded to over $9.30 per share, which is a gain of about 20% in a very short time. Now I have another stock which is showing signs it could post strong gains in a rebound from deeply oversold levels.
The Opportunity:
Rally Software Development Corp. (NYSE:RALY) shares have taken a beating lately and this has created an ideal buying opportunity. Recent financial results have clearly underwhelmed investors but this company is still a leader in specialized cloud-based project planning, scheduling, quality management and expense tracking. This software is being used by a significant number of Fortune 100 companies and it allows for superior project management, as well as reduced expenses and faster execution. The recent stumble has created an attractive buying opportunity for investors seeking either a short term rebound trade, or a longer term play on cloud computing. Rally Software also appears to be an attractive takeover target for a number of reasons. Let's take a closer look at this company and the upside potential for the stock:
The Chart Shows A Deeply Oversold Stock With Significant Rebound Potential: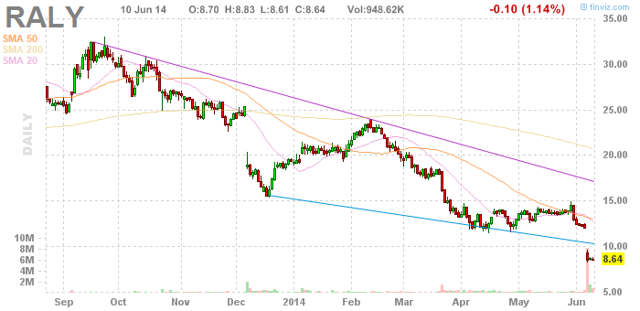 As the chart above shows, this stock was trading for about $33 per share, last September. It trended lower and in recent months has been in a trading range of about $15 to $25 per share. In late May, this stock was trading for about $15, and it has plunged to less than $9 per share due to a disappointing earnings report. Just as this stock was clearly overvalued by investors when it traded for more than $30 per share, it now seems to be clearly undervalued. The shares are also very oversold with a Relative Strength Index or "RSI" of just 19. Stocks with an RSI of 30 or less are considered to be oversold and therefore possibly due for a sharp rebound. This stock has a 200-day moving average of about $21, and the 50-day moving average is around $13.28 per share. Based on this and other factors, I expect a short-term rebound to take this stock back to about $10 fairly soon, but the longer term potential is much more than that.
Rally Software Could Be A Takeover Target:
Rally Software has been considered to be a likely takeover target. Many cloud computing companies like Salesforce (NYSE:CRM) have been highly acquisitive. Furthermore, many cloud computing companies have richly valued stock which can be used as a currency to buy other companies. One article suggests that Microsoft (NASDAQ:MSFT) or IBM (NYSE:IBM) could be possible suitors for Rally Software and details why it is a takeover target by stating:
"Rally Software could be a potential buyout target. Founded in 2001, Rally Software is a leading global provider of cloud-based solutions for managing Agile software development. It is focused on making firms faster, leaner, and more agile. In other words, Rally helps other companies save money on projects. More than 9,700 firms and 112,000 users across 101 countries use Rally. Well-known clients include Fidelity, Raytheon, Sony Ericsson, NBC Universal, and Yahoo."
A Strong Balance Sheet Limits Potential Downside Risks:
Another big plus that limits the potential downside risks for investors and actually increases the chance of a takeover bid is the financial strength this company offers. Rally Software has about $86 million in cash on the balance sheet and no debt. That is equivalent to about $3.50 per share in cash which is very significant for a stock that is trading for less than $9 per share. Like many fast growing cloud computing companies, Rally Software has been posting losses and that is a potential downside risk to consider. However, the lack of debt and the cash horde this company has, minimizes this concern significantly. For the first fiscal quarter of 2015, it announced a 21% jump in revenues which came in at $19.4 million, and a GAAP net loss of 34 cents per share. The company also announced it acquired a number of new customers which includes: Core Media, Black & Veatch, eTouch, Smartshift Technologies, Ubiquity Broadcasting and others.
The Volume And Price Action Indicates This Stock Is Likely To Rebound From Oversold Levels:
| Date | Open | High | Low | Close | Volume | Adj Close* |
| --- | --- | --- | --- | --- | --- | --- |
| Jun 10, 2014 | 8.70 | 8.83 | 8.61 | 8.64 | 948,600 | 8.64 |
| Jun 9, 2014 | 8.72 | 8.90 | 8.56 | 8.74 | 1,634,100 | 8.74 |
| Jun 6, 2014 | 9.40 | 9.68 | 8.40 | 8.71 | 8,376,400 | 8.71 |
| Jun 5, 2014 | 12.47 | 12.54 | 12.18 | 12.22 | 535,300 | 12.22 |
| Jun 4, 2014 | 12.44 | 12.51 | 12.31 | 12.36 | 264,800 | 12.36 |
| Jun 3, 2014 | 12.59 | 12.61 | 12.35 | 12.50 | 270,800 | 12.50 |
| Jun 2, 2014 | 13.04 | 13.30 | 12.52 | 12.61 | 230,800 | 12.61 |
| May 30, 2014 | 14.62 | 14.62 | 12.85 | 13.06 | 413,000 | 13.06 |
| May 29, 2014 | 14.05 | 14.98 | 13.90 | 14.60 | 363,800 | 14.60 |
| May 28, 2014 | 13.94 | 14.03 | 13.61 | 14.01 | 138,500 | 14.01 |
By looking at the historical price data from Yahoo Finance above, you can see this stock experienced a very high volume capitulation-like sell-off on June 6, with volume of over 8.3 million shares and a closing price of $8.71. This is a tremendous amount of volume for a stock that for the past three months, has traded an average daily volume of just about 485,000 shares. The huge volume on June 6, likely indicated a bottom for the stock and now we are starting to see volume normalize. For example, on June 9, the volume was "just" about 1.6 million shares which is a mere fraction of the volume see on the prior trading day. This shows that the selling pressure is drying up quickly and that will probably continue to happen in the coming days. As volume reverts to normal levels, (say around 485,000 shares per day) the share price is even more likely to rebound.
Analyst Price Targets Remain Very Bullish and Indicate Major Upside Potential:
Although some investors are hitting the sell button even when the stock is selling for a fraction of the 52-week high, many analysts remain solidly bullish and see significant upside potential. For example, one recent article points out that analysts at Roth Capital have lowered the price target to $23 per share. Even that lowered target price implies a potential 250% gain. This means some investors are probably overreacting by selling the stock at current levels. The article states:
"Roth Capital cut its price target on Rally Software after the company provided lower than expected FY15 revenue guidance. However, the firm still finds the stock attractive following its pullback and it keeps a Buy rating on the shares."
Shorts Have Helped Push The Stock Down, But Could Soon Push It Higher When The Trend Reverses:
According to Shortsqueeze.com, about 2.2 million shares are short. This represents nearly 12.5% of the float. There is a strong chance that shorts have become more active in recent days and seized on the downward momentum that came with the high volume sell-off. However, as the volume normalizes and the selling pressure fades, shorts could decide to take profits and reduce risks by covering their short positions. This might lead to some surprising buying pressure in the coming days that could contribute to the rebound potential of this stock.
In conclusion, while the short term financial results were a disappointment for some investors, analysts remain solidly bullish. The company has a truly strong balance sheet which limits downside risks and increases takeover potential. Furthermore, this company is in the cloud computing sector which remains a fast growing sector. Finally, with the stock at deeply oversold levels and with the volume and price data indicating that "capitulation" has occurred, a rebound resulting in strong gains seems increasingly likely in the coming days.
Here are some key points for Rally Software Development Corp.:
Current share price: $8.75
The 52 week range is $8.40 to $33.05
Annual dividend: n/a
Data is sourced from Yahoo Finance. No guarantees or representations
are made. Hawkinvest is not a registered investment advisor and does
not provide specific investment advice. The information is for
informational purposes only. You should always consult a financial
advisor.
Disclosure: The author is long RALY. The author wrote this article themselves, and it expresses their own opinions. The author is not receiving compensation for it (other than from Seeking Alpha). The author has no business relationship with any company whose stock is mentioned in this article.