Coach, Inc. (NYSE:COH) stock has declined sharply this year. In fact, its relative strength index [RSI] technical indicator is indicating oversold conditions. Since the beginning of the year COH's stock has declined 30.4%, while the S&P 500 index has risen 5.3%, and the Nasdaq Composite Index has increased 3.7%. Nevertheless, Coach has compelling valuation metrics, its Enterprise Value/EBITDA ratio is very low at 6.60, and it returns value to its shareholders by stock buyback and by increasing dividend payments. In this article, I will explain why, in my opinion, it is now an excellent opportunity for long-term investment in Coach stock at a cheap price.
The Company
Coach, Inc. designs and markets bags, accessories, business cases, footwear, wearables, jewelry, sunwear, travel bags, watches, and fragrances for women and men in the United States and internationally. Coach, Inc. was founded in 1941 and is headquartered in New York, New York.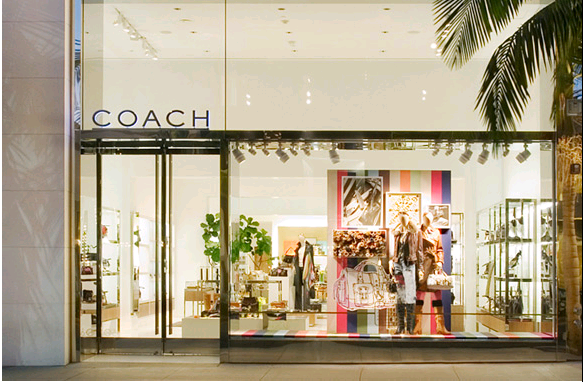 Valuation Metrics
The table below presents the valuation metrics of COH, the data were taken from Yahoo Finance and finviz.com.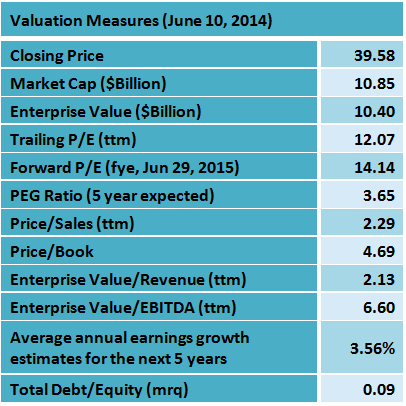 COH's valuation metrics are good; the trailing P/E is low at 12.07, and the Enterprise Value/EBITDA ratio is very low at 6.60. According to James P. O'Shaughnessy, the Enterprise Value/EBITDA ratio is the best-performing single value factor. In his impressive book "What Works on Wall Street", Mr. O'Shaughnessy demonstrates that 46 years back-testing, from 1963 to 2009, have shown that companies with the lowest EV/ EBITDA ratio have given the best return. Mr. O'Shaughnessy explains that EV/ EBITDA is a better way to assess value-that is, how cheap or expensive it is-than looking at the PE ratio alone. The EV/ EBITDA is neutral to a company's capital structure and capital expenditures. Stocks that have very high debt levels often have low PE ratios, but this does not necessarily mean that they are cheap in relation to other securities.
Latest Quarter Results
On April 29, Coach reported its third-quarter fiscal 2014 financial results, which beat EPS expectations by $0.07 (11.50%) and missed on revenues. The company announced sales of $1.10 billion for its third fiscal quarter ended March 29, 2014, compared with $1.19 billion reported in the same period of the prior year, a decrease of 7%. On a constant currency basis sales declined 5% for the quarter. Net income for the quarter totaled $191 million, with earnings per diluted share of $0.68. This compared to net income of $239 million and earnings per diluted share of $0.84, in the prior year's third quarter.
In the report, Victor Luis, Chief Executive Officer of Coach, Inc., said:
During the third quarter, total sales declined as weakness in our North American women's bag and accessories business continued to offset strong growth in men's, footwear, and robust sales gains in Asian markets and Europe. Our business in North America remained challenging in the period, exacerbated by the weather and shift of the Easter holiday. We experienced sharply lower traffic levels in our stores while our internet results were impacted by our strategic decisions to eliminate third party events, as well as limit the access and invitations to our factory flash site. At the same time, China results remained resilient with total sales growing over 25% and comparable store sales rising at a double-digit rate. Importantly, we continued to advance our transformation initiatives across all consumer touchpoints, including our first ever New York Fashion Week presentation in February. The strong editorial response to Executive Creative Director Stuart Vevers's inaugural collection brought Coach into the fashion conversation.
Dividend and Share Repurchase
Coach has been paying uninterrupted dividends since 2009. The forward annual dividend yield is high at 3.41%, and the payout ratio is at 40.7%. The annual rate of dividend growth over the past three years was very high at 33.9%.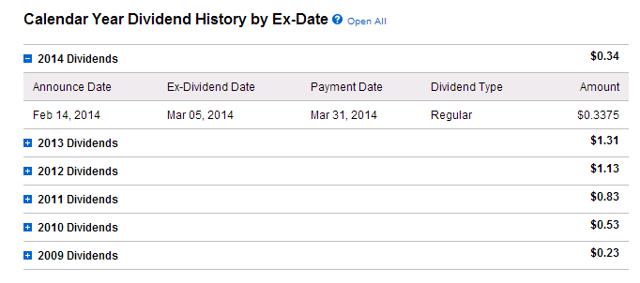 Click to enlarge
Source: Charles Schwab
The company announced that during the third fiscal quarter, it repurchased and retired about 3.6 million shares of its common stock at an average cost of $47.99, spending a total of $175 million and taking the year-to-date total to $525 million. At the end of the period, approximately $835 million remained under the company's current repurchase authorization. Management does not expect to repurchase shares in the fourth quarter because it plans to invest in the business.
Competitors
A comparison of key fundamental data between Coach and its competitors is shown in the table below.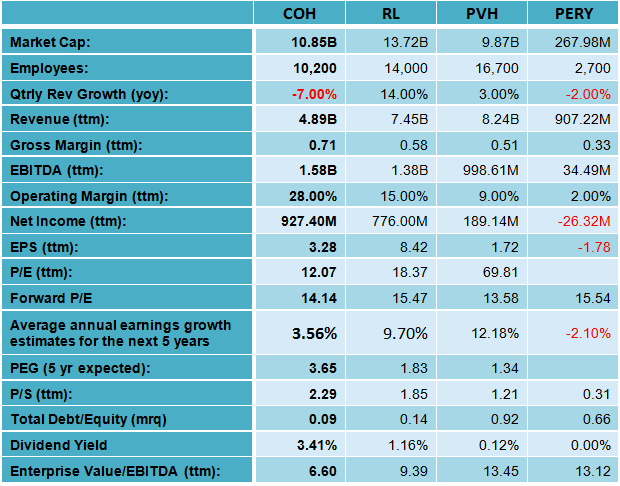 Coach has a lower trailing P/E, a lower EV/EBITDA ratio, and a lower debt-to-equity ratio than its competitors.
COH's Margins and Return on Capital parameters have been much better than its industry median, its sector median and the S&P 500 median, as shown in the tables below.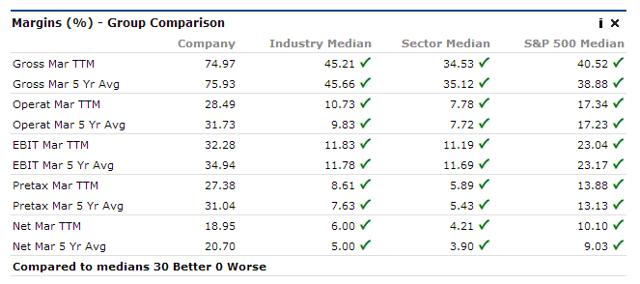 Click to enlarge

Click to enlarge
Source: Portfolio123
Ranking
According to Portfolio123's "All-Stars: Greenblatt" powerful ranking system COH's stock is ranked first among all Russell 1000 stocks that pay a dividend with more than 3% yield. The "All-Stars: Greenblatt" ranking system is taking into account just two factors; Return on Capital and Earnings Yield (E/P) in equal proportions. Back-testing has proved that this ranking system is one of the best free available ranking method. I recommend investors to read Joel Greenblatt's book "The Little Book That Beats the Market", where he thoroughly explains his system.
Technical Analysis
The charts below give some technical analysis information.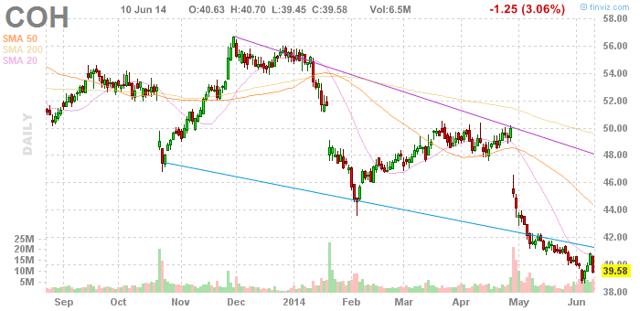 Click to enlarge
Chart: finviz.com
The COH stock price is 2.94% below its 20-day simple moving average, 11.41% below its 50-day simple moving average and 20.39% below its 200-day simple moving average. That indicates a short-term, mid-term, and a long-term downtrend.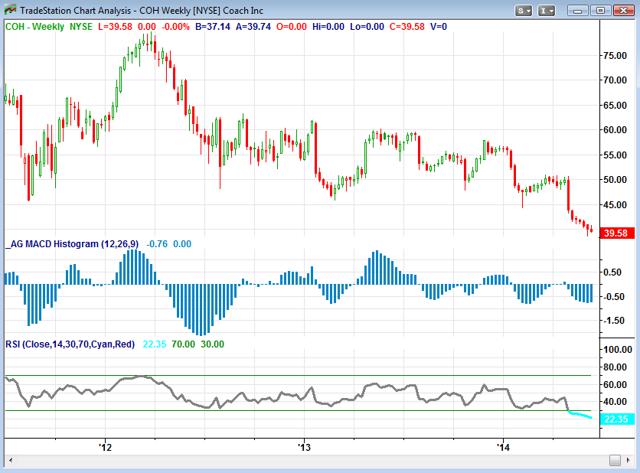 Click to enlarge
Chart: TradeStation Group, Inc.
The weekly MACD histogram, a particularly valuable indicator by technicians, is negative at 0.76 and ascending, which is a neutral signal (a rising MACD histogram and crossing the zero line from below is considered an extremely bullish signal). The RSI oscillator is at 22.35 which indicate oversold conditions.
Analyst Opinion
Many analysts are covering the stock, but their opinion is extremely divided. Among the thirty-six analysts, two rate it as a strong buy, eight rate it as a buy, twenty-four rate it as a hold, and two analysts rate it as an underperform.
TipRanks is a website that ranks experts (analysts and bloggers) according to their performance. According to TipRanks, among the analysts covering CVX stock there are only eight analysts who have the four or five star rating, only two of them recommends the stock.
Major Developments
According to the company, it has made continued progress in the last quarter in its work to transform the Coach brand across all aspects of the consumer experience - product, stores and marketing. Coach also announced a partnership with Studio Sofield to further evolve its lifestyle store concept. In June 2013, Coach appointed Mr. Stuart Vevers to be responsible for leading all creative aspects of the Coach brand, including women's and men's design, brand imagery, and store environments. Mr. Vevers joined Coach from Loewe where he held the role of Creative Director since 2008. Prior to Loewe, he served as Creative Director of Mulberry from 2005 to 2008.
With the new CEO Victor Luis and new Creative Director Stuart Vevers, there is a real possibility that Coach will regain market share in the North American market, along its continuous success in the Chinese and Japanese markets.
Conclusion
Coach has compelling valuation metrics; its EV/EBITDA ratio is very low at 6.60. Furthermore, COH stock is ranked first among all Russell 1000 stocks that pay a dividend with more than 3% yield according to the "All-Stars: Greenblatt" powerful ranking system. Coach is generating strong cash flow, and it returns value to its shareholders by stock buyback and by increasing dividend payments. All these factors bring me to the conclusion that COH stock is a smart long-term investment. Furthermore, the rich dividend represents a gratifying income.
Disclosure: The author has no positions in any stocks mentioned, and no plans to initiate any positions within the next 72 hours. The author wrote this article themselves, and it expresses their own opinions. The author is not receiving compensation for it (other than from Seeking Alpha). The author has no business relationship with any company whose stock is mentioned in this article.