For many, coming to the decision to start a Roth IRA account is not a hard one to make. The hard part is actually choosing what investments to hold in the account: should you go with stocks, ETFs, bonds? What about treasuries, CDs or REITs? Freedom of investment selection is just one of the many benefits of a Roth IRA, but this can lead to much confusion.
Your investment allocation in a Roth IRA really depends on a few things - most importantly, your age and risk tolerance. Personally, I feel that several low-cost ETFs is a great start for most investors. The reason is diversity: ETFs can contain dozens, if not hundreds of individual companies, as opposed to stocks, which are just individual businesses.
Understanding Roth IRA Accounts
Roth IRA's hold some pretty big advantages over other retirement accounts like the 401(k) and Traditional IRA.
* Most notably, the account offers tax-free income at retirement. That means every dollar you put away in your Roth IRA is yours when you retire. Plus, your money can grow every year and compound, without you having to pay taxes on dividends or capital gains. This account makes even more sense for those who expect their tax rate to be higher during retirement.
* The next huge benefit is that you can withdraw your contributions (but not your gains) any time without taxes or penalty.
* There are no mandatory withdrawals. Traditional IRAs, on the other hand, require withdrawals starting at age 70 1/2.
* There is a limit on how much money you can contribute to a Roth each year, however. If you make less than $181,000 (married filing jointly or qualifying widower), you can contribute up to the limit, which is $5,500 or $6,500 if you're 50 or older.
If you are single, head of household or married filing separately, you must make less than $114,000 to contribute to the limit. If you make more than $129,000 a year, you can't contribute anything and if you make between $114,000 and $129,000 you can contribute a reduced amount.
* The biggest "negative" of a Roth IRA is that you fund the account with after-tax dollars, unlike a Traditional IRA or 401(k) plan, which uses pre-tax dollars. In return, you get the tax-free withdrawal at retirement. In my opinion, Roth IRAs are a far superior choice, especially for young investors.
3 ETFs for a Roth IRA
What investments you choose for your Roth IRA is entirely up to you. In general, if you are younger, you should be willing to take on more risk since you have plenty of time until retirement and need to grow your money. If you are older and nearing retirement, you should focus more on bonds and fixed-income.
Personally, I feel that buying a few diversified, low-cost ETFs is a smart way to go. Mutual funds tend to carry high expense ratios which can eat into your profits, while individual stocks can carry too much risk for a long-term investment. If you go with stocks, you should make sure your portfolio is well diversified.
Here are my top 3 ETF choices:
#1 SPDR S&P 500 ETF (NYSEARCA:SPY)
This ETF seeks to provide investment results that correspond to the price and yield performance of the S&P 500. This is an easy, low-risk way to gain exposure to the U.S. stock market for a long-term investment.
- You can see from this chart below that the SPY ETF has done a great job of mirroring the returns of the S&P 500. The S&P 500 is up 344.68% since 1993, and the SPY is right there.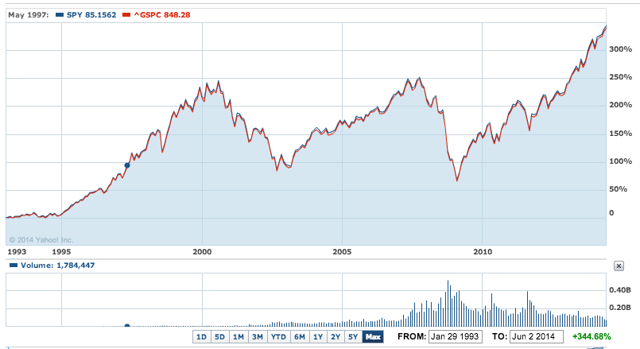 - Since inception, SPY has returned 9.11% on average each year, while the S&P 500 is up 9.26% on average.
- The ETF contains 501 total holdings and currently pays a dividend yield of 2%.
- SPY has total net assets of $160.16 billion.
- The net expense ratio on the SPY is a miniscule .0945%.
- The ETF's top holdings include Apple Inc. (NASDAQ:AAPL) with 3.31% of the fund, Exxon Mobil Corporation (NYSE:XOM) with 2.52%, Microsoft Corporation (NASDAQ:MSFT) with 1.8%, Johnson & Johnson (NYSE:JNJ) with 1.68%, and General Electric Company (NYSE:GE) with 1.57%. Other holdings include Berkshire Hathaway Inc. (NYSE:BRK.B) with 1.33% and JPMorgan Chase (NYSE:JPM) with 1.24%.
- When it comes to sector allocation, the ETF is very well diversified, with 18.84% Information Technology, 16.07% Financials, 13.25% Health Care, 11.97% Consumer Discretionary, 10.74% Industrials, 10.44% Energy, 9.66% Consumer Staples, 3.53% Materials, 3.07% Utilities, and 2.43% Telecommunication Services.
In conclusion, I feel that SPY is a no-brainer as a long-term Roth IRA investment because it gives investors easy, low-cost exposure to U.S. stocks.
#2 Vanguard FTSE All-World Ex-US ETF (NYSEARCA:VEU)
The VEU is a foreign large-blend ETF which holds investments in stocks located in developing and emerging markets outside of the U.S.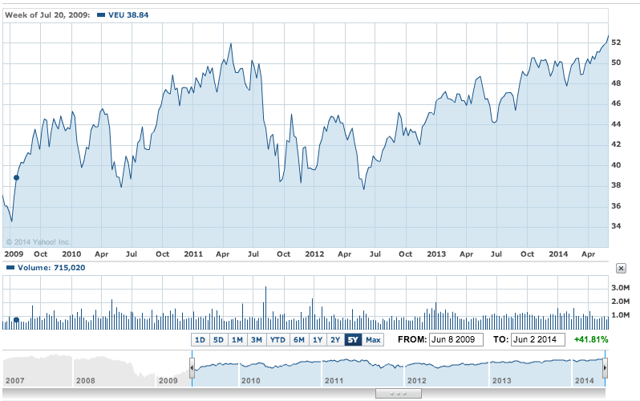 - I like this ETF for a few reasons. First, the VEU includes a whopping 2,403 stocks with net assets of $22.42 billion. While 22.37% of the ETF is weighted towards financials, the ETF is otherwise diverse with Industrials (10.59%), Consumer Cyclical (10.4%), Basic Materials (9.47%), Consumer Defensive (9.86%), Energy (9.01%), Healthcare (8.34%), and Technology (7.13%).
- Secondly, the ETF contains an expense ratio of just .15%, which is 88% lower than the average expense ratio of funds with similar holdings, according to Vanguard.
- The VEU has a 5-year average annual return of 10.35%.
- Currently, the VEU pays a dividend of $1.58 per unit, which gives the VEU a 3% yield.
Major holdings in the VEU include Royal Dutch Shell PLC (OTCQB:RYDAF), Nestle SA (OTCPK:NSRGF), Roche Holding AG (OTCPK:RHHBF), Novartis AG (NYSE:NVS), BHP Billiton (NYSE:BHP), Toyota Motor Corp. (NYSE:TM) and Samsung Electronics (OTC:SSNLF).
This is currently my favorite way to gain exposure to international stocks in a Roth IRA account.
#3 Schwab U.S. Dividend Equity ETF (NYSEARCA:SCHD)
The SCHD seeks investment results that track the total return of the Dow Jones U.S. Dividend 100 Index. I really like this dividend ETF for a few reasons.
- First, when you are investing for the long-term it is important to focus on quality and consistency. You want dividends to be paid to you for years to come.
Therefore, it's important to gain exposure to high-yielding dividend stocks that have a history of consistently paying dividends, and the SCHD provides you just that.
The fund also gives you the potential for capital appreciation. Since inception in 2011, the ETF has provided average annual returns of 20.5% with a total return of 50.26%.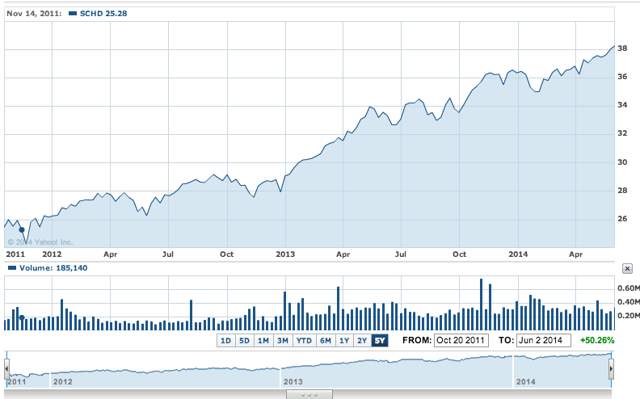 - Meanwhile, the ETF is one of the cheapest ones out there, with an expense ratio of just .07%.
- The ETF contains 103 holdings and currently yields 2.51%.
22% of SCHD is weighted in Consumer Staples, with 17.1% in Industrials, 12.9% in Energy, 12.3% in Information Technology, 11.4% in Healthcare, 9% in Telecommunication Services, 8.5% in Consumer Discretionary, 4.5% in Materials and 2% in Financials.
Some of the ETFs top holdings are Johnson & Johnson with 4.7% total assets, Verizon Communications (NYSE:VZ) with 4.5% weighting, AT&T (NYSE:T) with 4.4% weighting, and Coca-Cola (NYSE:KO) with 3.7%.
Start Investing Now in a Roth
Whether or not you choose these ETFs in your retirement account is less important than actually beginning to invest.
According to StatisticBrain.com, the average length of retirement is 18 years and the total cost for a couple over 65 to pay for medical treatment for 20 years is $215,000. Unfortunately, the study also showed that 36% of Americans don't save anything at all for retirement.
By starting a Roth IRA account as early as possible, you can grow and compound your money tax-free over a long period of time, helping you achieve your retirement goals.
Disclosure: The author has no positions in any stocks mentioned, but may initiate a long position in VEU, SCHD over the next 72 hours. The author wrote this article themselves, and it expresses their own opinions. The author is not receiving compensation for it (other than from Seeking Alpha). The author has no business relationship with any company whose stock is mentioned in this article.