Small biotech and biopharma stocks are starting to rapidly recover some of their losses incurred during their steep ~two month decline that was triggered in early March as investors briefly fled "risk on" sectors that had run up so much in 2013.
Myriad names in my speculative biotech portfolio that I added to during the dip are starting to show very strong performance again. More gains appear likely if sentiment continues to improve on the sector. Here are two particularly strong recent performers moving up on positive news.
Regado Biosciences (RGDO) is a biopharmaceutical company focused on the discovery and development of novel, first-in-class, actively controllable antithrombotic drug systems for acute and sub-acute cardiovascular indications. The company's lead product candidate, REG1, is an actively controllable anticoagulant targeting coagulation Factor IXa for use in patients with a wide variety of acute coronary syndromes.
The stock has moved up significantly since presenting at the big Jefferies Global Healthcare Conference in New York City. Obviously, analysts liked what the company had to say about the firm's prospects.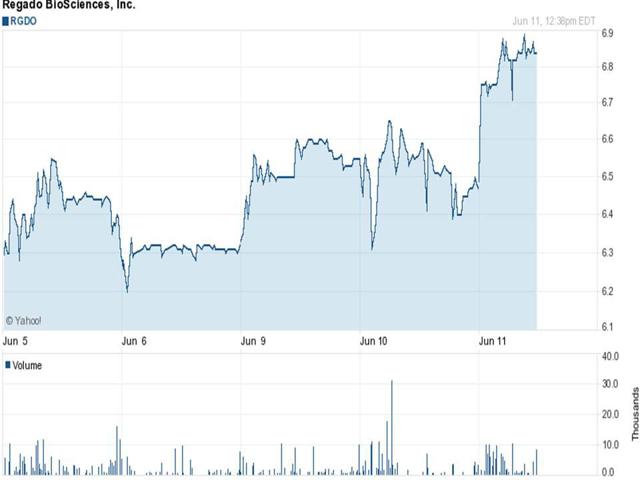 Analysts were pretty bullish prior to the conference judging from the price targets they have on Regado. The median price target held by five analysts that cover the stock is $13.00 a share. Price targets range from $10.00 to $14.00 a share. The shares currently go for under $7 even with today's five percent plus move up for the stock.
Like most small biotechs/biopharmas, Regado is posting losses and has no current revenues to speak of. However, its main product (REG1), is in Phase III trials and the FDA has designated it for its Fast Track program. The company has plenty of money in the bank after doing a recent secondary at $6 a share. In addition, several beneficial owners have made multi-million dollar purchases over the past year. The company has a market capitalization of less than $250 million.
Navidea Biopharmaceuticals (NYSEMKT:NAVB) is a biopharmaceutical company, and focuses on the development and commercialization of precision diagnostics and radiopharmaceutical agents. Like Regado, the stock has moved up very strongly over the past week (See Chart).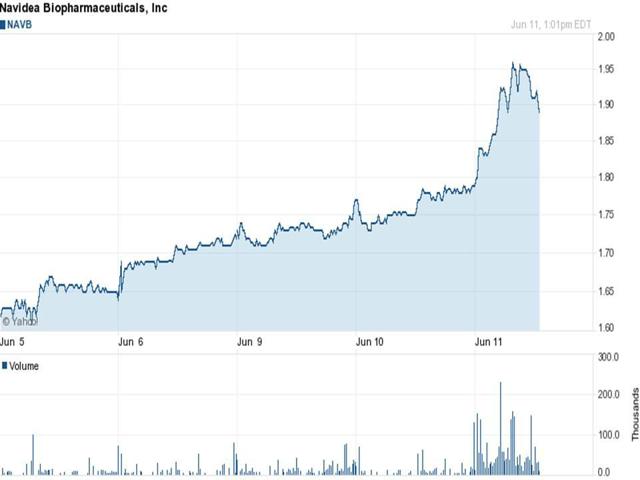 The stock is up again strongly today as the company announced positive Phase III trials for Lymposeek (its primary product) in conjunction for the treatment of head and neck cancer. The median price target for the shares by analysts is $3.00 a share. Even after its recent run, the stock still goes for less than $2.00 a share. Insiders made some small purchases in May prior to the equity's recent rise.
The company is posting losses but revenue growth is starting to explode. The company booked just over $1 million in revenue in 2013. Consensus calls for the company to post over $5 million in sales this year and almost $20 million in FY2015. The stock has market capitalization of around $300 million.
Note: I will add my regular reminder to all of my small biotech positions. It should be noted when it comes to the small biotech and biopharma space I believe it is prudent to practice what I call "Shotgun Investing." These areas have significantly more volatility than just about any other sector in the market. My philosophy is to buy much smaller stakes across a greater amount of stocks to mitigate some of the risk and volatility from allocating funds to this space.
The simple fact is there are going to be "blowups" within your these stocks within your portfolio from time to time. This will be made up for hopefully by the occasional five or ten bagger these investments can return when things go right.
Disclosure: The author is long NAVB, RGDO. The author wrote this article themselves, and it expresses their own opinions. The author is not receiving compensation for it (other than from Seeking Alpha). The author has no business relationship with any company whose stock is mentioned in this article.