The fight between the United States Department of Justice (DOJ) and Bank of America (NYSE:BAC) is heating up. For months now, Bank of America, one of the largest sellers of mortgage-backed securities on Wall Street during the financial crisis, has been in negotiations with the DOJ in order to settle accusations about improper mortgage handling practices. As most investors know, weak underwriting standards (and in some cases, no standards whatsoever) with respect to subprime mortgages were at the center of the financial crisis. As the housing market collapsed, so did the values of mortgage-backed securities that were backed by underlying pools of inferior mortgages.
According to information provided by The New York Times, Bank of America issued about $640 billion in mortgage-backed securities just before the financial crisis (The New York Times also did a great job in compiling a timeline indicating all settlements starting in 2008, which is well worth a read).
Not surprisingly, Bank of America was among the worst-hit financial companies as the housing market and housing market-related derivative securities imploded. Bank of America faced a series of investor complaints, settlements and lawsuits that continue to haunt the bank to this day. Litigation costs remain another serious issue for Bank of America, as it had to post another $6.0 billion in pre-tax litigation expenses in the first quarter of 2014.
Settlement negotiations not going Bank of America's way
For the time being, it looks as if settlement negotiations between the DOJ, which tries to sharpen its profile and present itself as a defender of main street, and Bank of America have broken down, according to a report from Bloomberg. Bank of America has been eager to settle and, therefore, end investigations into its mortgage business during the financial crisis. Since the DOJ has deemed BofA's $12 billion offer unsatisfactory, and is now said to have finalized its civil complaint against the bank, Bank of America could face some serious headwinds with respect to its short-term profitability and, of course, its share price.
Investors who have been following the financial sector after the financial crisis know that both the Securities and Exchange Commission and other regulatory agencies have played softball with the banking sector for a long time. Their approach to dealing with banks and confronting them with their misdeeds during the financial crisis has largely been based on reaching settlements, while regulators as well as prosecutors were both too shy to even mention the words "criminal charges". The DOJ's tougher stance on Bank of America now indicates that this "soft" treatment is about to end. And Bank of America will have to pay up.
How big is the settlement going to be?
Well, that's the big question. If Bank of America settles (the bank still has a chance to do so), investors should expect a figure closer to $17 billion. If Bank of America refuses to settle and both parties go toe-to-toe in the courts, Bank of America might even be forced to pay a much higher amount than $17 billion. So, the choice for Bank of America really is: settle for around $17 billion with the hardballing associate attorney general, or escalate it and potentially lose billions more. Though a nasty pill to swallow, the first option looks much better, plus it will save the bank millions more in litigation expenses and a lot of public theater.
The New York Times reported on June 10, 2014:
Bank of America and the Justice Department have reached an impasse in negotiations over a multibillion-dollar settlement deal, raising the stakes in an investigation into the bank's role at the center of the mortgage crisis.

The talks stalled on Monday after the bank's latest offer - more than $12 billion to resolve state and federal investigations into its sale of mortgage investments that later imploded - fell far short of prosecutors' demands, according to people briefed on the matter. The Justice Department, which had imposed a Monday evening deadline for the bank to deliver its near-final offer, has sought a settlement worth roughly $17 billion, which would be the largest payout by any bank to date.

On Tuesday, as Bank of America sought to continue negotiations, the Justice Department moved to put the finishing touches on a civil complaint against the bank, said the people briefed on the matter, who spoke on the condition of anonymity. The lawsuit, one of the people said, would accuse the bank of selling mortgage investments that led to billions of dollars in losses.
If investors hate one thing with respect to Bank of America, it is uncertainty in the form of ongoing litigation expenses -- an issue investors are already nervous about. Add to that, negative publicity and media coverage could, at the very least, depress Bank of America's stock price in the short term. In other words: Bank of America has a huge incentive to de-escalate and pay up.
Chart situation
Bank of America's shares have seen some good short-term momentum over the last three weeks, with shares trading closer to the $16 region. Despite the increase in Bank of America's share price, the stock still quotes about 12% below its 52-week high of $18.03.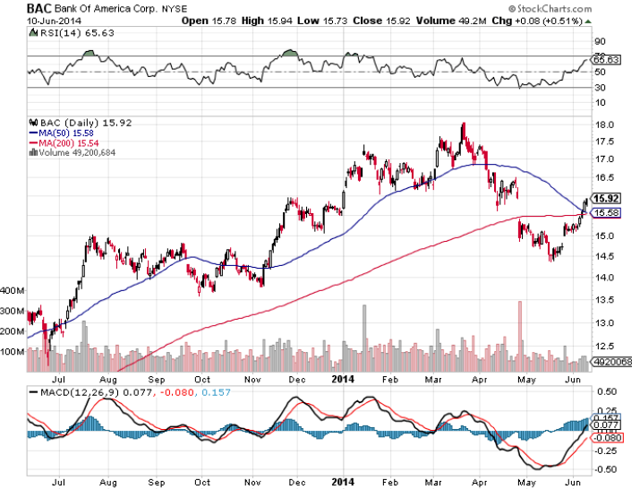 (Source: StockCharts.com)
Final assessment
The deadlocked mortgage settlement is likely to increase the uncertainty for Bank of America in the short term. With investors hating nothing more than uncertainty, I wouldn't be too surprised if the current state of negotiations between Bank of America and the DOJ leads to short-term selling pressure. Since Bank of America's shares have had a good run, increasing from $14.50 in May to around $16.00 now, investors might be tempted to take some profits. Short-term selling pressure, however, could be another excellent buying opportunity for investors who seek long-term exposure to one of the largest banks in the U.S. financial sector.
Disclosure: The author is long BAC. The author wrote this article themselves, and it expresses their own opinions. The author is not receiving compensation for it (other than from Seeking Alpha). The author has no business relationship with any company whose stock is mentioned in this article.