Lululemon Athletica (NASDAQ:LULU) is a stock that keeps coming on my watchlist as a potential short setup ahead of the upcoming earnings call. There has been quite a lot of news in the past within the company and I believe the technical setup and the fundamentals are a cause for concern going forward. This article will talk about the company and things one should be careful of going forward.
Company profile
Who hasn't heard of LULU by now?! The company took the world by storm in 2011 and 2012 and this was reflected in the stock price as shares were up 100% over the years. LULU is a designer and retailer of technical athletic apparel operating primarily in North America and Australia. They have been expanding in Europe and Latin America in the last few years. Their products are designed to offer performance, fit and comfort while incorporating both function and style. The company started concentrating on women's products, but the wardrobes have now expanded into male products too. I love wearing Lululemon's products; however, I do find them quite pricey. LULU also offers a comprehensive line of apparel and accessories, including fitness pants, shorts, tops and jackets designed for athletic pursuits such as yoga, running, general fitness and dance-inspired apparel for female and male youth. Lulu aims to locate their stores in busy street locations, but this comes at a price.
Last earnings report and the future
The last earnings report can be read here. Let's recap what we saw in that last report.
1. In the fourth quarter, total net revenue rose 7.3% to $521 million, from $485.5 million in the fourth quarter of 2012. Keep in mind that an additional week contributed $26.2 million!
2. Increase in revenues came from the addition of 43 new corporate owned stores, 33 in the United States, 2 in Canada and 4 in Australia and New Zealand.
3. Revenues from direct-to-consumer channel totaled $97.8 million compared to $78.3 million from the previous year.
4. Gross profit for the fourth quarter was $278.8 million compared to $274.5 million in Q4 2012.
5. Net income for the quarter was $109.7 million versus $109.4 in 2012.
If we look at these numbers, we can start seeing some red signs. That additional week in the quarter added an extra $26.2 million.
If we look at the chart below, one can observe how estimates have been decreasing for 2014.

(Adapted from finance.yahoo.com)
If we look at EPS numbers, more of the same can be seen. All estimates are being reduced over the last 3 months.

(Adapted from finance.yahoo.com)
And finally, earnings surprises have been also decreasing, another red sign.

(Adapted from finance.yahoo.com)
Technical analysis on LULU
The daily chart scares me. The 50-day moving average is on a downtrend and the price is below the 50-day moving average. Remember that institutions buy when a stock is supported above the 50-day moving average.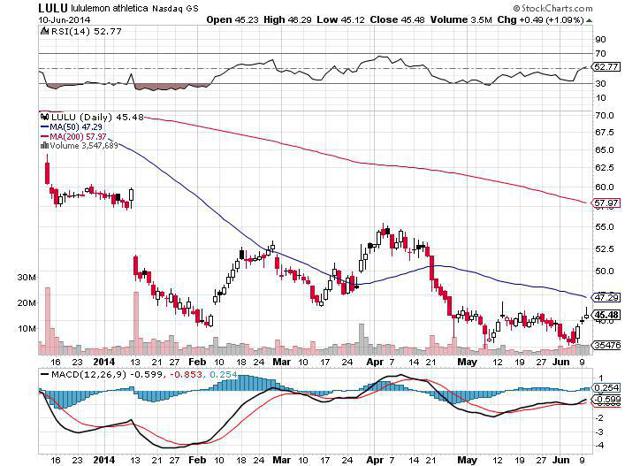 (Adapted from stockcharts.com)
The weekly chart shows more of the same bearish action. Look how the 10-day and the 20-day moving average are descending, and the 10-day moving average is acting as strong resistance.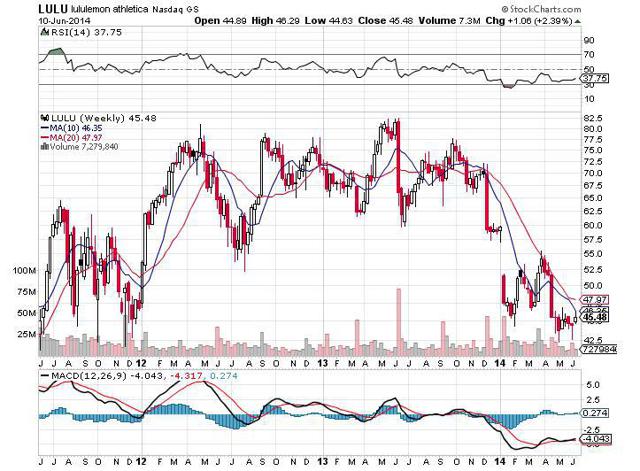 (Adapted from stockcharts.com)
Competition
The biggest competitor LULU faces, in my opinion, is from Under Armour Inc. (NYSE:UA). The numbers at UA have been very strong and the future is brighter there. If we look at their numbers, one can observe how estimates have been increasing going forward.

(Adapted from finance.yahoo.com)
Risks and conclusion
Like every investment, shorting a stock can be dangerous. The company has earnings coming up on Thursday and earnings are gambles. Risk management is key, hence why I only short by risking 1% of my portfolio. Furthermore, strong earnings can cause a massive short squeeze since over 28% of the float is short.
I believe that the fundamentals and the technicals show us that LULU can go lower from there. I have initiated a short position today and will analyze the action after the next earnings report on Thursday.
Disclosure: The author is short LULU. The author wrote this article themselves, and it expresses their own opinions. The author is not receiving compensation for it (other than from Seeking Alpha). The author has no business relationship with any company whose stock is mentioned in this article.