Silver Springs Networks Inc. (NYSE:SSNI) stock is trading close to all-time lows, after going public last year, and there may still be enough reasons to suggest that there is more downside from here. The company has missed expectations, and has a negative balance sheet, operating losses, lumpy revenues and looks expensive by most traditional valuation metrics.
The stock looks bad, which is why it is a good time to take a look at the business. Much of the bad news may be out, but digging deeper into fundamentals suggest that there are even better reasons pointing to better times ahead. Fundamentally, the business enjoys leadership in an emerging field with great long-term prospects. Near-term, improving backlogs, consistent improvement in recurring revenues, fast growing new solutions business and internal management changes should help revive the top line growth and address executional shortcomings.
The stock may ask for patience, but possible profitability by the fourth quarter and margin improvements, coupled with revenue stability can offer returns to compensate. The recent problems like abysmally weak top line numbers, especially for an emerging field, can be ascribed to isolated incidents rather than start of any long-term downtrend. A long gestation period and the relatively large size of an average contract have caused huge swings in revenues due to any delays in decision-making on the customer end.
Long-term prospects are still intact
As per most third party research reports, there is a unanimous view about demand staying strong for providers of analytics and applications for the Smart Grid. Doubts are mostly around Silver Springs' ability to monetize this growing trend, especially after the expected 10-11% revenue decline for the current year.
The revenue weakness may look huge, but the problem has been amplified by the lumpy nature of the contracts. Backlog, a good leading indicator, has been growing through the last few quarters to current level of more than a $1 billion. Looking at the backlog, guidance for $300-330 million revenue for the year seems comfortable to the extent of being conservative.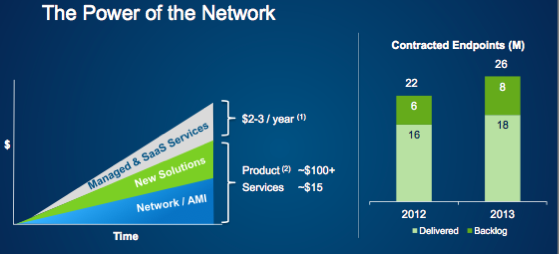 Source: Silver Springs Networks investor presentation
Backlog trends, the double digit growth rate of recurring managed service revenues and the more than 70% growth rate of new solutions make expectations of 20% annual growth sound quite achievable, over the next few quarters. Recurring Managed and SaaS revenue, at more than $2 per endpoint, alone can contribute more than $60 million of annual revenues on installation of 9 million endpoints, which are already under contract. Growth from new solutions like Streetlight and Silverlink Sensor can provide additional growth to the recurring revenue per endpoint and total revenue growth. Overall, doubts about long-term prospects are not warranted.
Competitively, even though various Smart Grid companies like Itron (NASDAQ:ITRI), Opower (NYSE:OPWR) and others have good solutions for a particular functionality, Silver Springs' diversified product offerings and 33% overall market share, besides winning 50% of the U.S. homes & businesses awarded in 2013, does position it well for a prospective pipeline of more than 24 million endpoints.
Pace may be slow, but momentum is positive
The backlog grew 17% at the end of the 2013 and another 14-15% in the first few months of this year, so contract delays seem more of a timing problem. Defying the weakness in the AMI business, the Managed & SaaS and new solution businesses continue to grow strongly.
Going forward, revenue is expected to come back by third or fourth quarter of this year. Besides the pent up demand for AMI, after various delays, growth should get a boost from Streetlight, Silverlink Sensor and Managed services, all of which carry higher margins than AMI business.
Streetlight: The Streetlight business, after the recent acquisition of Streetlight Vision that provides street lighting management and control systems, should be a significant revenue growth driver in the coming quarters. The business, besides accelerating revenue growth, can plug the company well into the next wave of industry growth - Smart City infrastructure. Even before the Streetlight Vision acquisition, the business was expected to do $10 million revenue in 2014 with backlog running into hundreds of millions, which should get another boost from the acquisition. The technology is being piloted in more than 6 cities, which should benefit from Streetlight Vision's presence in another 10 cities and more than 15 global resellers. The newly acquired business also carries higher margins.
The SilverLink Sensor Network business has potential to be another important revenue growth driver. Loosely translated, the network turns Smart Meters into Software Defined sensors, which can be used to deliver real time data analytics and collection for Utilities. The technology, by standardizing interfaces via company's API, can leverage data from third-party networks as well as provide analytics to different third party Apps.
Besides providing revenue growth, the business should help improve the overall margins and increase the recurring revenue per endpoint, which currently stands at approximately $2 per endpoint. The solution, currently being used at a few customers on a trial basis, should ramp in the coming quarters.
Breakeven, just a few contracts away
Guidance is calling for the second quarter to be another bad quarter with revenues of $60-65 million, but the company can achieve operating break-even by the fourth quarter. As a back of an envelope calculation below shows, operating break-even is possible at approximately $90 million of quarterly revenue.
Breakeven calculation

Research & Dev.

$14,570

Sales & mkt.

$7,178

Gen. & Admin.

$8,127

Total OPEX

$29,875

Gross Margin

33%

Revenue BE (Approx.)

$90,530

Revenue last quarter

$71,850

Rev. upside needed

26%

* Keeping Q1 2014 costs
Revenues are expected to grow sequentially by the third quarter and year over year by the fourth quarter, which, considering $89-90 million of revenue in the third quarter of 2013 should easily get to breakeven. Approximately every 1% improvement in gross margin leads to 3-4% reduction in revenues needed to breakeven, so any improvement in gross margin may bring the target closer.
Target price: Value disciplinarians may have to compromise
Target price of $17-18 is based on 2 times next year's sales or approximately 25-30 times next year's earnings plus cash. Avid tech investors may be well aware that any price target may be irrelevant unless the fundamentals turn the corner; similarly on sustained improvement in visibility, these near term price targets may need resetting.
Risks to the Long thesis
Some of the risks that may further derail any positive momentum:
Lumpiness of contracts may create heightened uncertainty and volatility about any given quarter.
Regulatory risk: Working with utility companies adds an additional layer of regulatory risk, whether related to a technology issue like spectrum or data sharing.
Technology risk: In the fast developing Smart Grid and Internet Of Things landscape, there is always a risk of companies using different approaches to data analytics & collections that may invalidate the long term promise of the company
Executional risk: This is probably the biggest risk, especially considering missteps of the last few quarters.
Conclusion
A few bad quarters and high investor expectations have brought Silver Springs stock close to all time lows. Not just a contrarian call, but fundamentals and long-term promise of an emerging field deserve a deeper study. Fundamentally, the business is growing backlogs nicely, building up on recurring revenues, and the pace of improvement is expected to accelerate later this year with the expansion of margins and ramping revenues from new solutions. There is decent cash on the books and operational profitability is possible by the fourth quarter.
Disclosure: The author has no positions in any stocks mentioned, and no plans to initiate any positions within the next 72 hours. The author wrote this article themselves, and it expresses their own opinions. The author is not receiving compensation for it (other than from Seeking Alpha). The author has no business relationship with any company whose stock is mentioned in this article.