Despite a strong stock market and luxury retail environment, shares of Coach (NYSE:COH) have struggled over the past two years. At the same time, as shown by the chart below, shares of COH competitors Michael Kors (NYSE:KORS) and Kate Spade & Co (NYSE:KATE) have moved sharply higher.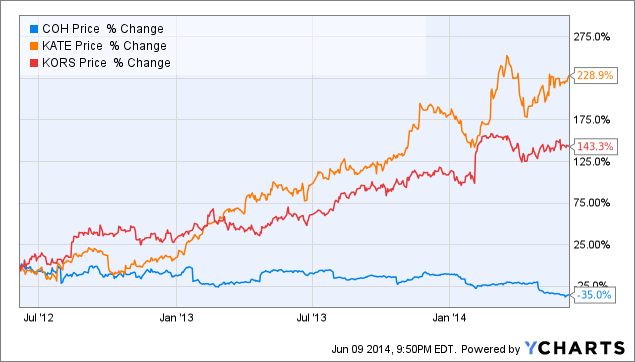 COH data by YCharts
Declining Sales
COH's most recently reported quarter was nothing short of abysmal. COH reported a 16% drop in profit and a sales decline of 5.6%. North American sales fell by more than 13% while margins declined from 72% to 69.2%. Weak sales numbers are the result of COH losing share to competitors such as KORS and KATE. However, lower earnings estimates have now been factored into COH shares. Any player interested in buying COH would need a plan to turnaround the U.S. business. I view COH's struggling U.S. business as an opportunity for a buyer to make changes that will improve the business. After all, one of the key ways in which private equity buyers create value is by improving the operating business itself.
Lew Frankfort Steps Aside
In early 2014, long-time COH CEO Lew Frankfort moved into a new role of executive chairman. Frankfort's decision was likely influenced by the recent struggles of the company. Simply put, the past few have not been very good for COH. A change was needed. That said, the lack of a entrenched management team means that COH shareholders are more likely to approve a sale.
Valuation
Based on a number of metrics, COH is trading at a cheap valuation relative to historic norms and peers. Due to its recent struggles, it is fair that COH is trading at a low valuation. That being said, this is also the main reason why COH is a good buyout target. A potential buyer can buy COH for a nice premium to the current valuation and still get a reasonable price.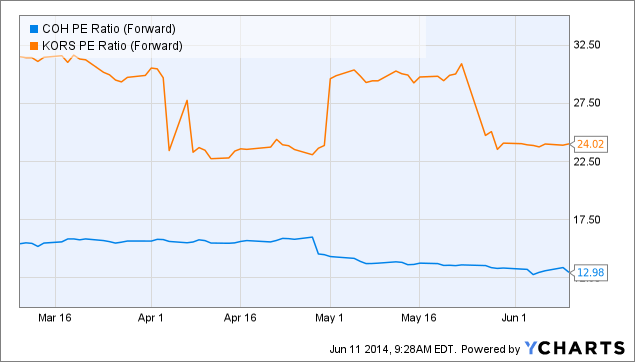 COH PE Ratio (Forward) data by YCharts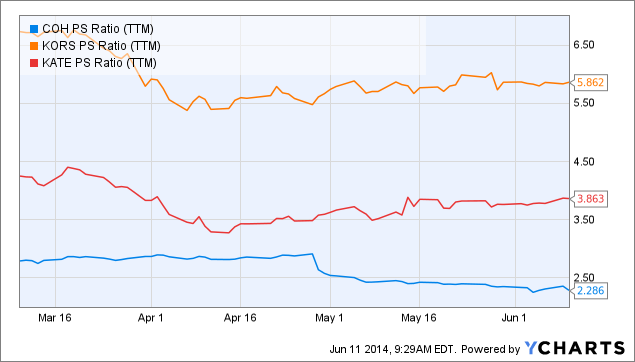 COH PS Ratio (TTM) data by YCharts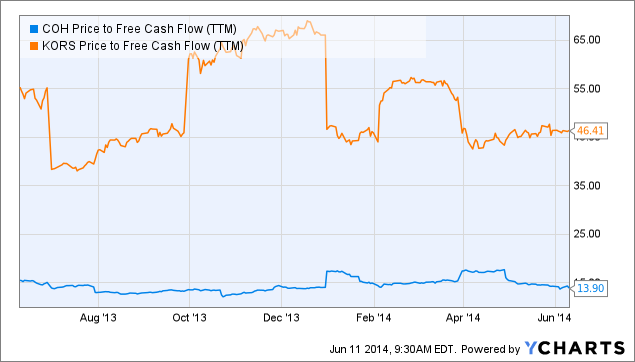 COH Price to Free Cash Flow (TTM) data by YCharts
Balance Sheet
Currently, COH has $774 million of cash on its balance sheet and just $210 million in debt. COH can easily afford to carry significantly more debt. This is essential because a leveraged buyout would require the company to take on a significant amount of debt. In addition to having capacity to take on more debt, COH's high quality balance sheet should allow a potential buyer to borrow at a reasonable rate.
Potential Buyers
Given COH's large market cap, currently upwards of $10 billion, any deal would likely need to involve a number of high profile players such as TPG, KKR, Blackstone, Apollo or Carlyle. Another potential buyer that has been mentioned is Louis Vuitton.
My Take
COH has certainly fallen on hard times. However, I believe, due to the current valuation, an investment in COH is a good bet. The company will either be acquired or be forced to change its strategy. Given the high valuation of most other companies right now, COH is even cheaper on a relative basis.
Disclosure: The author has no positions in any stocks mentioned, and no plans to initiate any positions within the next 72 hours. The author wrote this article themselves, and it expresses their own opinions. The author is not receiving compensation for it (other than from Seeking Alpha). The author has no business relationship with any company whose stock is mentioned in this article.