While conclusive evidence is lacking, as is so often the case with the activities of Apple (NASDAQ:AAPL) before they are "officially" announced, a recent article in Forbes that offers an explanation of the Beats deal rings eerily true. Gordon Kelly suggests that the product development pipeline for the personal electronics giant will include the elimination of the standard headphone jack in favor of those using the lightning connector introduced with the latest series of iDevices. What this means for consumers is that in the next few generations of iPhones, iPads, and iPods, you will either need Apple headphones, or an expensive Apple connector.
Should Investors Care?
The question for investors is whether this is a positive or a negative from the company's perspective, particularly given the $3.2 billion Apple just spent to acquire Beats. On the one hand, Apple has a long history of driving profits through the introduction of "Apple-only" peripherals - or those that require Apple cables to connect them. The company was even able to turn potentially bad press over "counterfeit" power chargers into a win with its USB Power Adaptor Takeback Program. The message sent was that the quality and safety of Apple branded products was greatly superior and should be the choice of Apple consumers.
The advantages of this new connectivity for consumers include the ability to control more functionality through one's headphones, potentially better sound quality, and enhanced power management options. For the company, Apple might further insulate its ecosystem from external attack by holding consumers "captive", as well as potentially earning licensing fees from external headphone makers for the right to use the lightning jack and manufacture Apple-compatible headphones.
What Kelly points out, however, is that consumers lose out in a variety of ways, most importantly in terms of cost and convenience. Not only will legacy devices require the current 3.5 mm jack, but unless every product you own is a new Apple device, you will be forced to own multiple sets of headphones. Users have gotten a taste of that with the need to replace or buy multiple adapters to charge new iPhones, but in the case of headphones, this seems an even larger inconvenience and annoyance.
Not So Simple Math
Such a shift would require several generations of products to be fully implemented, so there is no need for investors to take an immediate position on this subject, but it does speak to the longer-term direction that Apple may choose to move. Where Google (NASDAQ:GOOG) (NASDAQ:GOOGL) Android continues to remain very open - a significant reason for its constantly expanding market share - Apple's closed system faces different economic pressures. Despite clearly differentiated business models, this is one area that long has, and will continue to be, an area of focus for investors.
If the move does come to fruition - an argument against is offered below - the ultimate impact is not straightforward. Due to the complex nature of the iOS and Android ecosystems, a loss of a customer no longer means simply a lost iPhone sale. A defection to Android could impact iPhone sales and iPad sales, as well as iTunes sales. The dynamic between keeping customers "locked-in", but not letting them feel unpleasantly trapped should be a constant concern for Apple. Investors are well advised to look at moves in this arena when forming a long-term view for the stock.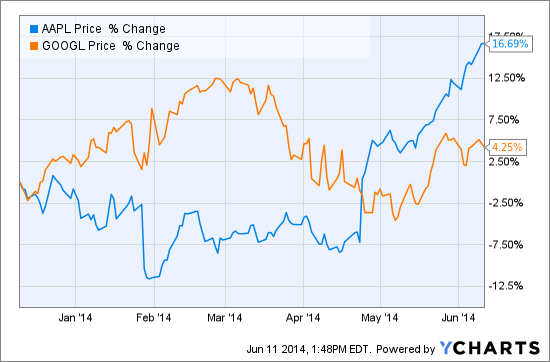 AAPL data by YCharts
Wireless Anyone
The strongest argument against this eventuality being the driving force behind the Beats acquisition is this continuing shift to wireless everything. If headphones follow suit, which has already begun in a limited way, the connector used becomes a moot point. This does not mean that Apple will not make a move to require its own headphones on Apple devices, but the specific path could shift. Ultimately, how the company decides to use its new $3.2 billion purchase may prove to be unrelated to a protectionist stance, but this is something for investors to watch.
Conclusion
While it may be too early to call a foul on Apple over its treatment of headphones, the question alone suggests that the company is coming too close to the line of annoying its customers. As smartphones have become increasingly commoditized, customer retention has spiked in importance. iPhones are no longer so clearly the hottest and coolest thing going that the company can afford to alienate loyal iOS users. Regardless of whether you would embrace the need for lightning enabled headphones or not, monitoring this issue is advisable to Apple shareholders.
Disclosure: The author has no positions in any stocks mentioned, and no plans to initiate any positions within the next 72 hours. The author wrote this article themselves, and it expresses their own opinions. The author is not receiving compensation for it (other than from Seeking Alpha). The author has no business relationship with any company whose stock is mentioned in this article.