It's been just over a year since I last wrote about Duke Energy Corporation (NYSE:DUK). You can find this article here. Duke's share price has gone up by 4.33% in the past 12 months, underperforming the S&P 500, which saw an increase of 19.60% in the same timeframe. In the past 12 months, the dividend yield has decreased slightly, from 4.55% to 4.44%, despite a 2% dividend increase. Looking at the long-term dividend yield graph, shows us that Duke's current dividend yield is historically low. Southern Company (NYSE:SO), which is used as comparison in my previous article, has seen its dividend yield rise to 4.84%.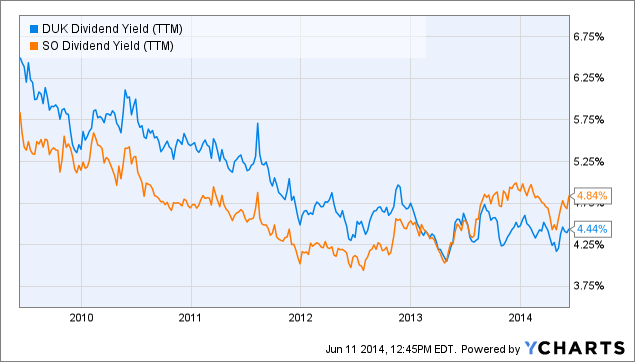 DUK Dividend Yield data by YCharts
Both Southern and Duke tend to pay out a large part of their earnings in the form of dividends. However, Southern's dividend growth rate is a bit higher than Duke's, with a 5-year growth rate of 3.90%.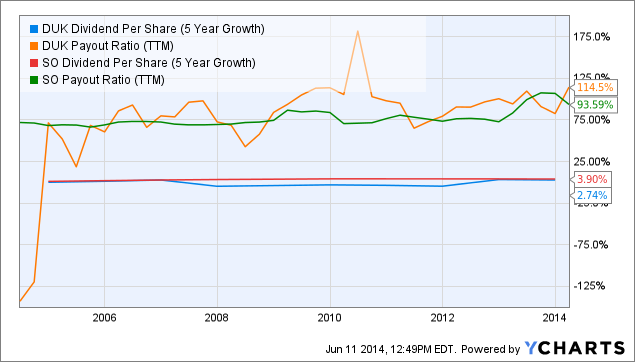 DUK Dividend Per Share (5-Year Growth) data by YCharts
Both companies have decent short term balance sheet health. Duke has a current ratio of 1.41 and a quick ratio of 0.58, while Southern has a current ratio of 1.06 with a quick ratio of 0.48. However, there is a large difference in long term debt, as can be seen from the next graph. It should be noted that Duke is a slightly larger company in terms of market cap and revenue, which would partly explain the higher level of debt. To put these numbers into perspective, Duke's long-term debt is equal to 1.59 times this year's expected revenue, while Southern's $23.30 billion in long-term debt is 1.30 times its expected revenue.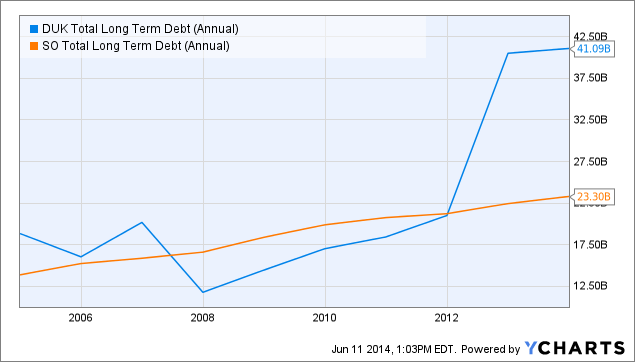 DUK Total Long Term Debt (Annual) data by YCharts
During most of the past 5 years, Southern has been more expensive than Duke when looking at the forward price to earnings ratios. However, Duke's price per share has been going up at a higher rate than its earnings, causing its P/E ratio to rise. At the time of writing, Duke and Southern are trading at 15.35 and 15.66 times expected earnings.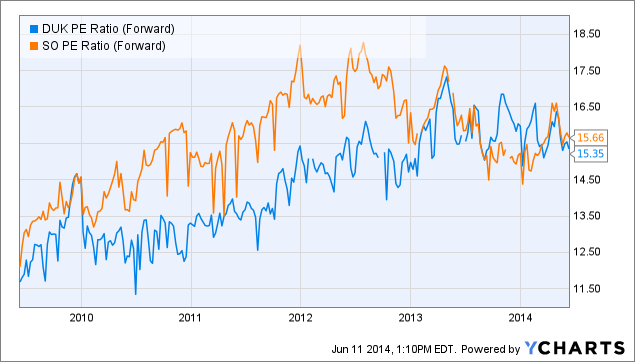 DUK PE Ratio (Forward) data by YCharts
Conclusion:
Last year, I said Southern was a better choice than Duke for investors looking for high, sustainable yields. In my opinion, this is still true. Southern's dividend yield has become quite a bit higher than Duke's (4.84% vs. 4.44%). Furthermore, Southern's dividend grows at a higher pace, with a dividend growth rate of 3.90% over the past 5 years, compared to Duke's 2.74%. Lastly, Duke's long-term debt is a lot bigger than Southern's, which adds interest rate risk. With both companies trading at almost identical forward P/Es, I believe Southern is still a better choice than Duke.
Disclaimer: I am not a registered investment advisor and do not provide specific investment advice. The information contained herein is for informational purposes only. Nothing in this article should be taken as a solicitation to purchase or sell securities. Before buying or selling any stock you should do your own research and reach your own conclusion. It is up to investors to make the correct decision after necessary research. Investing includes risks, including loss of principal.
Disclosure: The author has no positions in any stocks mentioned, and no plans to initiate any positions within the next 72 hours. The author wrote this article themselves, and it expresses their own opinions. The author is not receiving compensation for it (other than from Seeking Alpha). The author has no business relationship with any company whose stock is mentioned in this article.