"I skate to where the puck is going to be, not where it has been." Wayne Gretzky
Introduction
Until recently, Lee County had seen very little Eagle Ford activity. Counties to the north, especially Brazos and Burleson counties, dominate exploration and development activity of the East Texas Eagle Ford. However, as I will discuss below in more detail, privately-owned Venado Oil & Gas is beginning to change things rapidly. As of this writing Venado has successfully completed nine wells and recent results are encouraging which may spur other operators to either develop acreage they currently hold or acquire starter acreage in the play. But first, a little history and background.
Eagle Ford Activity in Lee County - 2008 to 2012.
In December, 2008, Apache Corporation (NYSE:APA) became the first operator to complete an Eagle Ford well in Lee County since the discovery well of the Giddings (Eagleford) field in 1981 (Bar M Petroleum - Harrell No. 1). That well, the Fenn Ranch Unit E 1H, was at the tail-end of Apache's East Texas Eagle Ford drilling program started in 2007 as part of a joint venture with EnerVest and EV Energy Partners (NASDAQ:EVEP). The Fenn Ranch well has a lateral of 1,209 feet and had an IP of 101 boe [96% oil]. [If 'normalized' to today's target lateral of 7,500', this would be more like an IP of 625 boe] As I detailed in an earlier article Apache's drilling program came to a rapid standstill as the country entered the "Great Recession" and oil prices plunged to $33 by the end of 2008.
In 2010 Clayton Williams Energy, Inc. (NASDAQ:CWEI) became the next operator to test the Eagle Ford in Lee County. CWEI spud and completed two wells: Scallions-Lehmann Unit #1 and Loebau Unit #1. The wells have an average lateral of 4,918 feet and IP'd at 91 boe (95.6% oil). However, Clayton Williams only used an average of 60 lbs. of proppant/lateral foot and 5.5 bbls. of fluid/lateral foot, which is significantly less than other Eagle Ford wells. Between the two of them the wells have produced only 31,000 boe since 2010 (through 3/2014) and are clearly "not economic".
Despite the disappointing results from its first two wells, Clayton William spud and completed a third well in 2012: Balcar Unit #1. This well has a 4,995 foot lateral and IP'd at 559 boe (95.3% oil). Proppant per lateral foot was increased to 1,017 lbs and fluid increased to 21 bbls/lateral foot. Although production greatly improved over the first two wells, the Balcar well is still tracking below an EUR of 300Mboe.
Enter the Dragon - Venado Oil & Gas
Venado Oil & Gas, LLC was started on January 1, 2011 by former senior management at Pioneer Natural Resources and San Isidro Development. In January and May, 2012 Venado completed its first two Eagle Ford wells in Lee County, in what it calls its "Horseshoe Project". These two wells, Ball Unit 1H and Harrison Unit 2H had an average lateral length of 4,533 feet. The wells were completed with an average of 1,223 lbs. of proppant/lateral foot and 21.1 bbls of fluid/lateral foot. IP rates averaged 577 boe (97.8% oil).
Thereafter, in February, 2013 Venado publicly announced that it had acquired its non-operating partner's 50% working interest and that it now controlled a contiguous 124,000 acres in the Horseshoe Project area. It also stated that the early indications from its Eagle Ford wells (as well as other operators in the area) was for EURs in excess of 300Mboe per well with an IRR of over 50% based on $6 million "development well cost". Finally, Venado also announced that it had received an initial equity commitment of $275 million from EnCap Investments, L.P. and Riverstone Holdings, LLC. (Note: EnCap has backed many other start-up E&P companies such as Halcón Resources [it has a seat on Halcón's board of directors] and, together with EnerVest, created EV Energy Partners, L.P.)
Now flush with cash, Venado went out and spud the first of four Eagle Ford wells completed in 2013. These wells had an average lateral length of 6,345 feet, averaged 1,594 lbs of proppant per lateral foot and averaged 24.4 bbls of fluid per lateral foot. They also averaged flowing pressure of 1,206 psi with an average choke of 14/64. The average IP rate for the wells was 484 boe (94.8% oil).
1st Half 2014 Activity
As discussed above, only three companies, Apache and Clayton Williams and Venado have successfully completed Eagle Ford wells in Lee County (excepting the 1981 discovery well). Here is a run-down of what those companies have done so far in 2014.
Venado
Between January and March, 2014 Venado completed four more wells: Woelfel Unit 1H, Zoch Unit 2H, Leona Luecke Unit 1H and Leona Luecke Unit 2H (completed on the same day). Only three have completion reports on file. The three wells have an average lateral length of 6,021 feet, averaged 1,617 lbs of proppant/lateral foot and 26 bbls of fluid/lateral foot. They had average flowing pressure of 1,163 psi and an average choke of 12.5. They IP'd at an average of 478 boe. Also in April, Venado completed the Prewett Unit 1H well, located 3.1 miles Northeast of Lincoln, TX. April production from that well was just reported to be 1,537 Boe (75.1% oil).
In early April 2014, Venado gave an operational update on its Horseshoe Project. The update provided several important insights into its drilling program in Lee County. First, the company said that "new and improved" completion designs were now yielding EURs of more than 400Mboe per well. Second, they completed "the first 'simulfracture' stimulation for the East Eagle Ford trend", wherein parallel horizontal wells are fracture stimulated simultaneously [see Leona Luecke Unit wells, above]. Venado believes that simulfractured wells will provide a 15-25% increase to the EUR. Venado also noted that it was using a "restricted choke management program", limiting the size to a 12/64ths inch choke during the initial flowback. Venado also stated that it had improved drilling times down to ten days and, this factor, along with pad drilling and other efficiencies, had reduced well costs to below $7 million.
Clayton Williams
Clayton Williams' first Eagle Ford activity since 2012 was in March, 2014 when it spud the Gold 107#1 well located 1.0 mile southwest of Dime Box, TX. The well was completed sometime in April and the company reported 3,702 Boe (96.9% oil) was produced in April. No completion report has been filed as of the date of this writing so no further details are known at this point. Clayton Williams also spud the Fritsche 109 Unit #1 well which is located 4.6 miles southeast of Lincoln, TX. Other than the fact that the well is targeting the Eagle Ford, no further details are known.
Apache
Apache has done nothing in Lee County since the Fenn Ranch well in 2008. As noted above, that well is part of the 50-50 joint venture Apache has with EnerVest and EV Energy Partners to develop the Eagle Ford across 400,000 acres in East Texas. However, so far this year Apache has not sought any permits in Lee County. Recall that Apache has been very active in Brazos and Burleson counties.
EnerVest/EV Energy Partners
EnerVest is a private E&P company and, perhaps surprisingly, is one of the largest oil and gas companies in the U.S. (top 25). EV Energy Partners is an upstream master limited partnership created in 2006 by EnerVest and Encap Investments L.P. EnerVest, through a subsidiary, is EVEP's general partner. EnerVest has leasehold acreage in Central and East Texas totaling 787,042 acres. EVEP's share is approximately 14%. The joint venture with Apache is to develop the Eagle Ford (and deeper zones) across 400,000 acres in East Texas. Apache is the designated operator and, as noted above, has not sought any permits in Lee County so far this year. However, EnerVest and EVEP have leaseholds outside of the joint venture and in March, 2014 EnerVest (as operator) obtained a permit for the Unger Unit 1EF well, located just 1.6 miles West of Giddings, TX. Apache will participate in the well and it is expected to be spud in the 2nd quarter.
2nd Half 2014 and Beyond
So where is the next tranche of Eagle Ford activity going to come from? There is no question Venado is going to continue to be a major force in the county. In April, it announced that it was adding a second rig to Lee County and planned to complete four wells per month going forward. Currently the company has 3 wells that have been spud and we are awaiting production results. It also has nine permits that have been approved and twelve more that have been submitted for approval.
Clayton Williams also looks like it is going to be a little more active in Lee County this year and beyond (assuming success, of course). We are awaiting first production results from Fritsche 109 Unit #1 and CWEI has four drilling permit applications that are currently pending approval.
As far as the Apache/EnerVest/EV Energy Partners triumvirate is concerned, no other activity has been planned or announced for the remainder of 2014.
How about beyond 2014? First and foremost, the opportunities are going to be for those companies already having a presence in the county through their Austin Chalk (or shallower) leases. Over the years Austin Chalk leasehold ownership in Lee County has become extremely fragmented. For example, there are 64 companies holding 180 leased units, 7 companies holding 10 to 30 units and only 3 companies holding more than 30 leased units.
Austin Chalk leasehold ownership can be broken down into two parts: First, publicly owned (or publicly-related) companies having at least some active Austin Chalk leases in Lee County (who could be prime candidates to acquire or partner with others to target the Eagle Ford) and second, four privately held companies with AC leases (who could be prime candidates for acquisition or partnership).
1. Austin Chalk Publicly-owned or Related Companies
EnverVest/EV Energy Partners
EnerVest/EVEP are by far and away the largest holders of Austin Chalk leases in East Texas. [see map below] EVEP does not provide county-by-county breakdown of the acreage, but my visual estimate for Lee County is around 80,000 acres. EnerVest/EVEP have 265 active Austin Chalk leased units in the county. As stated above, EVEP has 14% ownership interest in any Eagle Ford well developed directly with EnerVest.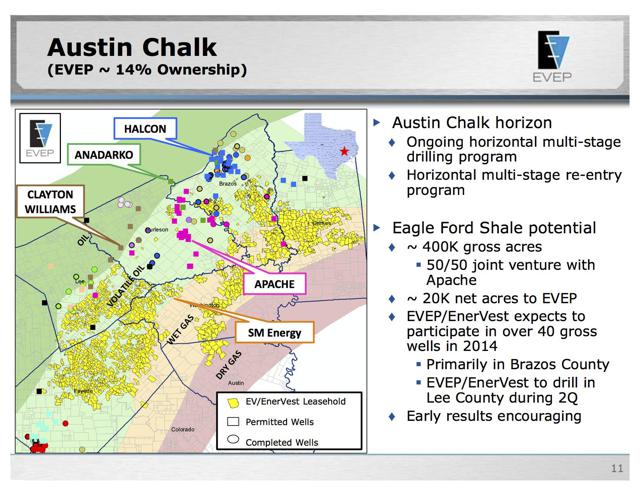 Apache
Apache does not have any Austin Chalk leases per se, but has a nascent interest to explore and develop the Eagle Ford zone through its 50-50 JV deal with EnerVest/EVEP. Below is a map of Apache's interests in East Texas and if you compare this to the EnerVest/EVEP map you can see that the two mostly overlap, except in Lee and Fayette counties. My visual guesstimate of Apache's interest in Lee County is 15,000 to 20,000 acres.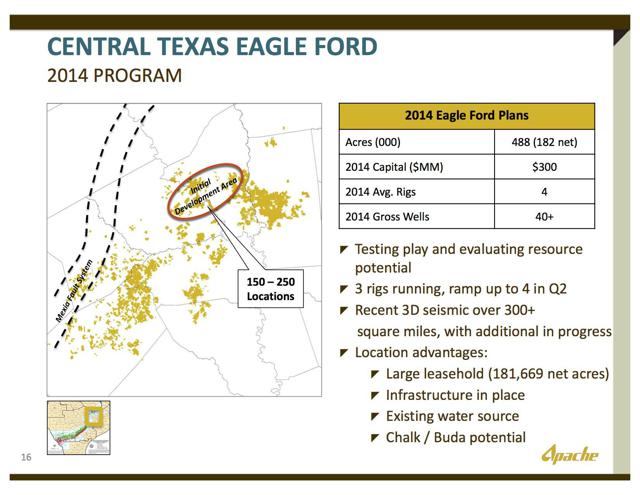 Clayton Williams
Clayton Williams has about 185,000 net acres in what it calls the "Giddings Area". The acreage is in Robertson, Burleson and Lee counties but concentrated in Burleson. [see map below] CWEI does not breakdown the acreage county-by-county, but my visual guesstimate for Lee County is 25,000-30,000 net acres. Clayton Williams has nine active Austin Chalk leases in the county.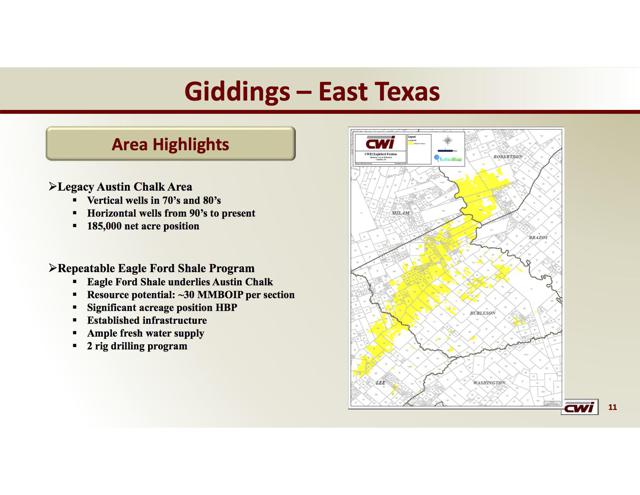 Halcón Resources (NYSE:HK)
Halcón Resources has one Austin Chalk lease in Lee County which it acquired from Southern Bay Operating in July, 2013. A whopping 192.51 acres. Halcón's Eagle Ford activity is concentrated in Brazos and Burleson counties, but with the success of the Stiffelmire well in Burleson, it might be interested in drifting 10 miles to the south into Lee County to test the Eagle Ford there.
SM Energy (NYSE:SM)
SM Energy has two Austin Chalk leases in Lee County that it acquired from Ursa Operating in March, 2014 (which in turn had bought them from Encana (NYSE:ECA) in January, 2014 (Encana had drilled but never completed two wells targeting the Eagle Ford in 2012). The units are located just 7 miles southeast of Giddings. At present it appears that SM Energy will focus on the Austin Chalk as they just had a permit approved for the Austin Chalk in late May, 2014.
XTO Energy (NYSE:XOM)
XTO Energy, a subsidiary of ExxonMobil, has four Austin Chalk leases in Lee County which it acquired in 2005 and 2007. The wells are located 10 to 18 miles northeast of Giddings.
Below is a map showing the location of all of the public companies' AC leaseholds in relation to the current EF activity.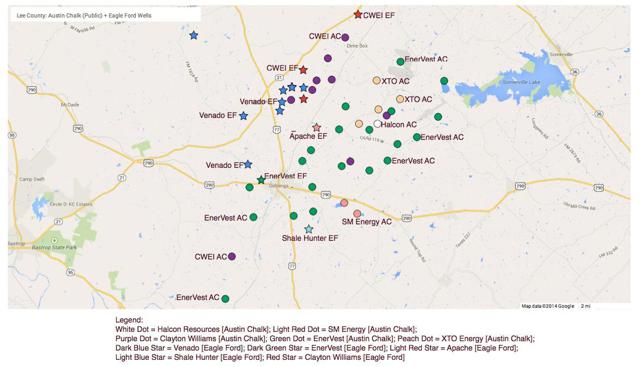 2. Austin Chalk Privately-owned Companies
As indicated above, the market for "Austin Chalk" producers in the county is very fragmented. Most producers are "mom and pop" operations owning less than 3 units. There are a few larger producers, however, that I think could be ripe for acquisition or partnership, especially if the wells currently permitted by Venado, Clayton Williams and EnerVest for later this year prove to be economic.
Browning Oil
Browning Oil Company, Inc. is a privately-held, family-owned exploration and production company. It has been an active producer in the Giddings Austin Chalk since the 1970s. The company has 29 producing Austin Chalk oil/gas leases in the county but has not drilled a new well in the county since 2008. The 29 leases averaged only 171 boe per month last year. More recently the company has become more active in Reeve and Pecos counties (Permian Basin) and thus may be motivated to monetize its Austin Chalk holdings (assuming it holds rights to deeper zones, of course). 10 wells are plotted on the map below to provide a sense of where the acreage is in relation to current Lee County EF activity.
Impetro Operating, LLC
Impetro Operating, LLC is a wholly-owned subsidiary of Starboard Resources, Inc. which was formed in June, 2011 to "roll-up" and hold various oil and gas assets. Impetro has 17 Austin Chalk operating units in Lee County. The 17 leases averaged 420boe/month in 2012 and just 242boe/month in 2013 (a 58% decline). The company has done no new drills in Lee County recently. In addition, based on my cursory review of some recent SEC filings, Starboard is currently under major financial and management stress as its major shareholders appear to be suing each other for breach of contract, etc. and Starboard has interplead stock into a Connecticut court (where the lawsuits are pending). This ongoing legal situation may motivate (or force) Starboard to monetize its Austin Chalk holdings (assuming it holds rights to deeper zones, of course). The sharp decline in production year over year suggests that someone is not "minding the store". 10 wells are plotted to show the area of its holdings.
U.S. Operating
U.S. Operating has 70 active Austin Chalk oil/gas leased units in Lee County. The 70 leases averaged 346boe/month in 2012 and averaged 308boe/month in 2013 (decline rate of 11%). Given that the majority of the company's well inventory are nearing the end of its productive life, the company may be motivated to sell or partner with another company regarding the deeper zones. Furthermore, the company used to have an active drilling program but has not had a new drill or even a recompletion since 2010. This indicates that the company is no longer in a position to undertake an active drilling program.
WCS Oil
WCS Oil & Gas Corporation is a privately held E&P company. It has 46 active Austin Chalk oil/gas leased units in Lee County. In 2012 these units (some have more than one well) produced an average of 540 boe/month and 544 boe/month in 2013. This company remains active in the play and has done some recent drilling and completion work, mostly in Washington and Fayette counties. They might be an attractive acquisition candidate because (again assuming they have rights to lower zones) they have a nice assortment of assets split fairly evenly between Burleson, Lee, Washington and Fayette counties.
Below is a map showing a representative sampling of the four private companies' AC leases in relation to the current EF activity.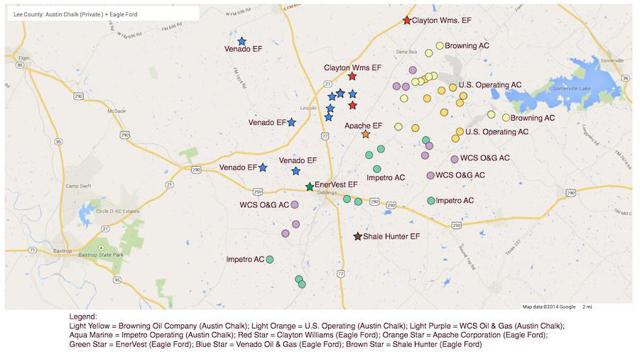 Conclusion
Despite the fact that "everybody knows" the Eagle Ford thins out in Lee County, the results obtained by Venado are very encouraging. The location of Venado's wells (in and around Lincoln, TX) suggests that a whole swath of acreage to the northeast of Lincoln extending into Burleson County is worthy of further exploration and testing. Companies such as EnerVest/EV Energy Partners , Apache and Clayton Williams are in the best position to move forward as they already have established positions in the county. Both Halcón Resources and SM Energy have small toeholds in the county but, given the fragmentation of leasehold ownership in the county, there is opportunity to pick up modest starter positions for relatively low cost. Acquisition of or partnership with private operators Browning Oil, Impetro Operating, U.S. Operating and/or WCS Oil would provide a quick way to get a larger position in the play... but that is probably a 2015 event at the earliest. There are 21+ wells planned to be drilled during the 2nd half of 2014. Investors should keep an eye out for the results. If they are good, activity in the county will increase dramatically in 2015 (assuming oil stays at $100+).
Disclosure: The author is long EVEP, HK. The author wrote this article themselves, and it expresses their own opinions. The author is not receiving compensation for it (other than from Seeking Alpha). The author has no business relationship with any company whose stock is mentioned in this article.