Warren Buffett, chairman and CEO of Berkshire Hathaway (NYSE:BRK.A) (NYSE:BRK.B), widely considered to be the greatest long-term investor in recent history, has said:
It's far better to buy a wonderful company at a fair price than a fair company at a wonderful price.
Boeing (NYSE:BA) fits this criteria and belongs in any long-term investor's portfolio.
Boeing & Airbus Duopoly
When it comes to the commercial aerospace business, there are two companies that dominate the industry Boeing & Airbus. The industry duopoly is actually a relatively recent phenomenon. The duopoly began to take shape in 1996 when Boeing merged with its competitor McDonnell Douglas. The duopoly was formed in 2000 when EADS, now known as Airbus, was formed from a merger between Aerospatiale- Matra, Daimler Chrysler Aerospace AG, and Construcciones Aeronauticas SA. While there are still a number of companies that compete in the defense aerospace business such as Lockheed Martin Corp (NYSE:LMT), the commercial aerospace business is controlled by Boeing and Airbus. As shown by the chart below, Boeing shares have done quite well since 2000. Both Airbus and Boeing have massive backlogs, so clearly there is enough business for both firms to do well. Furthermore, it appears unlikely that the duopoly will end any time soon due to the high barriers to entry and economies of scale present in the business. Warren Buffett often talks about looking to invest in companies that have wide moats around their business, Boeing clearly has a wide moat around its business.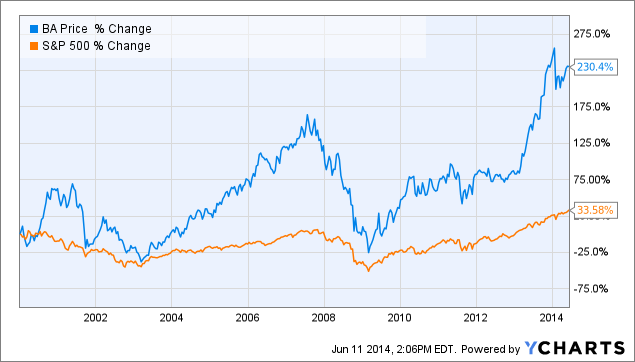 BA data by YCharts
Dividends & Buybacks
Over the years, Boeing, as a company, has proved an effective steward of shareholder capital. As shown by the charts below, Boeing has consistently increased its dividend and repurchased a significant amount of stock. Just a few months ago, Boeing announced a 50% increase in its dividend and a $10 billion increase in its share repurchase program. Boeing management has proved effective in managing both the business from operational and financial aspects.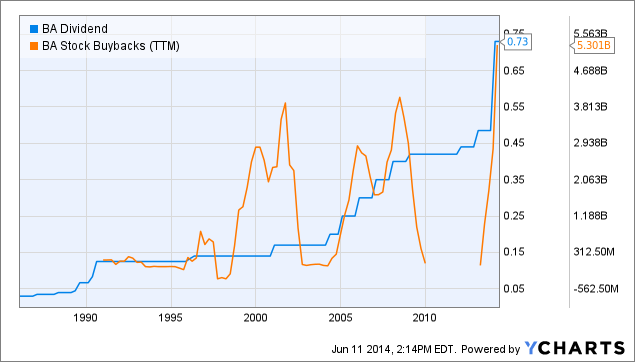 BA Dividend data by YCharts
Airline Business Improving
The consolidation of the U.S. airline business over the past decade is finally starting to pay dividends with the biggest carriers all solidly profitable. A more stable commercial airline business has the potential to serve as a catalyst for Boeing as airlines are more easily able to invest into new airplanes.
Valuation
Boeing trades at about 17.5 times forward earnings and 15.6 times free cash flow. Based on these metrics, it is difficult to argue that Boeing is a cheap stock. At the same time, Boeing is not significantly overvalued.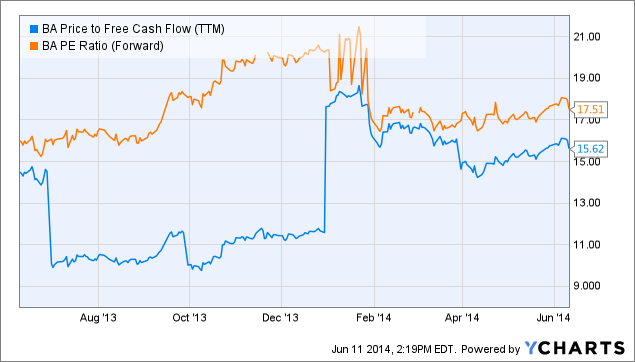 BA Price to Free Cash Flow data by YCharts
Could Buffett Buy Boeing?
Berkshire currently does not own any shares in Boeing. However, I would not be surprised to see this change at some point, especially if the market moves lower. What would come as a surprise is a Berkshire buyout of Boeing. While I believe Boeing would be a great addition for Berkshire's long-term future, the size of the deal is likely prohibitive. Boeing's current market cap of $97 billion is roughly a third of Berkshire's $315 billion market cap. The largest deal Berkshire has ever completed was the $34 billion acquisition of Burlington Northern Santa Fe. Buffett has indicated that he is looking for big acquisitions but Boeing, I believe, is simply too large. To complete a deal for Boeing, Berkshire would likely need to use stock to pay for a large portion of the deal. With Buffett taking the unusual step of buying back stock over the past few years, I don't think Buffett would want to issue stock to fund the deal.
Conclusion
Boeing was the best performing stock in the Dow Jones Industrial Average last year with shares surging 81%. Due to this, I think it is unlikely that the stock is headed significantly higher over the short term. That said, over the long term, I believe Boeing will be a terrific investment.
Disclosure: The author has no positions in any stocks mentioned, and no plans to initiate any positions within the next 72 hours. The author wrote this article themselves, and it expresses their own opinions. The author is not receiving compensation for it (other than from Seeking Alpha). The author has no business relationship with any company whose stock is mentioned in this article.