The Canadian stock market is home to many excellent dividend growth stocks with a long history of dividend payments. S&P tracks a Canadian Dividend Aristocrat Index which is similar to the US Dividend Aristocrat Index. There are several difference, however. The requirements for inclusion in the Canadian index are lower than for the US index.
Requirements for Inclusion
The Canadian Aristocrats index consists of stocks that have 5 years of consecutive dividend increases
A company can maintain the same dividend for a maximum of 2 years
Must be listed on the Toronto Stock Exchange (TSX)
Must have a market cap of at least 300 million Canadian Dollars
The requirements for inclusion on the Canadian Dividend Aristocrats index are not is rigorous as the requirements to be included in the US Dividend Aristocrats index. The US index requires 25+ years of increasing dividends, versus just 5 for the Canadian index.
Return
The Canadian Dividend Aristocrat's index has returned 12.44% per year over the last decade, versus 8.52% for the S&P/TSX composite index. The Dividend Aristocrat's index has outperformed with a significantly lower standard deviation than the S&P/TSX composite index. Just as impressive, the Canadian Dividend Aristocrat's index has achieved a Sharpe ratio of 1 over the last decade.
Constituents
There are currently 66 constituents in the Canadian Dividend Aristocrats Index. Download the complete list here. There are 6 businesses on the Toronto stock exchange with over 25 years of dividend payments without a decrease. Each of these 6 businesses is summarized below and ranked based on the 8 Rules of Dividend Investing.
Bell Canada Enterprises (BCE)
Bell Canada Enterprises is a telecommunications business. The company's operations are divided into 5 divisions: Wireless, TV, Internet/Wireline Data, Media, & Wireline Voice. The company's wireless divisions is its largest with 32% of revenue in 2013, followed by Internet/Wireline data with 26% of 2013 revenues.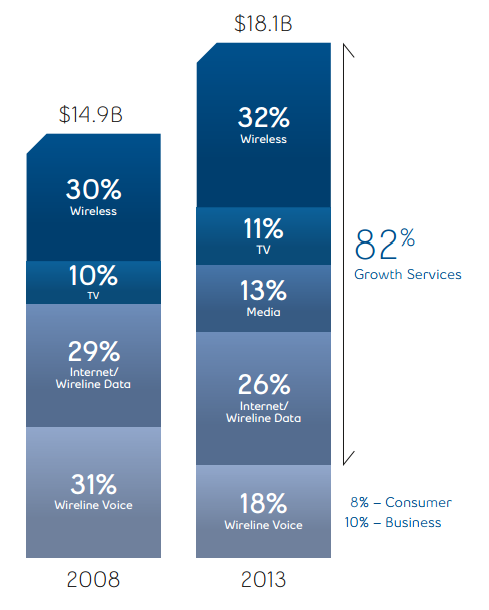 Source: BCE Annual Report, Page 4 Bell Canada enterprises has not reduced its dividend in 31 years, excluding the impact of spin-offs. The company's dividend was slightly reduced in 2000 when it spun-off Nortel. Further, Bell has been in Canada since 1880, and has a very long history of profitability. Dividend Yield: 4.90% Payout Ratio: 95.38% Revenue per Share Growth Rate: 5.35% Standard Deviation: 25.96% 8 Rules Rank: 42 out of 118
Fortis Inc. (FTS-OLD)
Fortis is the largest publicly traded gas and electric utility company in Canada. The company operates throughout Canada and the US. A significant portion of Fortis' growth has come from acquisitions of other utility companies. Fortis recently closed on the $1.5 billion acquisition of CH Energy Group, a New York state utility company. Further, Fortis recently announced the $4.3 billion acquisition of UNS Energy Corporation, a utility company based in Arizona. Fortis has a long history of rewarding shareholders through increasing dividends. The company has paid increasing dividends for 41 consecutive years.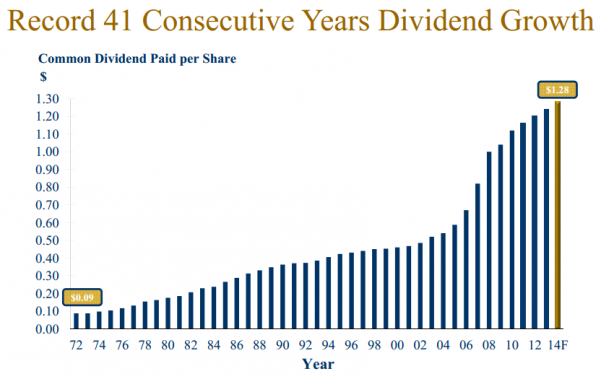 Source: Fortis Annual Meeting Presentation Dividend Yield: 4.03% Payout Ratio: 77.58% Revenue per Share Growth Rate: 3.64% Standard Deviation: 19.94% 8 Rules Rank: 36 out of 118
Canadian Utilities (OTCPK:CDUAF)
Canadian Utilities is more than a utility company (don't let the name mislead you). The business operates in four divisions: Utilities: The company's utility operations are focused on the transportation of natural gas, water, and electricity in Alberta, the Canadian North, and Australia. The company serves various utilities to nearly 2 million customers. Energy: The Energy business is comprised of ATCO Power & ATCO Energy Solutions. ATCO Power owns and operates 17 power plants in Canada, the UK, & Australia. ATCO Energy Solutions operates non-regulated water infrastructure, and provides services to Western Canada's oil and gas sector. Structures & Logistics: This division offers infrastructure solutions globally. In addition, the company provides noise and air emissions controls, and waste heat systems. Finally, the company also provides modular solutions to remote (aboriginal) communities. Technologies: Canadian Utilities technology division provides various business services including IT security, metered data management, asset management, and customer care and billing. The company specializes in providing services to the utility and energy sectors. Canadian Utilities has increased its dividend for 42 consecutive years. The company's long history of increasing dividend payments is evidence of a sustainable competitive advantage and shareholder friendly management.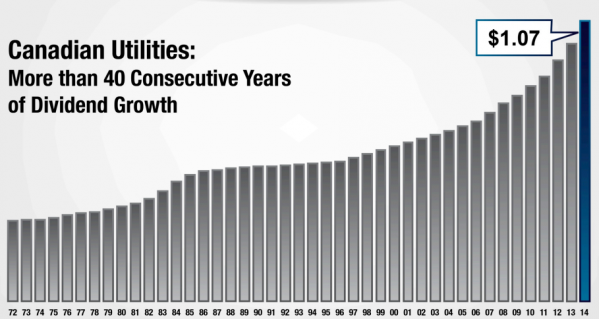 Source: Canadian Utilities Annual Meeting Presentation - CFO Dividend Yield: 2.49% Payout Ratio: 46.41% Revenue per Share Growth Rate: 2.00% Standard Deviation: 22.15% 8 Rules Rank: 60 out of 118
Enbridge (ENB)
Enbridge transports, distributes, and generates energy. 68% of the company's earnings came from oil pipelines in 2013. The company has invested into renewable energy projects as well, with 13 wind farms, 4 solar farms, and 1 geothermal project. Shareholders of Enbridge have been rewarded over the last several years. Enbridge has not reduced its dividend for 61 years, and increased dividends for 19 consecutive years. The company has also compounded returns at well above market rates over the last decade.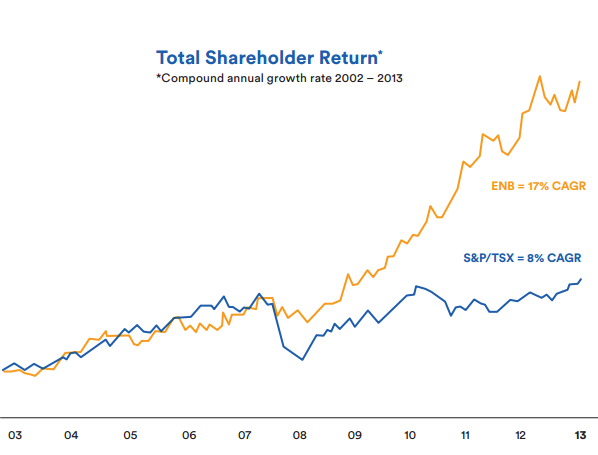 Source: ENB 2013 Annual Report Dividend Yield: 2.75% Payout Ratio: 216.95% Revenue per Share Growth Rate: 11.63% Standard Deviation: 22.66% 8 Rules Rank: 26 out of 118
Imperial Oil (IMO)
Imperial Oil is the Canadian subsidiary of ExxonMobil (NYSE:XOM), and Canada's largest integrated oil company. Exxon owns about 70% of Imperial Oil. Imperial Oil is an integrated oil company with upstream, downstream, and chemical segments. Imperial Oil has not reduced its dividend in 67 years. The company has increased its dividend payments for 19 consecutive years. Imperial Oil has greatly reduced its share count over the last decade.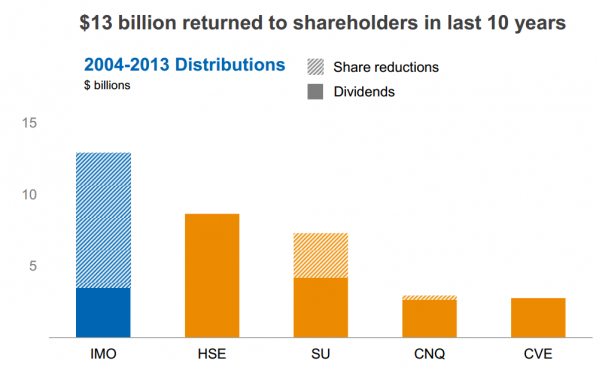 Source: Barclay's Americas Conference
Dividend Yield: 0.96% Payout Ratio: 15.00% Revenue per Share Growth Rate: 7.15% Standard Deviation: 33.11% 8 Rules Rank: 51 out of 118
Empire Co. (EMP.A)
Empire Co. is one of Canada's largest grocery, drug, and gas station businesses. The company operates under a variety of brands, the most well known of which is Sobey's.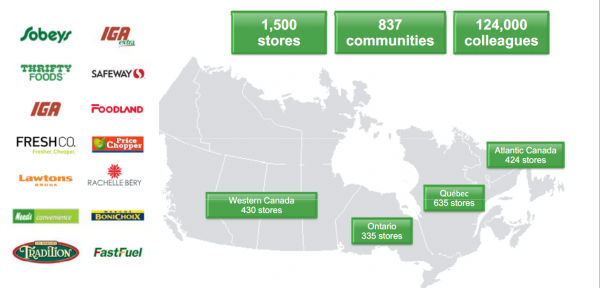 Source: CIBC World Markets Conference Empire Co has not reduced its dividend in 30 years. The company has managed its impressive streak of profitable growth through focusing on what it does best: food retail and related real estate. The company has fueled growth recently through the acquisitions of Shell Canada gas stations and Safeway's Canada stores. Dividend Yield: 1.53% Payout Ratio: 20.84% Revenue per Share Growth Rate: 5.20% Standard Deviation: 22.43% 8 Rules Rank: 16 out of 118
Conclusion
Of the 6 Canadian business with 25+ years of dividend payments without a reduction, Empire Co. ranks the highest. The company's low payout ratio gives management ample room to raise dividends faster than overall company growth. Empire Co. also has a reasonable growth rate and low standard deviation.
Disclosure: The author has no positions in any stocks mentioned, and no plans to initiate any positions within the next 72 hours. The author wrote this article themselves, and it expresses their own opinions. The author is not receiving compensation for it. The author has no business relationship with any company whose stock is mentioned in this article.
Editor's Note: This article discusses one or more securities that do not trade on a major U.S. exchange. Please be aware of the risks associated with these stocks.