The AstraZeneca (NYSE:AZN) rejection of the Pfizer (NYSE:PFE) buyout offer is likely to result in short-term pain for investors, but is a long-term positive for the company. A sale to PFE would have resulted in a payout to shareholders that is arguably well above the fair value of the company. But the takeover would have resulted in extensive downsizing and pipeline disruption - despite Pfizer's claims. All you have to do is look at the history of previous PFE takeovers to see what will happen, as the employee base ultimately becomes 1 + 1 = 1 and the early-stage pipeline is devastated. That is why Pfizer has to troll for new takeovers every few years, as it destroys pipelines in its attempt to keep its struggling empire from crumbling. That said, I see AZN as a good independent company with a promising future, but a poor investment at this time. Let me explain.
To start the discussion on the value of AZN, the F.A.S.T. GraphsTM chart below provides a snapshot of AZN's history since 2001. The black line shows the share price of AZN since 2001. The orange line is the fair value of AZN if it had been priced based on a P/E of 15. The blue line, which is very close to the orange line, is a P/E of 14.4, which has been the historical norm for AZN. What is striking is how far undervalued AZN was during the years 2007-2012. In particular, during the years 2010-2012, this unloved company sported a P/E about 7 and a dividend yield of 5-6%. Investors who astutely bought during this time have been generously rewarded, as noted in this recent Seeking Alpha article. But investors had good reasons to be wary of the company during those years. The company's strong revenue and earnings growth during this period was based on a maturing portfolio of drugs, but the late-stage pipeline saw disappointment after disappointment. Meanwhile, major patent expiries of Seroquel and Atacand in 2012, Nexium in 2014, and Crestor in 2016 signaled trouble ahead.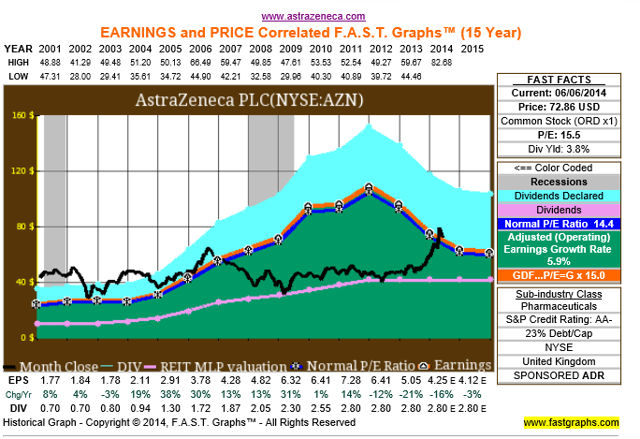 Then in 2013, the sentiment changed as investors began to see light beyond the patent expirations. The stock price began a march upward, as the chart below shows. Under the direction of the new CEO, Pascal Soriot, hired from Genentech in 2012, the late-stage pipeline once again began to look promising. With a dividend yield over 4%, the shift from momentum stocks to dividend stocks in early 2014 provided more upside for AZN. Finally, the offer by PFE drove the price to $84 per share, a 42% rise in a year, before dipping back to $73 as the PFE offer was withdrawn. Notably, as shown by the black line in the chart below, right at the beginning of 2014, the share price moved above the P/E = 15 fair value line to what might be considered historically overvalued territory for this company.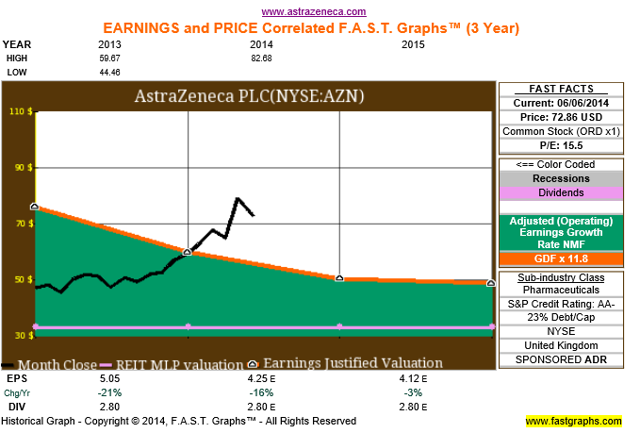 So where do we go from here? The F.A.S.T. Graphs chart below shows that the worries of investors during the unloved period from 2007-2012 are now being realized. The estimated revenues and earnings through 2017 steadily decrease due to the patent expiries of Seroquel, Atacand, Nexium, and Crestor, with little in the way of new revenue to replace these losses. The orange P/E =15 line shows the steady decrease to a fair value share price of $54 at the end of 2017, and remains there through 2019. The other lines on the graph show the share price for other P/E ratios. For example, if the current price of 73 is maintained through 2017, the stock would have a P/E of 20, well above the historic average.
The lavender line near the bottom shows the current dividend of $2.80 per share. In 2013, this dividend was 58% of earnings, but rises to 80% by the end of 2017. Although the company has about $5B in cash (end of 1Q14) and $17B in retained earnings, the current dividend may not be maintained if these earnings forecasts are correct.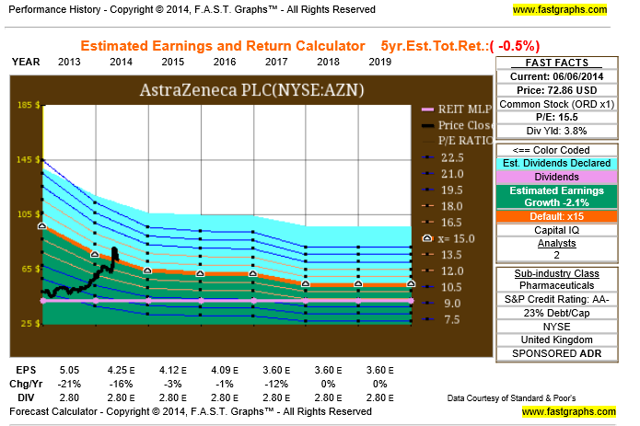 This raises a number of questions:
Since future revenue and earnings forecasts look so dire, why has the stock risen so much during the past year?
Why was Pfizer interested in buying a company with decreasing revenues?
Why did AZN management turn down the buyout offer at a price that appears to be 50% higher than fair value in 2017?
In our opinion, the reasons for the rise in AZN share price in the past year are four-fold:
The stock market rose in 2013, lifting all boats, although the FTSE 100 increase was much more modest than the US markets;
Investors shifted into stocks with high dividends such as AZN as worries about a correction in momentum stocks took hold;
As a laggard during the initial market bull run from 2009-2012, AZN was one of the few undervalued stocks remaining - a reversion to the mean;
Faith in the new CEO, and a late-stage pipeline that appears genuinely promising.
We won't get into the Pfizer motives, which have been discussed at length elsewhere and appear to be primarily driven by financial incentives to have a home address in the UK. But in addition to this, we believe PFE saw the same value of the late-stage pipeline as investors - a part of the same reason investors have driven up the stock price in the past year. Also, AZN is a pure human health drug company, with no consumer health and no animal health, which means fewer moving parts to integrate.
So why didn't the AZN board and management accept the buyout offer from Pfizer? While AZN management claimed PFE undervalued the company, I don't think it was a financially-driven decision. Instead, it was a mixture of:
Pride to maintain the company brand
A desire by a new CEO to see a turnaround in its formative stages be brought to fruition under his leadership
An understanding of the hardship the takeover would mean to employees
Zero confidence that Pfizer could execute competently on its prized pipeline
Pfizer missed the key selling point and truly bold move that would have sealed the deal - offering the CEO position of the combined company to Soriot. But that would have required the shark to swallow some of its own pride - an unlikely scenario.
The unsolicited bid from Pfizer prompted AZN executives to do something very unusual in any industry, much less an industry where predicting the outcome of clinical candidates and revenues is notoriously difficult - they provided sales estimates for the year 2023. The forecast predicted revenue of $45 billion in year 2023. We don't think this is a realistic estimate, as we discuss later in the article.
While the forecast came across as an act of desperation, it served to bring greater attention to the AZN pipeline, while giving politicians more ammunition to talk down the deal and build public support against the takeover. The forecast was met with skepticism by most analysts who cover the company, summarized excellently by a note from Deutsche Bank analyst Mark Clark:
"Many observers will view this as a huge stretch and count this as 'blue sky.' AstraZeneca can genuinely boast a potentially exciting pipeline but promise and sales do not necessarily match up in this risky and competitive industry and furthermore its ex-pipeline assumptions will likely be seen as optimistic."
In the remainder of this article, we take a look at revenue expectations for the current AZN marketed drugs and its pipeline through 2018 in an attempt to generate a bottom-up estimate of revenues and earnings. Then we take a quick look at estimating revenues for 2023.
2018 Revenue Projections.
I have chosen 2018 as a target date to estimate revenues, as my crystal ball does not work well beyond 5 years, and 2018 is likely to be the inflection point for AZN - the low point after which it should grow again, if its pipeline holds up. I will break 2018 revenue into 3 tables: mature products (Table 1), newer products (Table 2), and future products (Table 3). The totals are summarized in Table 4.
A Few Bright Spots for Mature Brands
There are not a lot of positives in the mature brands segment of AZN products. The patent expiries of Nexium, Atacand, Seroquel, and Crestor, along with declines in other older, off-patent drugs will reduce sales of the mature brands by an estimated $10 billion by 2018 (Table 1). Nonetheless, there are still a few bright spots.
Sales of Symbicort grew 13% in 1Q2014, and the company is gaining market share in spite of increased competition in inhaled asthma drugs. The two active ingredients which are combined in Symbicort are off-patent, but the inhaler AZN uses for delivery is still under patent until 2020. However, Teva is likely to get approval of a combination drug with the same active ingredients in an alternate inhaler device in Europe this year, after a positive recommendation from the CHMP in February. Alternate delivery inhalers for GSK's Advair are also being introduced around the world, that will put downward pressure on pricing across all inhaled asthma therapies. In addition, newer drugs for asthma and COPD are entering the market, such as Breo and Anoro from GSK, so competition among branded drugs will also challenge Symbicort. Consensus estimates for Symbicort are essentially flat from 2013 to 2018, at about $3 billion per year. We are using the consensus estimate for our model, although it would not be surprising to see some weakness over the next few years. Symbicort will be AZN's largest-selling drug in 2018. We note that management has predicted sales of $4 billion in year 2023, which seems to be a considerable stretch for an older drug.
Although Nexium is losing patent exclusivity in Europe and the US this year, AZN just launched Nexium in Japan at the beginning of 2012, where it has patent exclusivity until 2020. It has rapidly achieved 30% penetration in a $2 billion market. It is partnering with Daiichi Sankyo in Japan, and sharing revenue. This drug will help AZN achieve low single-digit growth in Japan over the next few years while revenues decline in the US and Europe.
China is definitely a bright spot for AZN, as it is the #2 drug company by sales in this country. It is outperforming nearly every other western company in China, and growing sales by 20% per year. The company noted that half of the sales of its asthma drug Pulmicort (total sales of $867 million in 2013) were in China. Growth in China and the other emerging markets will help blunt some of the loss of revenue in developed countries.
Crestor is not a bright spot for the future of AZN. Crestor currently accounts for 20% of revenue, but loses patent exclusivity in the US and Europe in mid-2016, and in Japan in 2017. I am using the Lipitor example to model loss of sales post-expiry. While Pfizer was convinced it could maintain >$3 billion in sales through 2015, Lipitor sales dropped from $9.6 billion in 2011 to $2.3 billion in 2013. Lipitor revenue was down another 27% year-over-year in 1Q14, indicating sales for 2014 will likely be in the $1.6 billion range. With AZN's prowess in China, where Crestor sales are growing rapidly, the company should be able to maintain higher levels of the branded generic in China. However, plummeting sales everywhere else suggests overall sales will fall to $1.4 billion in 2018. We note that consensus estimates are about $2 billion, but the tendency has been to underestimate how rapidly generics gain market share after expiry.
Table 1. 2018 revenue estimates for mature products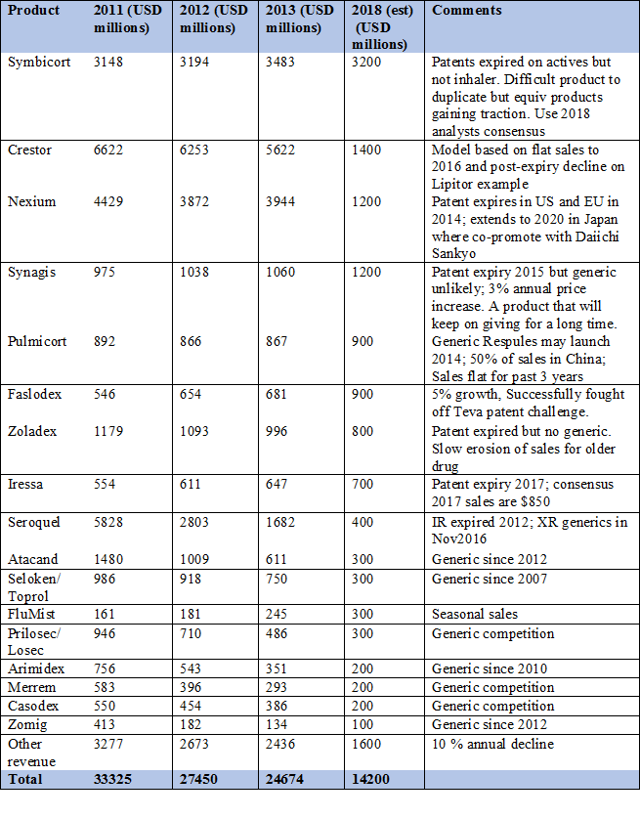 Too Few Newer Products
The sparseness of Table 2 highlights the major problem for AZN, namely, it has developed very few products over the past several years. One bright spot here is the diabetes franchise bought from BMY. With the recent approval of the pen-injector for once-weekly Bydureon, a GLP-1 injectable drug, sales should ramp up appreciably. However, this is a competitive area, with Lilly introducing dulaglutide, a likely best-in-class drug later in 2014. Bank of America has lowered its forecast to $730 million for Bydureon in 2018; we are forecasting $1.2 billion, a target more in line with other analyst estimates.
Brilinta has gotten off to a slow start, especially in the US, where the Dept. of Justice is investigating irregularities in the conduct of the Phase III PLATO trial upon which approval was based. Sales in the rest of the world are growing nicely. The main competition is generic Plavix, although Brilinta was shown to be better than Plavix at reducing cardiovascular events. AZN is looking to expand indications for Brilinta by running 3 outcomes studies for acute ischemic stroke and peripheral arterial disease, which could greatly expand sales if successful. Importantly, the drug does not appear to induce excessive bleeding, a problem with Pfizer's Eliquis and Merck's Zontivity. AZN has noted that it took Plavix 13 years to reach peak sales, so it sees this franchise building steadily over the years. We are modeling 40% annual growth from the 2013 base, which leads to $1.5 billion in 2018. Brilinta is really the only bright star from AZN's internal pipeline in recent years.
Table 2. 2018 Revenue Estimates for Recently Launched Products
Product

2012 (USD millions)

2013 (USD millions)

2018 (est.)

(USD millions)

Comments

Brilinta

89

283

1500

40% annual growth from 2013. Generic Plavix is competition. DOJ investigation holding back US sales. Outcome studies could boost sales.

Forxiga

/Xigduo

0

10

400

3 competitors. Consensus estimates.

Onglyza

550

709

1400

15% annual growth. Competitive area. Some cannibalization by combo with dapa

Byetta

590

412

100

Twice-daily injection - transition to Bydureon. Patent expiry 2016

Bydureon

--

302

1200

Once-weekly pen-injector should ramp sales. Competitive area

Vimovo

65

91

200

Divested US sales

Total

4800
The Hope of the Future: Pipeline Products
Estimating sales of drugs not yet on the market is difficult, to say the least. I have used the mid-point of consensus estimates, although in many cases, the range of estimates is quite large. For AZN, the positive point of Table 3 is the large number of entries. It has many shots on goal, and there will definitely be a few winners. On the downside, many of them will generate low sales, especially those launching in 2014 and 2015. The AZN pipeline has been helped considerably by a number of acquisitions (Spirogen, Amplimmune, Pearl Therapeutics, and Omthera Pharmaceuticals) and partnerships (Amgen, Merck, JNJ, and FibroGen). For probability of success, I am using 50% for candidates in Phase II, 75% for Phase III, and 90% where Phase III has been completed successfully. If there were uncertainties in outcomes or safety, the POS was dropped by 5-10%.
2014 Launches. Four drugs will likely gain approval in 2014, including olaparib for ovarian cancer, Myalept for lipodystropy, Epanova for hypertriglyceridemia, and Naloxegol for opiod-induced constipation. These 4 drugs are only expected to contribute $850 million risk-adjusted sales by 2018, and are never likely to be large-selling drugs for these indications (olaparib has higher sales estimates in the more common breast and lung cancers).
2015 Launches. Three launches are possible in 2015 that we believe will contribute $650 million to revenue in 2018. Lesinurad for gout has a wide range of analyst estimates, but most are expecting modest revenue. CAZ AVI is an important new antibiotic for resistant bacteria, but the company is only filing in the EU and has expressed an interest in partnering this drug, as it does not fit with its core business. The combination of Onglyza and Forxiga for diabetes will enter a crowded diabetes market, but will likely generate appreciable sales, simply given the huge market. We will see data on the effectiveness of the combination this month at the ADA meeting. There are no analyst estimates published for this combination. In their May 6 presentation, management predicted sales of $3 billion in 2023. Assuming a 90% chance of approval in late 2015, we are modeling an incremental $300 million in sales (on top of Onglyza and Forxiga mono-therapy) in 2018 given that sales will cannibalize the mono-therapies and an anticipated slow ramp-up in a very crowded market.
2016 and 2017 Launches. Some of the most promising drugs in the pipeline are expected to launch in 2016 and 2017, but likely will not contribute much to 2018 revenue given the time required to ramp sales. In addition, the POS for many of these drugs are lower, as many are just starting Phase III. Nonetheless, we believe this group will contribute a risk-adjusted $1.3 billion in sales for AZN during 2018. MEDI-4735 is AZN's PD-L1 immunotherapy drug, for which the company is projecting sales of $6.5 billion by 2023. The NDA and WMA filings will likely occur in 2016, with a launch in 2017. AZN is behind MRK, Roche, and BMY in this field, but estimates for the entire area range from $15-30 billion, so there is definitely room for multiple entries. Until the profiles of the multiple candidates are better known, predictions are really just wild guesses. Another promising cancer candidate is AZD9291, which has been given breakthrough therapy designation by the FDA for lung cancer. The company is hoping to file in late 2015, with a launch in 2016. The two asthma drugs that were part of the Pearl acquisition, PT003/PT010, are LAMA/LABA/ICS drugs the company is predicting will generate sales of $4 billion in 2023.
Table 3. 2018 Revenue Estimates for Future Launches
| | | | | | |
| --- | --- | --- | --- | --- | --- |
| Product | Launch Dates | Indication | POS | POS- adj. 2018 revenue | Comments |
| Myalept | Feb2014 | Lipodystrophy | 100 | 50 | Orphan drug with black box warning |
| Epanova | May2014 | Severe Hypertriglyceridemia | 100 | 300 | Consensus estimates |
| Naloxegol | Sep2014 | Opiod-induced constipation | 80 | 300 | Partner with Nektar. Large range of estimates |
| olaparib | Oct 2014 | Ovarian cancer | 90 | 200 | Ovarian cancer a small indication |
| lesinurad | 2015 | Gout | 80 | 300 | Consensus estimates. Serious side effects could limit use |
| CAZ AVI | 2015 | Antibiotic | 90 | 50 | Likely to partner; File only in EU |
| Forxiga/Onglyza combo | 2015 | Diabetes | 90 | 300 | Significant competition |
| brodalumab | 2016 | Psoriasis | 75 | 100 | Amgen has US rights. Significant competition |
| AZD9291 | 2016 | Lung cancer | 75 | 300 | Breakthrough designation; Peak sales could be $2 billion by 2025 |
| Selumetinib | 2016 | Melanoma, lung cancer | 50 | 200 | Partnership with Array |
| PT003/PT010 | 2016 | Asthma, COPD | 50 | 100 | $2 billion projections by 2023, but slow ramp-up |
| olaparib | 2017 | Gastric, breast cancer | 75 | 100 | |
| MEDI 4736 | 2017 | Solid tumors | 75 | 400 | PD-L1 late entry after BMY, MRK, Roche |
| benzalizumab | 2017 | Asthma, COPD | 50 | 50 | |
| roxadustat | 2017 | Anemia | 50 | 50 | |
| Total | | | | 2800 | |
Summary. Total 2018 Revenue Estimates
Totaling the revenue from Tables 1 through 3 provides a sales estimate of nearly $22 billion in 2018, in line with what analysts are expecting. However, the numbers could vary widely, depending on maintaining market share of older brands, how well AZN markets the new diabetes portfolio on its own, and the success of the pipeline. The pipeline drugs are expected to contribute only 15% of revenue by 2018, so most of the future success of AZN beyond 2018 lies in the ability to successfully execute on the pipeline.
Table 4. 2018 Total Sales Estimates
| | |
| --- | --- |
| | Revenue (USD millions) |
| Mature Products | 14,200 |
| Recently Launched Products | 4,800 |
| Future Launches | 2,800 |
| Total | 21,800 |
2018 EPS Estimate
Shown in Table 5 are the income statements from 2012 and 2013, and estimated earnings for 2018. Major assumptions include:
Maintain the cost of sales at 18%, since a large percentage of sales are derived from legacy products, and these costs are not likely to change substantially.
Reduce R&D slightly, as there will be pressure to cut costs as revenues and earnings decline over the next few years. But AZN cannot cut research substantially if it hopes to execute on its late-stage pipeline.
Reduce SG&A from the 2013 levels, as cost-cutting will be in focus, but this cannot be reduced too much, as the company will have to support new launches.
20% tax rate, similar to 2012 and 2013.
The company suspended its share buyback program in 2012, and no further buybacks are anticipated.
Based on these assumptions, the 2018 EPS is $3.84, which is slightly higher than the $3.60 used in F.A.S.T. Graphs. As a comparison, analysts' estimates for 2017 range from $3.34 to $4.43.
Table 5. Non-GAAP 2018 Projected Income and EPS
| | | | |
| --- | --- | --- | --- |
| | 2012 Actual | 2013 Actual | 2018 Estimate |
| Revenue | 27,973 | 25,711 | 21,800 |
| Cost of Sales | (4,932) | (4,633) | (3,924) |
| Distribution | (320) | (306) | (262) |
| R&D | (4,241) | (4,269) | (4,000) |
| SG&A | (8,389) | (8,865) | (8,000) |
| Other income | 1,088 | 752 | 752 |
| Operating profit | 11,159 | 8,390 | 6,366 |
| Net finance expense | 502 | 445 | 338 |
| Profit before tax | 10,657 | 7,945 | 6,028 |
| Tax | 2,022 | 1,611 | 1,205 |
| Profit after tax | 8,635 | 6334 | 4,823 |
| Non-controlling interests | 30 | 15 | 15 |
| Net profit | 8,605 | 6,319 | 4,808 |
| # shares | 1,261 | 1,252 | 1,252 |
| Earnings per share | 6.83 | 5.05 | 3.84 |
Will 2023 Be a Good Year for AZN?
Based on its May 6 presentation, AZN estimates revenues of $45 billion in 2023. Management predicted the pipeline will deliver $23 billion (risk-adjusted for probability of success), which would leave $22 billion coming from its current portfolio of drugs.
Management admits that the risk adjustment is for probability of approval success, not for probability of reaching their sales estimates. As shown in Table 6, AZN management provided a comparison of their internal sales estimates vs. analyst estimates for 6 drug candidates. A comparison of the mid-point of analyst estimates vs. company estimates shows analyst estimates average about two-thirds of management's. For the sake of argument, if we apply this 0.64 factor to the $23 billion, then we get a $15 billion estimate of the value of the pipeline in 2023.
For the current pipeline, getting to $22 billion seems a stretch. See Table 7 for revenue estimates from the current pipeline. For diabetes, it seems the company confused the color coding on slide 35 of its presentation, as the saxa/dapa combo should be $3 billion, which would mean it is projecting $1 billion for Forxiga. Our estimate of the total for the current portfolio of drugs is $16 billion.
Based on this analysis, a more conservative estimate of revenue in 2023 is $31 billion, about two-thirds of the AZN estimate.
Table 6. Comparison of Company vs. Analysts' Estimates for Pipeline Drugs for year 2023 or peak sales
| | | | |
| --- | --- | --- | --- |
| Drug Name | AZN estimates (USD billions) | Analyst estimates (USD billions) | Ratio Analyst mid-point/AZN |
| MEDI-4735 (PD-L1) | 6.5B | 2 - 7 | 0.69 |
| AZD9291 | 3 | 1 - 2 | 0.5 |
| PT003/PT010 | 4 | 3.5 - 4 | 0.94 |
| benzalizumib | 2 | 1 - 2 | 0.75 |
| anitrolumib/sifalimumab | 1 | 0.2 - 1 | 0.6 |
| AZD3293 (BACE) | 5 | 0.5 - 3 | 0.35 |
| Average | | | 0.64 |
Table 7. 2023 Revenue estimates for current portfolio of drugs
| | | |
| --- | --- | --- |
| Drug | AZN estimate (from May 6 presentation) | Our estimate (analyst estimates when available |
| Symbicort | $3.5 B | $2 B |
| Pulmicort | 1 | 1 |
| Forxiga | 1 | 1 |
| Onglyza/Xigduo | 1 | 2 |
| Bydureon | 2.5 | 2 |
| Brilinta | 3.5 | 2.5 |
| Synagis | | 1.5 |
| Crestor | | 0.5 |
| Nexium | | 0.5 |
| Faslodex | | 0.5 |
| Zoladex | | 0.5 |
| FluMist | | 0.5 |
| Everything else | | 1.5 |
| Total | | $16 B |
Final Thoughts
AZN has a promising pipeline, but the pipeline is not going to be significantly adding to revenues until 2018. Most of the drugs that will gain approval in 2014 and 2015 are expected to have modest sales and will not begin to offset the large declines in the legacy drugs. The blockbuster drugs in the pipeline are not expected to launch until 2016 and 2017, and their fates are more uncertain.
AZN will no doubt work hard to control expenses, but a late-stage pipeline does not come for free, and launches of new drugs can be more expensive than maintaining sales of a mature portfolio. With the diabetes franchise, it will have to shoulder the entire sales force, instead of sharing with BMY. Plus, diabetes is highly competitive and will require significant marketing muscle. If the pipeline continues to look promising, I expect we will see more partnerships to share risk and expenses.
At $73 per share, investors are paying for hope that this pipeline will be realized, and are giving AZN the benefit of the doubt. While AZN has many shots on goal with its extensive late-stage pipeline, exactly how this will play out over the years is anyone's guess. However, $45 billion in 2023 seems a stretch, with $31 billion perhaps a more conservative estimate for planning purposes. AZN management will continue to talk up its pipeline, but headline news coming out of quarterly earnings reports are going to look bleak over the next 5 years.
For a bull case for AZN, one can compare AZN with Bristol-Myers Squibb (NYSE:BMY), a company that has seen its revenues and earnings decline as Plavix lost patent exclusivity. Despite this, the stock has doubled over the past 4 years, and now has a P/E of 26. The difference in this case is the BMY pipeline will be delivering in the near future, and enthusiasm for its new immunotherapy cancer drug has sent its stock to a rich valuation.
In addition, AZN will do whatever it can to maintain its dividend, as this will put a floor on the stock price. Dipping into its retained earnings or selling off mature drugs might be one way to help maintain the dividend that may not be fully supported by earnings.
While it is possible AZN can withstand the next 5 years of earnings declines without a lower stock price, it seems unlikely to us. In our opinion, the current price of AZN at $73 is based more on hope than reality, and we suggest investors stay on the sidelines for the next few years to see how its pipeline advances.
Disclosure: The author has no positions in any stocks mentioned, and no plans to initiate any positions within the next 72 hours. The author wrote this article themselves, and it expresses their own opinions. The author is not receiving compensation for it (other than from Seeking Alpha). The author has no business relationship with any company whose stock is mentioned in this article.