Although Wal-Mart's (NYSE:WMT) first quarter, FY2015 earnings had been negatively impacted by severe weather conditions in the US, which resulted in a mild sell-off in the stock, we believe that WMT could be a solid bargain at the current price around $75.
The primary reason for our optimism is that the company's global e-commerce sales increased 27% in the first quarter of fiscal 2015. Furthermore, while many people believe that it would be difficult for Wal-Mart to grow its revenue in the US, we believe that the company's small-format stores will finally succeed and help in boosting US sales, although it might take time. Wal-Mart is also growing same-store sales in its small-format neighborhood markets.
Growth Drivers
E-commerce: E-commerce is a growing market where Wal-Mart is seeing double-digit revenue growth from nearly all of its e-commerce and mobile commerce businesses around the world. Although Wal-Mart's online revenue is not more than 5% of its overall revenue, it has huge room for growth. Global B2C e-commerce sales are going to hit $1.5 trillion this year driven by growth in emerging markets. A report from eMarketer says:
According to eMarketer's latest forecasts, worldwide business-to-consumer (B2C) ecommerce sales will increase by 20.1% this year to reach $1.500 trillion. Growth will come primarily from the rapidly expanding online and mobile user bases in emerging markets, increases in mcommerce sales, advancing shipping and payment options, and the push into new international markets by major brands.
Wal-Mart's e-commerce business in Brazil and Yihaodian in China are continuing to see strong demand. Moreover, the retail behemoth has registered a new company in India called "Wal-Mart India Private Ltd," which could have huge growth potential in future not only in e-commerce but in physical commerce also. We are optimistic that the new government in India will take a softer stance with regard to the regulations for foreign direct investment in that country.
While it is true that Wal-Mart faces stiff competition from Amazon (NASDAQ:AMZN) in the e-commerce segment, it is expected that the e-commerce segment will grow at 11% CAGR and gain more ground than any other segment of the retail industry by 2017, says Nielsen. This will benefit Wal-Mart despite growing competition from Amazon. Moreover, Wal-Mart is trying hard to catch up with Amazon.
Small-Format Stores: We believe that growing its small-store footprint would be a step in the right direction for Wal-Mart. While a shift towards e-commerce coupled with high gas prices is hurting the company's dollar store sales, its initiative to open more small-format stores across the nation is really encouraging from investors' point of view. The company expects to add approximately 270 to 300 smaller stores during the current fiscal year, doubling the initial forecast of 120 to 150 stores.
Groceries, health and beauty products are expected to boost sales in smaller stores. A Credit Suisse analyst suggested that Wal-Mart should acquire Family Dollar (NYSE:FDO), a company with a much larger presence in urban centers than Wal-Mart, to jump-start its small-store initiative. If that really happens, Wal-Mart's small-store sales growth will be accelerated significantly.
Earnings Not Too Bad
Wal-Mart reported its first quarter 2015 EPS of $1.10, a decrease of 3.5% year-on-year due to bad weather conditions in the US. Moreover, the company saw an effective tax rate that was higher than anticipated. However, if one delves deeper into the company's five-year historical earnings trend, it appears that the company is performing well financially, despite Federal cuts in SNAP (Supplemental Nutrition Assistance Program) that resulted in a decrease in its sales in recent quarters.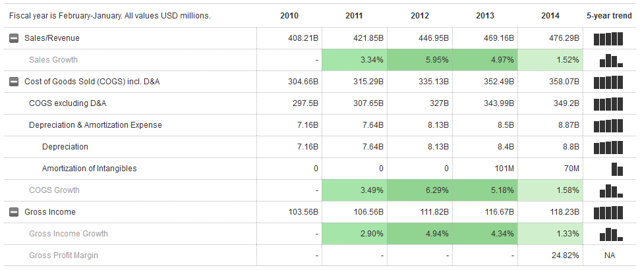 Source: MarketWatch
We believe that the uptrend in the company's top line, as shown in the above figure, will sustain in the long term due to the growth drivers discussed above. The sell-off in the stock should be utilized to invest in the company.
Final Words
Wal-Mart has returned a staggering 145,900% to investors since 1972. It is a slow but steady mover in the stock market. We strongly believe that the stock will continue to inch higher in the months and years to come.
Business relationship disclosure: The article has been written by a BB Research stock analyst. BB Research is not receiving compensation for it (other than from Seeking Alpha). BB Research has no business relationship with any company whose stock is mentioned in this article.
Disclosure: The author has no positions in any stocks mentioned, and no plans to initiate any positions within the next 72 hours. The author wrote this article themselves, and it expresses their own opinions. The author is not receiving compensation for it (other than from Seeking Alpha). The author has no business relationship with any company whose stock is mentioned in this article.