While watching NQ Mobile (NYSE:NQ) trade for a good portion of the day today, it seemed to pick up speed during its descent at the beginning of the afternoon. Quizzically, I wondered what was causing the decline - surely it wasn't just thousands of people coming to their senses all at once, right?
It painted new lows of the day around $7.70 today at about 1:30EST. It finished trading today modestly high, at $8.15/share.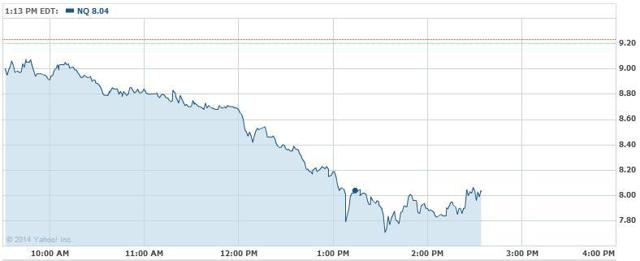 I penned an article this morning reiterating the importance of the company's audit - which is currently overdue and being worked on by PwC. It was the audit that I claimed would be the key to either exonerating or crushing NQ's stock.
The cause of the "mini-crash" today? It is being reported on the purported Twitter of Xinhua English News that NQ Mobile's auditor, PwC, has resigned:

Now, the question becomes - is this a legitimate Twitter account?
And the answer seems like it's "no."
My friend and respected SA Contributor Keubiko tells me that the same account posted a similar Tweet months ago, and that it is a fraudulent account. I've also been told by several of my followers that this is a fake account. If that turns out to be true and the company comments on it, NQ is likely to rally back the 10% it dropped today until further news on the audit takes place.
As of 2:50EST, it appears that the post has been taken down.
It's also being reported on Twitter that NQ Investor Relations has claimed that "PwC has not resigned."
So far, no official comment from the company, but I'll be watching.
The Twitter link can be found here.
Disclosure: The author has no positions in any stocks mentioned, and no plans to initiate any positions within the next 72 hours. The author wrote this article themselves, and it expresses their own opinions. The author is not receiving compensation for it (other than from Seeking Alpha). The author has no business relationship with any company whose stock is mentioned in this article.