The first half of 2014 is nearly in the books and the market rally that nobody really trusts continues to march onward. This year has featured some unusual financial activity including periods where the traditionally slow moving stocks in energy and utilities have acted as leaders driving the market higher. Growth and momentum stocks are finally hot again after a rough couple of months through March and April. The Nasdaq index is up 3.86% on the year so far, but it has been a bumpy road to get here.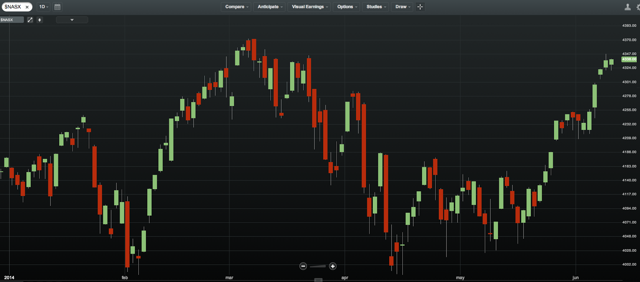 After tumbling dramatically in March, the Nasdaq has been on a major rally since the end of April. Since May 1st, the index has climbed about 5.3%, a significant run for an index over such a short time frame. And the high-flier growth stocks, which were decimated in March, have not only become contributors again, but some are even outperforming the broader market. Yesterday alone Facebook (NASDAQ:FB) was up 4.53%, Twitter (NYSE:TWTR) 2.5%, and LinkedIn (NYSE:LNKD) was up 4.69%.
The earnings outlook for the growth stocks has been improving lately which could explain some of the fuel behind these names. According to data from Thomson Reuters since April 1st, the earnings outlook for calendar 2014 has risen to an expected 9.1% increase as of June 6th from a lower 8.7% forecast at the end of April. Data from the Estimize platform supports the theory that both Wall Street and investors are becoming increasingly optimistic about growth companies and more specifically about social media companies' earnings.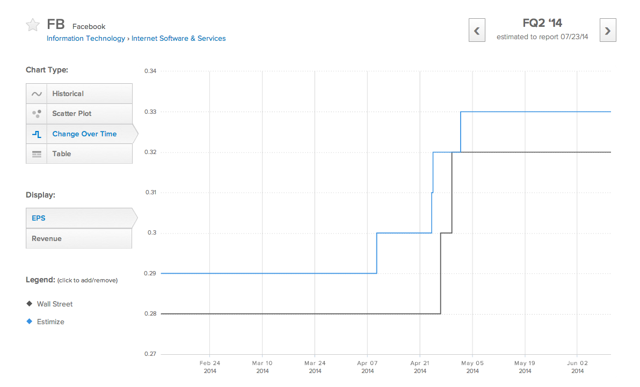 (Click here for chart details)
The change over time graphs on Estimize can be used to track the market's fundamental expectations over time. The chart above shows that contributing analysts on the platform began to revise their estimates upward for Facebook in April even after the stock had just fallen 22% from its March high.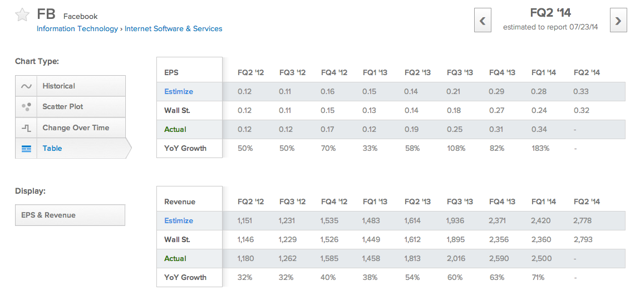 (Click here for chart details)
Facebook is really in a class of its own when it comes to social media. Facebook's revenue and rates of growth are both off the charts compared to any other social company. Within the past year, the worst quarter that Facebook reported showed revenue of $1.813B and year-over-year sales growth of 54%. The curious thing about these numbers is that investors don't expect them to slow down anytime soon. This quarter the Estimize community is expecting about $2.8B in revenue, or a 53% yoy gain. With its superior monetization of social and sustained aggression including its latest move, poaching PayPal President and mobile payments expert David Marcus, it's easy to understand why the market has gone gaga over Facebook giving the company a price/earnings ratio of 85.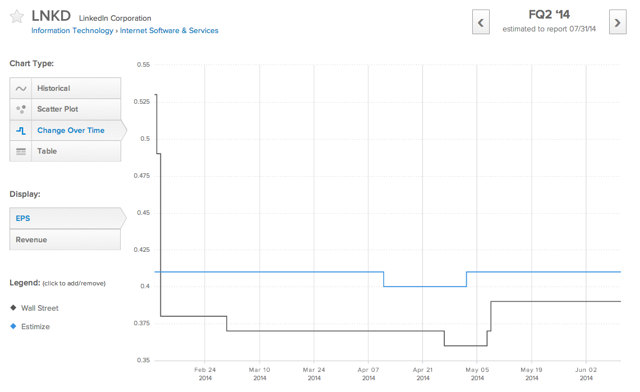 (Click here for chart details)
Next up is LinkedIn, a company which saw its earnings outlook for the upcoming quarter lowered in the past by both Wall Street and the Estimize community. Since early May however, earnings expectations have gotten more bullish, especially from the Street which raised its earnings consensus from 36 cents per share in April to 39 cents by mid May.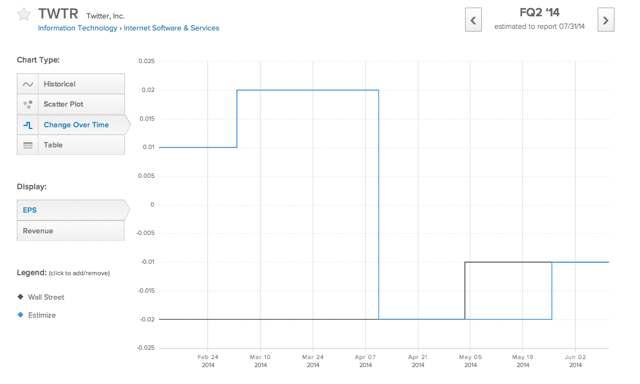 (Click here for chart details)
Finally, we have Twitter. The Estimize consensus for Twitter's forthcoming earnings report made the flip from profitable to loser back in April. Twitter touts 250-plus million active users, but has had a hard time monetizing on the over half a billion tweets sent out each day.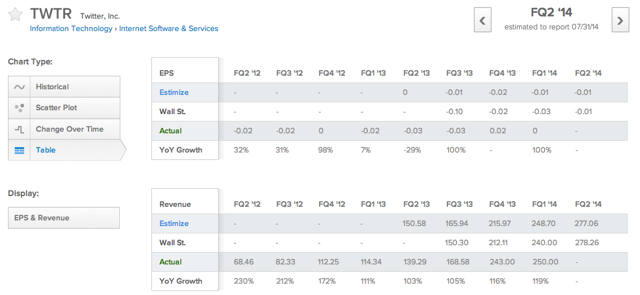 (Click here for chart details)
On the bright side for Twitter, the company's revenue is growing by triple digits each year. Unfortunately, for shareholders though, Twitter's onboarding process for new users remains clunky and monthly active user numbers have not grown as quickly as investors were hoping for. The World Cup this summer will be a particularly important opportunity for Twitter to demonstrate that it can attract new users. The month-long party in Brazil will play to many of the strengths of Twitter which allows access to real time international news and updates from the games, the ability for players to communicate directly with fans, and the famous hashtag feature which will allow compatriots to celebrate or commiserate together no matter where they may be distributed across the globe. Sentiment around Twitter has only inched slightly higher on Estimize since May, but the World Cup is a potential catalyst worth keeping an eye on with an estimated 3.2 billion people expected to watch at least part of the tournament.
Expectations for social media companies have been bubbling up, but utilities have been the leader so far this year with an average gain of 14.5%. In the first half of the year, boring was best. Will that mantra hold true through the end of 2014? Probably not, compared to growth stocks utilities normally play the role of the tortoise. Sentiment around social media stocks appears to be perking up, but for now slow and steady is winning the race.
Disclosure: None.