It's not often you find a company getting high praise everywhere from mutual fund managers and top research outlets all the way down to message boards and water coolers that's been trading in one direction: sideways. It is also rare to find a stock trading at the same price it did a year ago with almost the same amount of shares outstanding, a fraction of the debt, and twice the revenues. The company is Entegris (NASDAQ:ENTG), they earned $0.26 per share in the first half of this year, and the stock still trades under five bucks a share.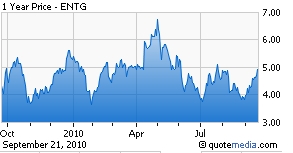 Entegris is a capital equipment supplier to semiconductor companies. In other words, they make the stuff that semiconductor makers buy to make the stuff that equipment makers buy to make the stuff that goes into the toys that you and I buy. Phew. More specifically, they provide solutions to control contamination in the semiconductor manufacturing process such as liquid and gas filtration products. They also offer products to handle, ship and store wafers, reticles and data storage devices without destroying them. The company's solutions are used to make an enormous range of semiconductor goods as well as liquid crystal displays (LCD) and hard disk's. The future for Entegris' products frankly could not look better, as they will be needed increasingly as new, more efficient processes are employed.
The stock has only been trading sideways for about a year now, before that, things were a little more interesting. Early in the last decade, earnings bounced around and so did the stock. The company had around 70 million shares outstanding at that time, and those shares fluctuated in value between the mid to high single digits and the high teens. Back then the company had a much smaller range of products and customers so earnings were less predictable. Then in late 2005 early 2006, things changed. The company merged with Mykrolis Corp which significantly broadened their market spectrum, adding the liquid & gas filtration and wafer shipping & handling products that are the core of their business still to this day. This was essentially a merger of equals, so shares issued and outstanding almost doubled to where they are today, around 130 million. Revenues also doubled, margins improved, and solidity came back to their earnings. Stability came back to the stock as well, which fluctuated only between 8 and 12 bucks over the next two years with a slight upward bias.
A more diverse market for Entegris also made it more susceptible to overall economic conditions and the pace of IT spending as a whole. When the recession hit in 2008 and 2009, revenues slipped substantially, and the company began to lose money. Things were so bad in fact that they were forced to take a $1/2 billion goodwill impairment charge and engage in a less than desirable credit facility. The stock tanked to as low as 50 cents in early 2009 on bottom line numbers but keep in mind that revenues only decreased from $626 to $554 and $398 million in 2007, 2008 and 2009 respectively.
Over the next year or so until now, Entegris' turnaround has been swift. Revenues bottomed in the first quarter of 2009 and began to pick back up. In the last quarter of 2009, revenues increased enough to bring their bottom line numbers back into the green. So far this year, revenues for the first two quarters totaling $328 million foreshadows a 2010 that will be on par or even better than the 2006, 2007 revenues. Margins have improved even more this time around, and the increased cash flow has allowed them to pay off that pesky little credit facility early.
The company says that things will be even better in the second half of 2010, although this will likely be contingent upon further global economic recovery. Analyst coverage of this stock is not very meaningful with only five offering their opinion. Those that are covering the stock underestimated earnings by huge margins during the first part of this recovery, and only got it right during the most recent quarter. A strong case could be made that a lack of coverage and understanding of this company's potential and position is to blame for why the stock is trading at half of what it should be. Going by extremely conservative estimates that mirror the first two quarters of this year and do not allow for further margin improvements, the stock is trading at just 7 times this years earnings, and just 6 times 2011 earnings.
What about the possibility of further economic instability or a so called double dip recession, we all saw how hard this company was hit in 2008? Well, these fears seem to be subsiding day by day now, and regardless, the company is in a much better position now. The restructuring they completed during the rough times has shown clear improvements to operating margins that go beyond the typical enhancements seen due only to increased production. Every possible number is now better than during the good times of 2006-07, except the stock price. The stock did climb from 50 cents to where it is now in 2009, which may be another key reason behind the current pause.
Removing accounts payable and receivable, which are at $84 and $129 million respectively, the balance sheet reflects $400 million in assets and $50 million in liabilities, a ration of 8 to 1. Over the past year, short term debt has shrank from $18 to $5 million (or perhaps 0 now) and long term debt has dropped from $73 million to $20 million, all while their cash position remained relatively unchanged at around $75 million. The $30-40 million in quarterly cash flow they are currently generating can now be used to grow revenues, margins, and cash position rather than paying off debt. Shares outstanding have not changed significantly for the past decade, there are no preferred shares issued, and with even less of a need now, dilution seems to be completely off the table. Short interest is not very significant at less than 5%, but institutional ownership at 86% is. Arbitrary lack of involvement from institutions in stocks below $5 and $10 is just one more superficial reason why this stock is undervalued. If substance wins and the company continues to deliver, the stock may have no where else to go but up.
Disclosure: No positions