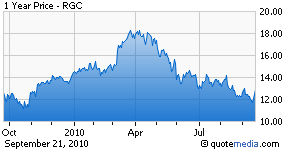 Keep watching that screen. As theaters continue to look for new avenues for growth in the struggle against in-home entertainment options, analysts seem to be rooting for Regal Entertainment Group (NYSE:RGC).
Last month, analysts at Janney Montgomery Scott upgraded the stock from "neutral" to "buy." One of the top movie production and theater stocks in terms of operating margin at the time, it had a twelve-month operating margin of 9.28%.
And earlier this summer, a Merriman Curhan Ford analyst noted that it had a role to play in the "continued growth of the domestic box office" given its screen network. "Furthermore, the expected accelerated expansion of the 3D network in 2010/2011 should drive additional attendance and margin-benefiting ticket price increases going forward."
Wunderlich Securities analysts, meanwhile, commented in July that the "box office was up i
n six of the last eight recessions, including 10% in 2009." They reiterated a "buy" rating on the company.
Morgan Stanley analysts, while recognizing that "box office attendance faces several headwinds", see the company as having the potential to "pay a special dividend and/or increase its regular dividend before year-end." The analysts reiterated their "Underweight" rating for the company last week, and said based on their outlook, their EBITDA estimate for 2010 "remains 3-4% below consensus."
Standard & Poor's has a 'B+' rating on the company's debt "which reflects our expectation that Regal Entertainment Group's aggressive financial policies, along with tough comparisons against the 2009 holiday season box office, will likely cause leverage to remain elevated in the high-5x area over the intermediate term."
Regal Tuesday morning announced the launch of three more locations for its "new giant screen all-digital format called the Regal Premium Experience." The move adds Atlanta, Boston, and Greenville to its New York City and Miami RPX locations. Auditorium conversions are expected to be done before the holiday movie season arrives.