Rally Retraces Correction Up To Mid-Point YTD
Up until this week, we have focused on large cap biopharmaceuticals because of revenue momentum, fair valuations and earnings. A risk-off sentiment due to lack of ASCO buzz and the Q1 speculative bubble downdraft has curbed gains. This week, with news of the Merck (NYSE:MRK) $3.9B deal for Idenix (NASDAQ:IDIX), we see a strong follow-through with smaller caps. Achillion (NASDAQ:ACHN), one of our picks from 2012, is a case in point, rising 187% over 2 days. The question is whether this is a trading rally or another leg up from the April lows. The tape has been very strong for small and mid cap life science stocks over the past 5 trading days, with the sector up 3% or more, outperforming the Nasdaq up only 2%.
M&A has always been a basic thesis of the biotech bull market; we challenged this in October of 2013, but valuations soared beyond realistic financial parameters in February 2014. Investment bankers had a "hit list" of five $6B+ market cap oncology stocks that could be acquired. Most M&A has been financial or "tax inversion"-related, so the Merck deal for strategic reasons, i.e. buying Intellectual Property and the HCV product pipeline, offers a bullish rationale going forward. The sweet spot for M&A should be in the $5B range, not mega-deals.
The market is more educated on biotech valuations, so it is unlikely that a new bubble can develop. Nonetheless, there is a lot of money following biotech, with a limited supply of companies with a broad pipeline. Most innovative biological drugs on the market have been developed by smaller companies and acquired by Big Pharma. The one big issue going forward is pricing and reimbursement, as we have seen from Gilead Sciences' (NASDAQ:GILD) reaction to Sovaldi pricing of its HCV drug. This issue of pricing was raised once again at the ASCO meeting.
The fundamentals of the biotech bull market are intact, and now we get a little support from M&A. The technicals look much better, and momentum is coming back to mid caps. Stock picking should get better, but we advise, as always, using a portfolio approach.
A medium-term investment approach is to focus on large caps supplemented with an ETF like FBT. In a rally mode, the XBI offers more upside, just keep in mind that it is more volatile on the downside.
The Fidelity Select Biotechnology Fund (MUTF:FBIOX) has underperformed both the FBT and IBB over the past 3 months by about 5%, probably due to its growing assets now $8B, and volatility caused by rebalancing during the downturn. It is still weighted toward larger caps.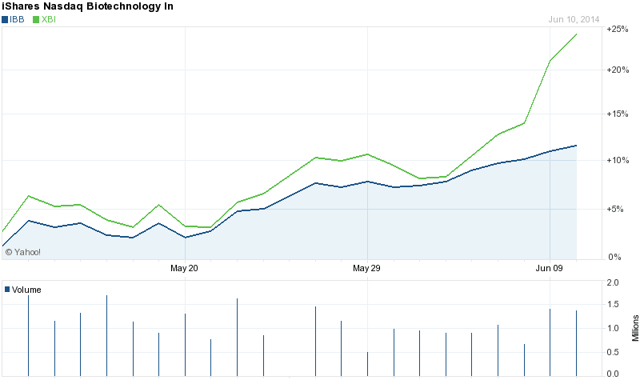 Disclosure: The author is long ACHN, FCSC, GILD, PACB. The author wrote this article themselves, and it expresses their own opinions. The author is not receiving compensation for it. The author has no business relationship with any company whose stock is mentioned in this article.