I originally recommended Agrium Inc. (NYSE: AGU) on April 30, 2007 (IWB #2717) at C$46.41, US$41.40. Closed Friday at C$77.11, US$74.62.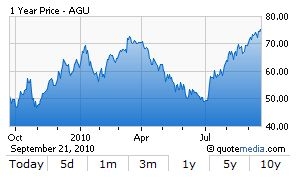 I first recommended the stock was trading at C$46.41, US$41.40 and updated it again this past February what it hit C$67.60, US$64.26, at which time I reiterated my Buy recommendation. Since then, the bid for Potash Corp. (NYSE:POT) by BHP Billiton Limited (NYSE:BHP) has really ignited interest in all the fertilizer stocks, including Calgary-based Agrium.
The shares are up about 14% since February and about 66% since my original recommendation, despite having briefly fallen to the $30 range during the market crash. The trailing p/e ratio is now over 20. I would suggest it's time to take some profits, particularly if you bought in when the price was in the mid-$40s. This stock could well go higher but hogs get slaughtered and a 66% move to the upside should be good enough for most people.
Disclosure: Author is long AGU