The 2014 planting season got off to a slow start after the cold winter. After battling through bouts of rain, farmers have planted most of this year's corn and soybean acreage and initial reports from the USDA are favorable.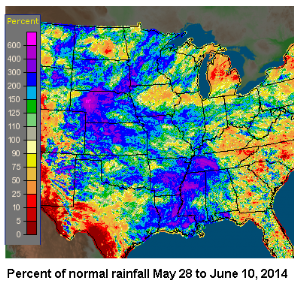 However, rainfall across northern Iowa, southeast Minnesota and northern Illinois since May 28 is 50% to 75% of normal and that is stressing crops. The map at right also shows below normal rainfall for parts of North Dakota, Michigan, Kentucky and Tennessee. Rainfall over much of Minnesota has been adequate, but there vegetation is still stressed.
Meanwhile, the two-week rainfall tally has been above normal across most of South Dakota, Nebraska, Kansas, Missouri,the southern four-fifths of Illinois, Indiana and Ohio.
The View From Space
Satellite analysis of soil and crop conditions show that the crops are coming in well behind last year's pace. Fields across northern Illinois, Indiana and western Ohio were not showing much growth as of June 10. Fields across southwest Minnesota and the Red River Valley of the North were also filling in slowly.
Satellite images calculating the vegetation stress (where an index value less than 40 indicates stress and above 60 is favorable) show vegetation from northern Illinois to western Ohio under stress. The same is true for eastern South Dakota, eastern Nebraska and most of Wisconsin. Digging a little deeper through the data, the culprit appears to be drier than normal soil.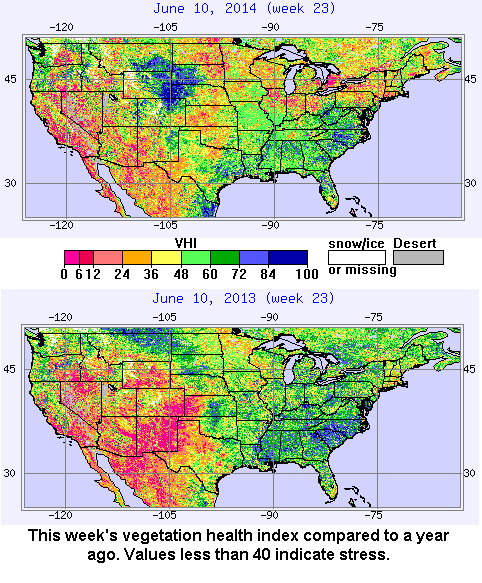 This is at odds with USDA data, which shows that most of the area has at least adequate soil moisture.
Personally, I tend to trust the satellite information more than the USDA's because the satellite data is objective and samples more points.
Comparison to Last Year
The 2013 planting season also got off to a late start and quickly caught up. There's a large difference in crop conditions, though between last year and this year.
The map at left indicates that the Corn Belt was much healthier at this time last year.
Should You Be Concerned?
I expect stress levels to improve during the next two weeks as additional rain falls on Wisconsin, Illinois, Indiana and Ohio. The rainfall will help the plants grow stronger and overcome initial stress.
The good news is that I don't foresee an appreciable change in the overall weather pattern through early July.
There is reason to be cautious at this point in the growing season, but I am not overly concerned. That is, unless conditions have not drastically improved in the next ten days or so.
Crops like corn (NYSEARCA:CORN) and soybeans (NYSEARCA:SOYB) tend to defy poor weather conditions. But if we get to the last full week of June and large areas of stress are still showing up, it will be time to rethink the 2014 harvest projections.
Disclosure: The author has no positions in any stocks mentioned, and no plans to initiate any positions within the next 72 hours. The author wrote this article themselves, and it expresses their own opinions. The author is not receiving compensation for it. The author has no business relationship with any company whose stock is mentioned in this article.