This week Oracle (NASDAQ:ORCL) announced their In Memory Database (IMDB) offerings for their industry leading Oracle Database 12c platform. In a series of upgrades, Credit Suisse (NYSE:CS) came out with a very bullish research report on Oracle on June 10, 2014 where they said in part:
...based on our analysis, we believe that the Oracle Database is installed on 1.3-1.4 million servers, and, with an assumed price per server of $11,430, we estimate upselling the In-Memory Option to be a ~$15.5 billion license revenue opportunity for Oracle
Since the enabler for this IMDB option is DRAM, this will also be a huge positive for DRAM producers; my favorite is Micron Technology (NASDAQ:MU).
What about BofA/Merrill's (NYSE:BAC) upgrade? Before getting into the high quality research that Credit Suisse has published for the last couple of years, with a thesis and position on IMDB they put forth in 2011, let's take a look at the work from their competitor Bank of America/Merrill Lynch. On March 28, 2014, Kim Dong-je Woo in their Seoul office wrote about Micron:
We cut our EPS estimate and PO for Micron by 2%, respectively. This is mainly due to weaker-than-expected overall memory chip prices led by spot. Our observations still indicate relatively better chip-pricing momentum for PC DRAM (supply cut continues among chipmakers ex-Inotera) vs mobile DRAM and NAND which are expected to be supplied more (newfab, capacity conversion). Thus, consensus cut at lower ASP should be a concern. Our EPS estimates for FY14-15 are 11%/27% lower than consensus...
Then, with no specific reference to their earlier negative rating, Woo and Merrill write the following on June 11, 2014:
We upgrade our rating on Micron from Underperform to Buy with a new PO of $40.0 (FY15E implied P/E 14x, PBR 3.1x). The stock has already moved up strongly (up 33% YTD) but we think further upside will occur. In our view, key catalysts are solid chip pricing environment (tight supply) and cost competitiveness.
One gets the impression reading both reports that Woo is driving his analysis forward looking intently at the windshield. He is reacting to spot pricing and his opinions on costs. Both reports are pretty much devoid of macro observations or thoughts on what might be driving his "windshield" trends.
Here is a summary of some of the key data from the two Woo reports:
| | | |
| --- | --- | --- |
| | 3/28/14 report | 6/11/14 report |
| Price when published | $22.24 | $29.48 |
| Price Objective | $19.10 | $40 |
| 2014 EPS estimate | $1.91 | $2.17 |
| 2014 Revenue Estimate | $15.483 Billion | $15.965 Billion |
| Rating | Underperform | Buy |
Some of the beef from some meaty Credit Suisse reports by a couple of very good analysts. Now compare Woo's cursory research writings to that of Credit Suisse. CS's John Pitzer seems like a pretty buttoned down guy from his comments on the many analyst days and earnings calls to which I've listened. As such, I was astonished by his liberal use of superlatives and ALL CAP BOLDING, which seems more the province of excitable Seeking Alpha authors than boring old sell side research analysts. On June 11, 2014 he wrote this much quoted bit on the first page of a 10 page report:
Today's intra-day announcement by ORCL of a soon to be available In-Memory option for its 12C Database (see Phil Winslow's Note) underscores, highlights, punctuates, screams from the top of the highest mountain our UBER BULLISH view on ENTERPRISE DEMAND. Specifically, ORCL's In-Memory option has a maximum configuration of 32TB of DRAM. Assuming ORCL is able to penetrate 2.5% of its current 1.3-1.4m installed base would drive ~1bn GB of INCREMENTAL DRAM demand, AS MUCH DRAM AS IS CONSUMED BY THE ENTIRE 2bn UNIT HANDSET MARKET!!!

[authors note: CAPS and exclamation points are as they appear in the CS report!!!]
So Pitzer is putting forth a BIG macro change that is driving his model and his upgrade. Compare his highlights with those of Woo's in the chart above:
| | |
| --- | --- |
| | 6/10/2014 CS Report |
| Price When published | $29.51 |
| Price objective | $50 |
| 2014 EPS estimate | $3.10 |
| 2014 revenue estimate | $15.780 billion |
| Rating | OUTPERFORM |
On the face of it, the numbers aren't dramatically different from Woo's. But these are very near-term numbers. CS's Pitzer postulates "...our view of $5+ in sustainable eps". Woo only gets to $2.87 in 2015, and $3.20 in 2016.
So what is the In Memory Database Option (IMDB) that has Credit Suisse and John Pitzer so excited? To get a little color and background on this feature, one needs to look at some of the research reports published by Pitzer's colleague, Phillip Winslow. In a massive 126 page tome titled "The Need for Speed" and published March 30, 2011, IMDB was extensively analyzed. Winslow wrote:
In-memory database (IMDB) software stores the entire database structure in DRAM and should not be confused with caching mechanisms, which have been used in the past to store disk blocks in memory cache for speed. All application transactions take place in-memory without the use of traditional disk or disk substitutes, including NAND flash. Access to the database is through direct memory access (DMA) and without the use of a disk controller. By returning queries at a fraction of current response times by storing data in DRAM in columnar data stores, we expect the emergence of in-memory columnar database technology to give rise to a new breed of applications that were structurally impossible to develop in the past due to the time delay in accessing large volumes of data stored in relatively slow disk-based data warehousing systems.
This Oracle PR piece suggests that perhaps the whole database doesn't need to go in DRAM, instead:
...you decide what data goes into memory-with no limits or restraints from the software. The rest of your data is stored in less-expensive Flash or on disk. Oracle Database In-Memory works seamlessly with them all.
Winslow's "Need for Speed" points out that just moving data off of hard disks and onto SSDs does not produce desired levels of performance. Here is his helpful chart on speed and cost: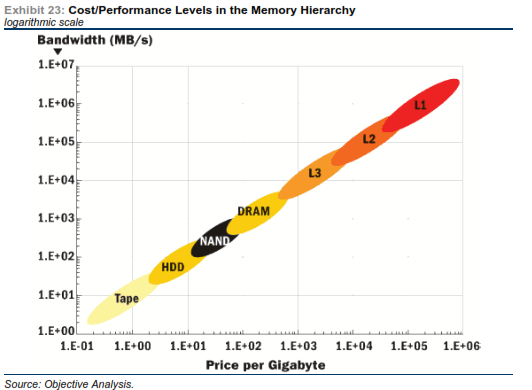 Winslow explains:
In-memory technology gives a significant boost to performance of analytics systems. Analytic applications are most often built on large volumes of data, which thus presents a significant demand on memory. Additionally, such analytics applications are anchored on complex data structures that emulate business models. As business models change, corresponding data structures also have to change. Every structural change requires costly time and effort to re-design and re-optimize various cube and aggregate table designs. In-memory technology transforms analytics systems by the convergence of low-cost, high-performance hardware and memory combined with an improvement in the usage of resources in software. In-memory analytics typically constitutes all analysis that is performed using in-memory technology. This can include multidimensional analysis or online analytical processing (OLAP), statistical analysis, data mining, and text mining.
So what does this all mean for the DRAM market and for Micron? CS's Pitzer has put out some staggering numbers, just assuming the penetration of Oracle's customer base with this IMDB feature. As the first quote in this article indicates, Credit Suisse feels there are 1.3 to 1.4 million servers running Oracle databases. The following graphic calculates demand as a percentage of the overall worldwide DRAM market, based on the penetration of Oracle's installed base (horizontal scale), and an amount of DRAM per server (vertical scale):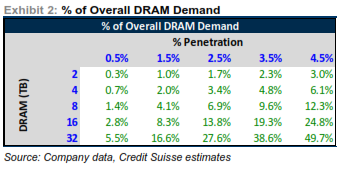 Pitzer picks a sweet spot of 2.5% penetration and 32 Terabytes of DRAM per server and points out these factors would consume 27.6% of the entire DRAM market or about the amount of DRAM currently consumed by the 2 billion annual cellphone production! This needs to be considered in light of analyst presentations recently made by Ivan Donaldson (Micron IR), which suggested the current DRAM market is so tight that Micron is only carrying a week of DRAM inventory.
The "nuanced" NAND market. I strongly agree with the recent SA article written by William Tidwell "Coming Clean on NAND" in which he suggests the situation for the other ~30% of Micron's business is far less rosy. As his initial bullet states, "Micron is lagging badly in NAND vis-à-vis both SanDisk (SNDK) and Samsung (OTC:SSNLF)."
Indeed, the IMDB momentum described by Credit Suisse may even take some wind out of the NAND macro situation. If all, or the most transactionally critical part, of a database is loaded into DRAM before queries are made or transformations are started, the time savings of NAND based Solid State Drives become a bit less critical. In an IMDB situation disk reads and writes, in this case to a solid state drive, are less frequent and can be done at less critical parts of the interaction with a data base, i.e., reading the data from disk before a query, writing back to a non-volatile storage after the customer transaction is done.
What's next with IMDB for Micron? Once Oracle (and other database purveyors) optimize their software to accomplish IMDB, there will be a big interest in placing more dense DRAM configurations closer to the CPU. This sounds distinctly like the Hybrid Memory Cube to me.
Once IMDB is prevalent, and the programming "hooks" are in place to deal with data in memory, there may be strong interest in processing some of that data more quickly. This sounds like the DRAM based Automata Processor to me.
Conclusions. I am a long-term Micron bull who is very concerned about the comments about Micron's position in NAND made by Micron CEO Mark Durcan on May 28, 2014. Durcan never makes individual analyst appearances. I view his frank, negative, and unexpected comments about Micron's NAND position as tantamount to an earnings warning. Here's a question and answer from the Bernstein conference where he spoke:
<Q - Mark C. Newman>: What kind of timeframe should we expect for improvement on the NAND margin side?

<A - D. Mark Durcan>: Well, I think you should think in terms of, not next quarter. This is a - you're not going to see instantaneous improvement, although you'll see that Micron's bits will start going in the different places next quarter.

You'll see improvement in terms of the mix of where our products are going pretty quickly. I would think that you'll see improvement in gross margin over the next two quarters or three quarters and you'll see us move to close the gap in the following couple of years, six quarters, something like that.
Durcan is saying we will continue to lag our competitors for "...a couple of years...". That's a very long time in the fast moving memory market.
So while the negative news is there on the NAND front, the positive news on the 70% of Micron's business that is DRAM related, should outweigh it. My fear for the 6/23/14 upcoming earnings announcement is that the firming in DRAM has occurred in mid to late April through the end of May. We have been given a warning on weakness in NAND, and have a DRAM result that may not erase weaker DRAM results from March through the first half of April. I believe this could be setting us up for an earnings disappointment based on the Yahoo Finance average analyst estimate for the May quarter of $0.68 [as of June 11, 2014].
This long-term Micron bull is largely on the sidelines. I am holding a small long position in the stock and won't be staggering into earnings with several tens of thousands of options contracts as I have for previous quarters. I will happily dive back in on a dip since I believe in the longer-term story.
Disclosure: The author is long MU. The author wrote this article themselves, and it expresses their own opinions. The author is not receiving compensation for it (other than from Seeking Alpha). The author has no business relationship with any company whose stock is mentioned in this article.