John Chen is thinking of exploiting the global surge in phablet sales to accelerate BlackBerry (NASDAQ:BBRY) phone sales. This opportunist thinking is one more reason why I really admire Chen. He has a bloodhound nose in finding where the money trail is. Making phablets is a better option for BlackBerry rather than joining the already crowded tablet market with PlayBook 2.0.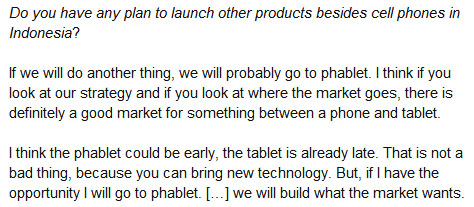 Source: Screenshot from John Chen's Interview with The Jakarta Post
Chen is again a leading reason why BBRY has been on the surge for the last 30 days. Despite what the detractors are saying, Chen is super confident that the Foxconn-made Z3 is a success in Indonesia. In an interview with The Jakarta Post, Chen is looking forward to selling a million units of the Z3 in Indonesia within one year.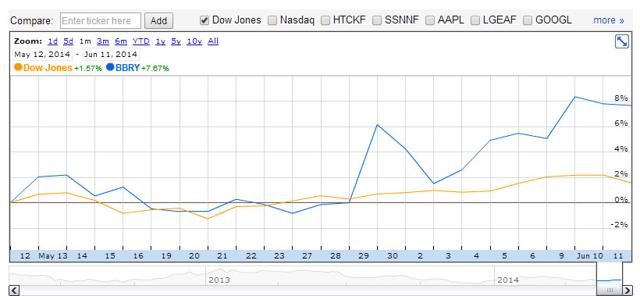 Source: Google Finance
Strong Z3 Demand
John Chen's reputation is of a no-nonsense executive. His public announcements are therefore rooted on realistic (but still confidential) numbers. I hypothesized before that the Z3's launch was a hit in Indonesia. Chen's bullish outlook for the Z3 corroborates my supposition. Indonesian retailers are also jacking up the Z3's price by as much 40% to profit from the short supply of the said handset.
Foxconn and BlackBerry might have underestimated the Z3's Indonesian demand and delivered an insufficient number of units. Nevertheless, Indonesian retailers are simply making a lot more money because of this snafu. Many impatient Indonesians badly want the Z3 - they are willing to pay a 40% premium over the official retail price.
Foxconn should hurry up in restocking their Indonesian retail partners. A long period of artificial price inflation due to a short supply of the Z3 in Indonesia is bad public relations. Consumers are very fickle nowadays. While they love the Z3 now, scarcity and an inflated price tag might turn them off BlackBerry phones permanently.
Stronger Phone Sales With Phablets
Phablets can help John Chen achieve his ideal target of 10 million phone sales per year. Surging sales in phablets is the reason why IDC lowered its tablet sales forecast for 2014. Phablets are stealing market share from tablets and phones. Phablets sales accounted for 10.5% of smartphone shipments in Q1 of 2014. Around 30.1 million units of phablets were sold for the first three months of this year, more than doubling the 4.3% smartphone share of phablet sales in Q1 2013.
People are now opting to buy phablets as a double-duty device. More customers are opting to buy a smartphone with a large 5.5-inches or bigger displays so they won't have to buy a tablet. Samsung (OTC:SSNLF) spearheaded this phablet trend with its Galaxy Note product. John Chen is wise to follow the steps where the Galaxy Note is enjoying robust sales.
Phablets are predicted to outsell small tablets (8 inches and below) and notebooks this year. TECHnalysis Research is projecting phablet sales to reach 240 million unit sales this year. Small tablets are estimated to sell around 158 million units while traditional notebooks, 173 million units in 2014.
The 5-inch display of the BlackBerry Z3 already qualifies it as a phablet or a large-screen phone. However, a more powerful and bigger display version of the Z3 truly becomes a phablet that is worthy of competing with the Galaxy Note 3 or Lumia 1520. The ability to install Android apps on the BB 10.21 devices makes a BlackBerry phablet a great entertainment and productivity device. This is something that the ill-fated companion device, PlayBook never accomplished.
If Foxconn can make a $200 5-inch Z3, I'm sure it can create a 6-inch Z3 version for $300 with a more powerful SoC to make it with the Galaxy Note 3. The dual-core Snapdragon 400 of the Z3 can be replaced by a quad-core Snapdragon 410 to make the BlackBerry phablet. Bump up the 1. GB RAM to 2GB and the bigger Z3 phablet should multi-task efficiently.
Conclusion
BlackBerry is a long-term Buy. John Chen is in tune with the shifting trend of smartphone sales. Phablets or big-display phones are the current fad and Chen will likely hop on to this wagon soon. Foxconn can quickly upsize the Z3 and replace the SoC and BlackBerry can join the phablet party. Even Apple (NASDAQ:AAPL), cult leader of high-end phones, is coming out with a 5.5-inch iPhone 6.
Canalys Research's Q1 2014 report made it clear that a third of smartphone sales had 5-inch or bigger display screens. A 6-inch BlackBerry phablet is therefore an opportunistic strategy to win back customers to the BB brand.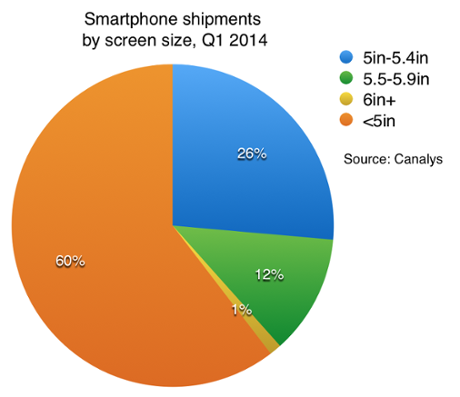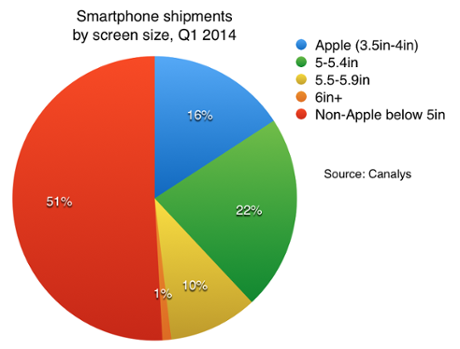 The current small market share of BlackBerry phones should not be a reason for Seeking Alpha users to think that Apple and Samsung makes the better smartphones.
BlackBerry was and still is making great smartphones which only needs proper marketing or propaganda to attract consumers. I believe BlackBerry still has enough cash to properly advertise its new phones and future phablets.
The risk is also minimized now that Foxconn is taking the risks for the next five years. John Chen can gamble big in handsets because Foxconn is bankrolling him. A profitable comeback in smartphones is still Chen's biggest bet to help BBRY go back to $15 and beyond.
Disclosure: The author is long BBRY, AAPL, GOOG. The author wrote this article themselves, and it expresses their own opinions. The author is not receiving compensation for it (other than from Seeking Alpha). The author has no business relationship with any company whose stock is mentioned in this article.
Editor's Note: This article discusses one or more securities that do not trade on a major U.S. exchange. Please be aware of the risks associated with these stocks.