When it comes to large cap US technology names, you won't find too many CEOs that have been in place longer than Cisco Systems' (NASDAQ:CSCO) John Chambers. Chambers has been at the helm of Cisco for nearly two decades, leading the company through a tremendous period of growth. Back in February, I wondered if an upcoming earnings report was Chambers' last hurrah. Cisco had issued a large warning at its prior quarterly report, which sent shares and analyst estimates plunging. At that February report, Cisco announced a decent quarter, and I thought that bought Chambers some time. However, it appears that the countdown until Chambers leaves is starting, and today, I'll discuss this issue and others for Cisco.
An announcement forthcoming?
Back in 2012, Chambers stated he could retire in 2-4 years. We now are basically in that window, and recent reports say that a retirement announcement could be made later this year. Sales chief Rob Lloyd and COO Gary B. Moore are seen as the frontrunners to replace Chambers, and both were named President in 2012.
If you think about it, Chambers might be looking at an upcoming milestone for his retirement. It was January 31, 1995 that Chambers took over as CEO. That means that in a little more than seven months, Chambers will celebrate his 20th anniversary as CEO. Chambers could announce a retirement later this year, but stay on during a transitional period until a successor is named. If he were to announce a retirement in the next couple of months, he might step aside on his 20th anniversary. We saw how long it took Microsoft (NASDAQ:MSFT) and Intel (NASDAQ:INTC) to name new CEOs in recent years, so unless Cisco has someone ready to go, a transitional period could take a number of months or even close to a year.
I do think a retirement announcement from Chambers could provide a pop in Cisco shares. Investors might want to see some fresh blood at the top, and this stock has been mostly range bound for the last decade. Now that a bad fiscal year is coming to an end, it might be time for a new leader to lead Cisco's next leg of growth. Additionally, Cisco's Dow spot could be in trouble now that Apple (NASDAQ:AAPL) has split. We saw Microsoft shares pop when Ballmer announced his retirement, so it wouldn't be a surprise if that happened with Cisco as well.
The turnaround has started:
I mentioned in my latest Cisco article that Cisco's estimates have improved since the most recent report. Cisco reported better than expected fiscal Q3 results, and the company's fiscal Q4 guidance was better than expected. Estimates for fiscal Q4, which ends in July, have risen since that report. As a result, analysts have raised current fiscal year estimates and estimates for the next fiscal year (ending July 2015). You can view all current estimates here.
The turnaround is definitely underway, and we're close to hitting a key point. As you can see in the chart below, Cisco's next quarter (fiscal Q1 of 2015 ending in October 2014), is estimated to see flat year over year revenues. If Cisco continues its improvement, we could see a year over year rise in revenues for the first time in a year. This quarter is still expected to see a decline over the prior year period, although that decline is not expected to be as bad as the last two quarters. You can view all of Cisco's past results here.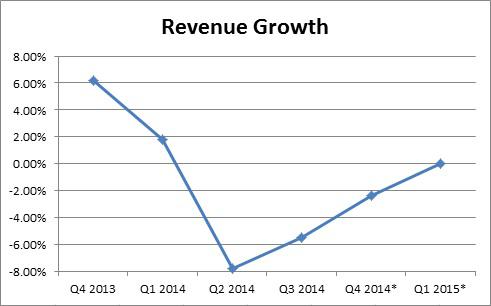 *Current analyst estimates.
Q2 of this fiscal year was certainly ugly, but things have improved since. Analysts are looking for 4.4% revenue growth in the next fiscal year, which means a continued acceleration of revenue growth into Q2 2015 and beyond. With analysts expecting flat revenues in Q1, that means that the other three quarters would see growth in revenues around 6% on average.
An update on short interest:
In recent weeks, Cisco's short interest was at new yearly highs. In fact, at the mid-May short interest update, Cisco's short interest was at its highest point since November 2012. However, Cisco's good report did chase some shorts away in the second half of May, as you can see in the chart below.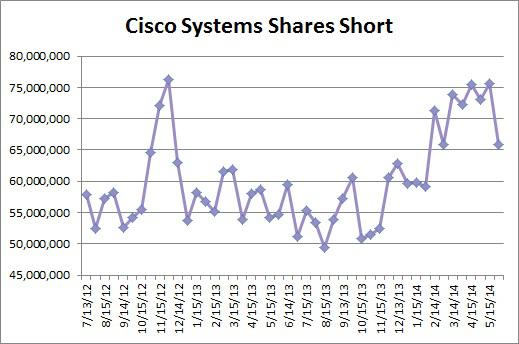 Short interest came down by more than 9.8 million shares, a decline of nearly 13%. The end of May short interest number for Cisco was the lowest number in four months. Cisco is not a highly shorted stock, with just about 65 million shares short and a float and outstanding share count above 5 billion. However, we had seen a huge percentage increase in short interest during this tough fiscal year, so it is good to see short interest finally retreat. You'd like to see another decline at the next update.
Final thoughts:
One of the items I've been detailing for Cisco in recent years is the potential retirement of CEO John Chambers. Recent rumors say that announcement could come later this year, and Chambers is approaching his 20-year anniversary as CEO. As Cisco's revenue turnaround continues, this might be the perfect time for a new leader. With a stock that's been very disappointing to many in the last decade, I wouldn't be surprised if shares pop on a retirement announcement. Cisco shares have been on a nice run in recent months, along with the rest of the market, so investors probably should wait until the next pullback before buying.
Disclosure: The author has no positions in any stocks mentioned, and no plans to initiate any positions within the next 72 hours. The author wrote this article themselves, and it expresses their own opinions. The author is not receiving compensation for it (other than from Seeking Alpha). The author has no business relationship with any company whose stock is mentioned in this article.
Additional disclosure: Investors are always reminded that before making any investment, you should do your own proper due diligence on any name directly or indirectly mentioned in this article. Investors should also consider seeking advice from a broker or financial adviser before making any investment decisions. Any material in this article should be considered general information, and not relied on as a formal investment recommendation.