For several months now, Sirius XM (NASDAQ:SIRI) has shown a declining short interest in the stock when NASDAQ reports this data every two weeks. Historically, Sirius XM has held a short interest of about 250 million to 350 million shares sold short. Those who follow the number, though, should have noticed a significant shift at the beginning of 2014. Sirius XM's short interest, on average, declined to the lowest levels I have seen since covering the stock.
The previous data point, 197 million shares sold short, was extremely low, especially considering the large number of shares outstanding of 6.03 billion. A little math shows that is only approximately 3.25% of outstanding shares sold short.
As you can see below, typical values for Sirius XM's short interest adjust by an average of 20 million shares or so every two weeks. The most recent data point, though, shows that shorts added to their positions by a whopping 111 million shares (rounded), which is nearly 2% of the outstanding shares. Furthermore, when considering shares not held by controlling majority holder Liberty Media (NASDAQ:LMCA), these shares sold short are about 4% of the total, and if one removes shares held by institutional investors, these shares sold short are about 8% of the total retail float. And that's just the increase. When considering the total shares sold short out of the retail float, short interest is approximately 22%.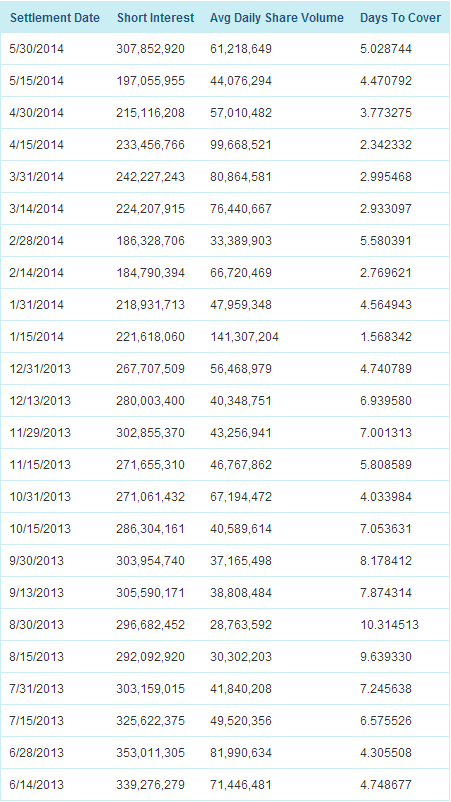 111 Million is certainly a significant increase when one also considers that the position was adjusted up by 56%. That's a considerable move in a 2-week period, noted in the white box below, that traded around 550 million total shares. Almost 20% of that entire volume was short activity.

Click to enlarge
As a long holder of Sirius XM, I can only hope that these shorts made a very big mistake at or near a bottom in the stock. Considering that the 50-day moving average shown by the yellow line above has been a winning short bet for almost 7 months now, it is possible that the line has served as a trap. On May 22nd, the share price broke through the 50-day moving average and has not looked back since. Today, the moving average is accelerating upwards, which should provide support going forward.
This may be due in part to Sirius XM's buyback program. Billions of dollars in shares will be repurchased under this program, and the company has been hitting the market fast and furious as the stock drags bargain levels near $3 per share.
What happens from here? I wouldn't be surprised to find that shorts have been trapped, assuming they have not already covered since May 28th. As I have said before, I welcome shorts because they are shares which must be purchased in the future, and 111 million of them which are underwater here present a good amount of buying pressure going forward. Coupled with Sirius XM's buyback program, this could catalyze a significant move up in the stock over the next 7 months, assuming those shorts are unhedged.
I fully expect that Sirius XM will retest its highs above $4 per share from October of last year within the next 7 months. I also have a $5 'sell' price target on the stock, which I have discussed at length in past articles. That's a 20% to 50% return potential over that period, and one which I feel offers low risk given the supportive nature of Sirius XM's buyback program.
Of course, nothing is a sure thing, and much of the stock's performance moving forward will be coupled with the company's performance. I see nothing on the horizon, though, that would cause the company to underperform relative to its own guidance and relative to street expectations.
The only wild card is the shares underlying the outstanding convertible bonds due in December of 2014. The position is quite large, and it is impossible to predict 6 months in advance what may or may not happen once the shares underlying the bonds are delivered to the note holders. Now is not the time to focus on this issue, but it's a good thing to keep in the back of one's mind, especially so for the traders.
In short, I see current pricing as quite favorable for purchasing Sirius XM. I maintain that a strategy of buying at or under the 50-day moving average is prudent for the long-term investor, and I'd suggest those who bought near $3 per share recently continue to hold despite a 10%+ paper gain. More should be forthcoming.
Disclosure: The author is long SIRI. The author wrote this article themselves, and it expresses their own opinions. The author is not receiving compensation for it (other than from Seeking Alpha). The author has no business relationship with any company whose stock is mentioned in this article.
Additional disclosure: I am long SIRI January 2014 $2.50, $3 and $3.50 calls. I am long SIRI June 21 $3 calls.