Though the highlight of the week on Wall Street has likely already passed–the latest Fed commentary had the attention of investors around the world–the next few days may provide some insight as to the strength of the recovery here in the U.S. For the time being, markets remain volatile and more susceptible to shifts that come along with economic indicators, such as government data or earnings reports. Though it is not officially earnings season, some companies will be reporting this week, including a few bellwethers that could shed light on the outlook for their respective industries.
Today General Mills Inc. (NYSE:GIS) is set to report its first quarter 2011 earnings prior to market open. General Mills is best known as the maker of Cheerios cereal and Yoplait yogurt, as well as other foods. Despite the weak economy in recent months, the company has turned in a strong performance, with its sales volume growing last quarter. Analysts have estimated the company to haul in EPS of $0.63 per share on revenues of $3.59 billion. Though this earnings estimate is lower than the previous Q1, the revenue growth that the company is expected to report could help boost investor confidence.
With this earnings report on tap, the PowerShares Dynamic Food & Beverage (NYSEARCA:PBJ) figures to be active in Wednesday trading. General Mills accounts for nearly 5% of this ETF, along with other big name food producers like Kellogg (NYSE:K), Campbell Soup (NYSE:CPB), and McDonald's (NYSE:MCD). This U.S.-focused ETF has gained an impressive 15% this year, making it one of the few bright spots in the U.S market. The report from General Mills could also include some commentary on the food industry as a whole, creating high potential for this ETF to move actively during trading today.
If the report from General Mills comes in light, it may mean the food industry is struggling to stay afloat during these tough times, which could send the fund down. But if the report comes in as expected, with the high revenue growth, the individual securities of PBJ may all feel a little weight off its shoulders with a brighter outlook on the horizon.
click to enlarge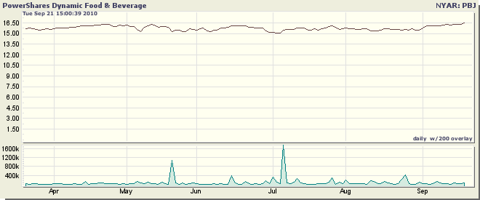 Click to enlarge
Disclosure: No positions at time of writing.
Disclaimer: ETF Database is not an investment advisor, and any content published by ETF Database does not constitute individual investment advice. The opinions offered herein are not personalized recommendations to buy, sell or hold securities. From time to time, issuers of exchange-traded products mentioned herein may place paid advertisements with ETF Database. All content on ETF Database is produced independently of any advertising relationships.