Molycorp Inc's (MCP) 1Q 2014 earnings report disappointed again, with a net loss to shareholders of $88 million and cash out flows of $78 million. The company has kept itself afloat via two capital raises in the past 18 months. After 1Q results left Molycorp less than a year away from potentially running out of cash, a third capital raise was not out of the question. Below are some high level cash flow projections for the company: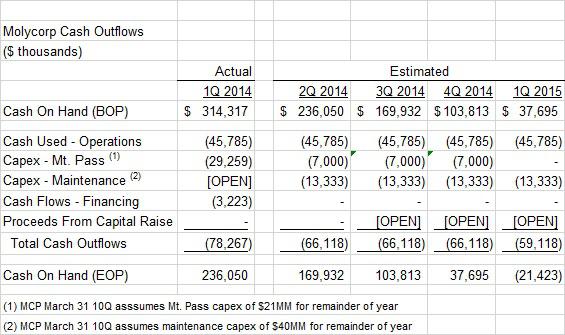 Molycorp generated cash outflows of $78 million in 1Q 2014, leaving the company with cash on hand of $236 million.
Cash used from operations includes interest expense of approximately $35 million recorded on long-term debt.
Projections assume cash used in operations of $46 million do not improve or worsen.
Maintenance capex is $13 million per quarter. Capex for Mountain Pass is $21 million for the rest of 2014, and $0 thereafter.
Molycorp Fans In Denial
In the article, Molycorp's Long Term Debt Does Not Reflect Bankruptcy Risk, I may have even used the term "bankruptcy" to describe Molycorp's predicament.
Based on these high level projections, Molycorp will run out of cash in 1Q 2015. The company will not be able to pay interest on its long-term indebtedness, let alone principal ... Molycorp will essentially be bankrupt in 1Q 2015, unless it raises capital beforehand. Sans an equity raise, the bonds will most likely go into default this year.
If nothing else, the company does have a loyal fan base. One commenter on the article, denied the need for an equity raise and implied that cash flows could turn positive by the second half of 2014:
We don't know that [Molycorp needs new capital]. They may or they may not. They have to improve the operational results. If they do what you assume, they won't. I make the opposite assumption, that the results will progressively get better (although Q2 is likely to be awful). The bonds don't reward investors in a bankruptcy event. They do however, reward investors quite well in a survival and repayment event.
Battening Down The Hatches?
However, I believe the recent actions of management suggest otherwise. In its May 13, 2014 proxy statement, Molycorp requested approval from shareholders to increase the number of authorized shares by 350 million.
Our Board has approved and recommended that our stockholders approve an amendment to our A&R Certificate of Incorporation to increase the number of authorized shares of common stock from 350,000,000 to 700,000,000, which will result in an increase in the total number of authorized shares of capital stock from 355,000,000 to 705,000,000. Currently, we have 350,000,000 authorized shares of common stock. As of May 1, 2014, there were 244,712,409 shares of common stock issued and outstanding and 130,711 shares of common stock held as treasury shares ... we also had 78,694,459 shares of common stock reserved for future issuance ...
Management believes the additional shares will give the company flexibility for future actions such as mergers and acquisitions, stock splits or dividends. Shareholders will vote on the request at the annual shareholders meeting on June 25, 2014. This may be Molycorp's attempt to batten down the hatches amid cash out flows that may continue unabated in the near term. In my opinion, the company will need to raise an additional $250 - $260 million in fresh capital.
Here is how I derived those figures:
I think the company can operate comfortably with cash on hand that is equivalent to six quarters worth of cash outflows.
According to the above projections, Molycorp's run-rate or "normalized" out flows are approximately $59 million (reflected in Q1 2015).
Six months of such out flows equates to about $360 million of cash on hand.
Assuming Molycorp raises capital at the end of 3Q 2014, it would have cash on hand of about $103 million prior to the raise. Thus, it would need somewhere around $250 - $260 million in fresh capital to help weather the storm.
The company's shares currently trade at $2.81/share, so 350 million new shares would be more than enough to fund the company's capital needs over the near term.
Conclusion
I believe Molycorp will potentially run out cash and/or default on its outstanding debt by 1Q 2015. I also believe a dilutive event is imminent. Management's recent request to issue 350 million new shares emboldens my assumption. That said, I rate the stock a sell.
Disclosure: The author is short MCP. The author wrote this article themselves, and it expresses their own opinions. The author is not receiving compensation for it (other than from Seeking Alpha). The author has no business relationship with any company whose stock is mentioned in this article.