Linn Energy (LINE) and its sister stock LinnCo (LNCO) have been among the more volatile of the upstream MLP stocks I follow. While most of its issues have been unrelated to the underlying fundamentals or performance of the company, Linn Energy has had a few misplays, especially in regards with its Berry merger and the dubious amounts of accretion resulting from the transaction. However, Linn Energy's biggest issue, its weak DCF coverage ratio, has been solved, resulting in a much needed respite for the stock.
Linn Energy asset swap with Exxon could provide up to 10% upside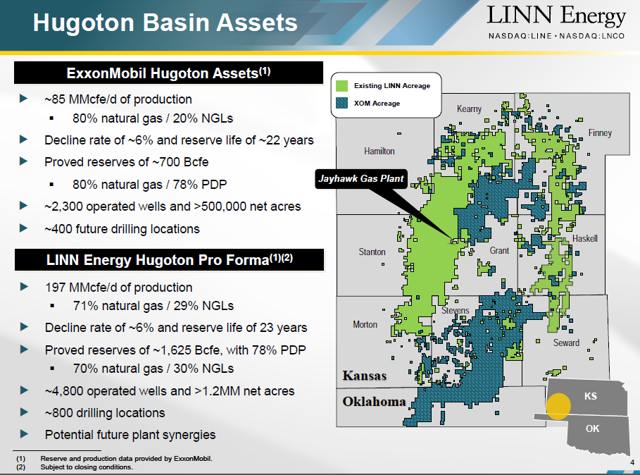 As I hinted at in the intro, Linn Energy solved a major short-term problem with its announced asset swap with Exxon Mobil (NYSE:XOM). Opinions are mixed as to who got the better deal. However, while Linn Energy clearly gave up some long-term upside, its short to medium term DCF problems were resolved.
In exchange for 25,000 net acres of its Permian Wolfcamp holdings, 2,000 BOE/D of associated production and 1,000 net acres in New Mexico, Linn Energy will be getting from Exxon natural gas production of around 85,000 MCFE/D in the Hugoton Field. Do note that Linn Energy still has around 29,700 net acres remaining for a possible trade/sale with another company.
Linn Energy rationale for the transaction was simple -- it needed to lower its capital intensity. The Permian assets were simply too expensive (horizontally drilling) for it to develop while still paying out its large distribution.
In contrast, the acquired assets are a near perfect fit for Linn Energy's business model. They have a low 6% decline rate compared to the 35% rate for the Permian assets, have negligible maintenance capex requirements, and will allow the company to add volumes to its Jayhawk gas plant.
As a result, Linn Energy will be better off after the Permian transactions. According to a recent JPMorgan report, these deals could boost Linn Energy's valuation up to $33 per unit, or 10% above the current price of $30 per unit.
Linn Energy appears to be cheap compared to its upstream MLP peers
Finally, let us discuss how Linn Energy's valuation fares when compared to its upstream peers.
Last month I wrote an article on this very subject. I will be using the price to TTM distributable cash flow ratio, or simply P/DCF, for this analysis. Do note that this is a non-GAAP metric and its definition varies from company to company.
| | | | |
| --- | --- | --- | --- |
|   | May 20 | June 11 | Change |
| LINE | 9.53x | 10.18x | +0.65 |
| (NYSE:QRE) | 8.85x | 8.79x | -0.06 |
| (BBEP) | 9.63x | 10.01x | +0.38 |
| (NASDAQ:MEMP) | 10.56x | 10.82x | +0.26 |
| (NYSE:VNR) | 12.66x | 12.73x | +0.07 |
As shown, Linn Energy has seen its valuation improve quite a bit since my last article. However, besides for QRE which has its own issues, a wider trend of higher multiples seems to be occurring for the upstream MLP sector. This may indicate that the market is taking on more risk in a search for yield.
Conclusion
Linn Energy seems to have finally recovered from the volatility it saw at the start of the year. While still down about 2.50% YTD, the stock has rallied 6% in the past month or so.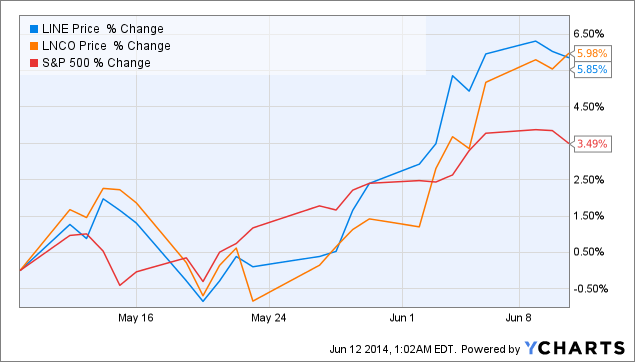 With its near 10% yield, paid monthly, Linn Energy is an obvious pick for those looking for income. In addition, the stock does not look to be too expensive compared to its peers.
Disclaimer: The opinions in this article are for informational purposes only and should not be construed as a recommendation to buy or sell the stocks mentioned. Please do your own due diligence before making any investment decision.
Disclosure: The author is long QRE, VNR, MEMP. The author wrote this article themselves, and it expresses their own opinions. The author is not receiving compensation for it (other than from Seeking Alpha). The author has no business relationship with any company whose stock is mentioned in this article.