Austria's country-related ETF may benefit from a better-than-expected economic forecast for the year as exports help boost the country's recovery.
The International Monetary Fund (IMF) projects the Austrian economy to expand by 1.5% for 2010 and 1.6% for 2011, reports Flemming E. Hansen for NASDAQ. The IMF also mentioned that growth won't return to pre-global crisis levels for the medium-term outlook.
Austria was also cautioned to reduce spending so as to diminish its budget deficit. The IMF estimates slightly higher budget deficits of 4.1% in 2010 and 4.8% for 2011 as compared to the Austrian government.

The OECD Secretary-General Angel Gurrar commented that Austria should enact structural reforms in its product and labor markets to improve long-term growth and raise per capita income, remarking that "Austria should build on the reforms already under way to create a more entrepreneurial, competitive environment to help business drive growth," according to Voxy. By making the reforms, Austria may increase the efficiency of firms operating across the Lnder.

The producer price inflation jumped to 4.2% year-over-year in July from 3.5% in June, which was mainly attributed to a 6.6% rise for intermediate goods industries and a 6.8% increase in energy prices, according to RTTNews.
iShares MSCI Austria (NYSEArca: EWO) is up 9.4% in the last three months
click to enlarge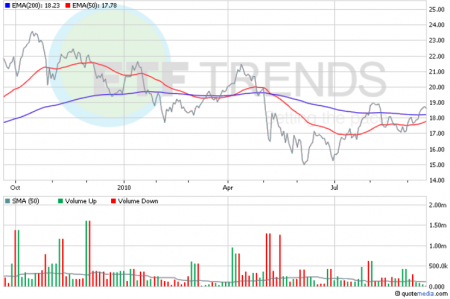 Max Chen contributed to this article.
Disclosure: None