The S&P 500 (NYSEARCA:SPY) is up 185% since troughing in March 2009 and it has been almost 3 years since the market experienced a 10% correction. As shown in the chart below, each of the major rallies over the past 15 years have been followed by a significant correction.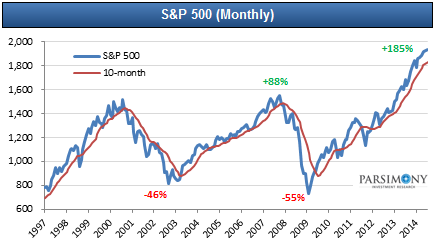 Is a Correction Really Coming In 2014?
Most folks define a correction as a stock market decline of 10% or more and we haven't seen one in quite awhile. In fact, it has now been almost 3 years since the last 10% pullback. Historically, market corrections happen approximately every 2 years on average, but the million dollar question is… will we finally see one in 2014?
Even though the correction bandwagon seems to get louder every day, there have been much larger correction droughts historically. Since 1928, there have been 5 periods with correction gaps that were longer than the one that we are currently in. The record drought was 1,767 market days (from October 1990 to October 1997) and the second largest drought was 1,153 days (from March 2003 to October 2007), both of which occurred in the last 25 years. Basically, this tells us that a market correction won't necessarily be a self-fulfilling prophecy and that we shouldn't be surprised if stocks continues to chug along in 2014.
But what about current valuations? The S&P 500 is currently trading around 19 times trailing earnings (vs. an average multiple of 15.5x since 1871)! Again, history is littered with examples where above average P/E multiples were sustained for prolonged periods of time. In fact, during the last bull run (2003-2007), stocks spent more than a year trading north of 20 times earnings.
Bottom line is that none of us know when (or if) a correction will occur in 2014 and the best we can do is stick to our investment plan. We recently wrote some articles highlighting several option strategies that will protect your capital if a major correction occurs.
This article digs deeper into the process of establishing "Buy Zones" and Watch Lists.
Which Stocks Should You Add To Your List?
As many of you know, our core investment strategy is centered around buying high-quality stocks at good prices. We use a combination of fundamental and technical analysis to determine which stocks to buy and when to buy them (learn more about our ratings methodology).
We created our ranking system to help us find the best dividend stocks. If you rank all of the stocks in a universe against their peers on a consistent basis, it becomes clear which companies are the strongest and which offer the best investment opportunities going forward.
We have written several popular series over the past month that have highlighted some stable, high-quality dividend stocks to keep on your radar:
While these lists are by no means exhaustive (there are literally hundreds of decent candidates out there), it should give you a great start on your diligence.
Establishing a "Buy Zone"
Just because a stock has a high rating in our system, it doesn't necessarily mean that you should run out and purchase it that day. Once we have decided that we want to purchase a particular stock, we look for a low-risk entry point to open the position. We call these entry points our "Buy Zones" and they are points at which long-term dividend investors should feel comfortable starting to build a position in the respective stocks. We focus on four key levels of support when determining a "Buy Zone":
Technical - Support from short and long-term trend lines (i.e., 10-week and 40-week moving average).
Volatility - Target correction levels based on historical volatility and maximum draw down.
Valuation - Support levels based on historical valuation multiple.
Yield - Support levels based on forward dividend yield.
We then average the low end and the high end of these key support levels to determine our target "Buy Zone". In other words, we use fundamentals to decide WHICH stocks to buy and we use a combination of technicals and valuation to determine WHEN to buy those stocks.
It should be noted that this is how we determine our "Buy Zones", but there are no right or wrong answers here. We encourage investors to think hard about the key levels of support for their own stocks. What is the valuation level that you would feel comfortable buying a certain stock? What yield level makes sense for you? Also, you may want to add different parameters that fit your investment style better. The key takeaway here is that you establish a consistent process for determining a "Buy Zone".
Below are a few examples to give you a better idea about how we determine our "Buy Zones".
Apple Inc. (NASDAQ:AAPL)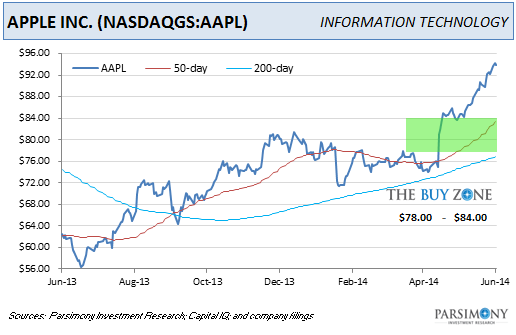 Apple currently trades 11.7% above its Buy Zone. Ideally, we would like to purchase the stock under $84.00 (which would equate to a forward P/E ratio around 13.0x and a forward yield above 2.25%).
General Electric (NYSE:GE)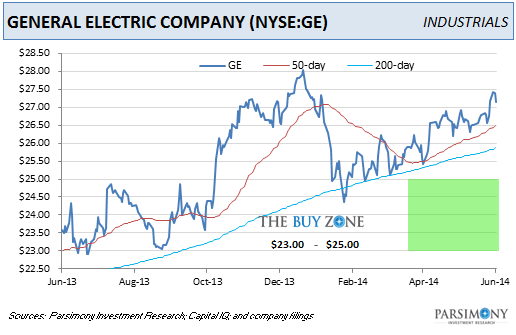 GE currently trades 8.6% above its Buy Zone. Ideally, we would like to purchase the stock under $25.00 (which would equate to a forward P/E ratio around 15.0x and a forward yield above 3.5%).
McDonald's (NYSE:MCD)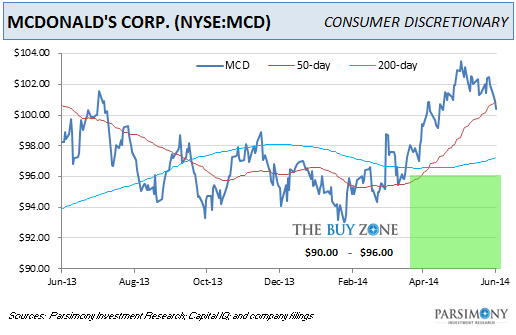 MCD currently trades 4.6% above its Buy Zone. Ideally, we would like to purchase the stock under $96.00 (which would equate to a forward P/E ratio under 17.0x and a forward yield above 3.3%).
Procter & Gamble (NYSE:PG)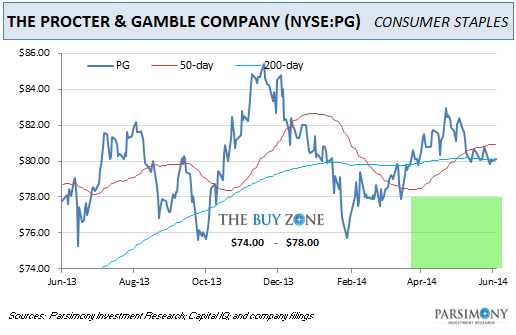 P&G currently trades 2.6% above its Buy Zone. Ideally, we would like to purchase the stock under $78.00 (which would equate to a forward P/E ratio under 19.0x and a forward yield above 3.3%).
Buying Strategies For A Pullback
Chasing stocks higher during a market rally is an easy trap to fall into if you don't establish a long-term buying strategy. There's certainly no harm in taking a few nibbles during a rally since none of us have a crystal ball (and stocks could always go higher). That said, patiently waiting for a low-risk entry point for a given stock will drastically improve your long-term investment results.
Our buying strategy has three key components:
Establish a "Buy Zone" for each stock - As discussed above, our ultimate goal is to buy quality stocks at good prices. Establishing a "Buy Zone" helps us stay disciplined.
Keep a "Watch List" close at hand - We maintain a master Buy Zone Watch List that we use to track all the stocks that we would like to own and at what price. In our opinion, this is the best way to stay on top of potential buying opportunities.
Buy in stages - We prefer to "leg" into our positions and we never buy a full position at once. Since we know we can't time the market, we always like to save some dry powder in case the stock drops further.
Summary
A healthy pullback is a great thing for the markets. In fact, a correction is the best time to take advantage of great stocks that are "on sale". In our opinion, the best way to prepare for a market correction is to make sure you have a list of stocks you want to buy as well as the price you want to buy them. If you have properly diligenced these stocks (and Buy Zone prices), you'll be prepared to "buy the dip" when it eventually happens.
Note that we just started our DIY Dividend Investors Club series which is dedicated to the open discussion and analysis of building and managing a long-term dividend portfolio. The goal of the series is to build a dividend portfolio "watchlist" by sector (based on the 9 major sectors in the S&P 500 as well as alternative sectors like MLPs, REITs and BDCs).
Please make sure to "follow" us so that you will be notified when each new article is published.
Disclosure: The author is long AAPL, MCD, PG. The author wrote this article themselves, and it expresses their own opinions. The author is not receiving compensation for it (other than from Seeking Alpha). The author has no business relationship with any company whose stock is mentioned in this article.