Just about eight months ago I posted my extremely bullish thesis on Micron Technology (NASDAQ:MU) and repeatedly suggested that the chip maker should be able to reach $30 in terms of stock price. Fast forward a couple of months and Micron already crushed my $30 price target because of a sell-side analyst endorsement.
Not too long ago I argued that Micron has an intrinsic value of $29-33 per share and I aggressively pushed for Micron when the stock sold off sharply in April (Yes, Micron was trading at $22 just two months ago). With my operating cash flow estimate of $5.00 per share for the current fiscal year and a full-year core free cash estimate of around $3.30 per share, Micron remains fundamentally undervalued. Micron's operating and free cash flow development since 2005 can be seen below.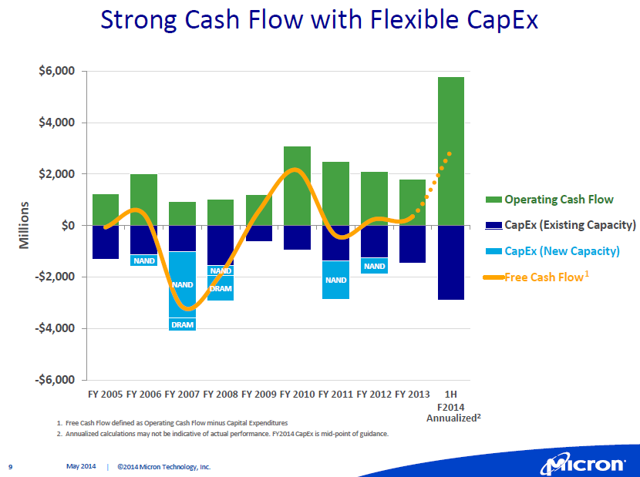 Click to enlarge
(Source: Micron Technology, Inc. Bank of America Merrill Lynch Global Technology Conference June 3, 2014)
Market corrections, more often than not, lead to fabulous purchase opportunities. While I still stand by my assertion, that Micron, based on my conservative cash flow estimates, has an intrinsic value in the $30s, I'll have to say that it makes me increasingly uncomfortable, that analysts continue to jump on the Micron bandwagon.
Of course, Micron was a 'get it and forget it story' in 2013, but the stock has moved gradually into the spotlight after David Einhorn, founder and hedge fund manager at Greenlight Capital, announced that he built up a position in Micron last year. While a lot of attention is clearly good for Micron's short-term stock price, Micron now has pretty much become a crowded trade. And the fact, that analysts now seem to love Micron even though they couldn't stay farther away from the company just a few months ago, only makes it worse.
Don't get me wrong. Micron is a great growth story and my investment thesis still rests on above-average free cash flow growth due to its acquisition of Elpida and because of an improving DRAM pricing environment thanks to industry and supply consolidation.
Yesterday it was reported that Bank of America/Merrill Lynch upgraded Micron by two notches to Buy and updated its price target from $22 to $40 in a remarkable turnaround. Not only is the change in rating, from Underperform to Buy, astonishing, but also the nearly 100% increase in Micron's target price. The analyst, who was bearish about Micron and denounced the bullish consensus just three months ago, now wrote:
We upgrade our rating on Micron from Underperform to Buy with a new PO of $40.0 (FY15E implied P/E 14x, PBR 3.1x). The stock has already moved up strongly (up 33% YTD) but we think further upside will occur. In our view, key catalysts are solid chip pricing environment (tight supply) and cost competitiveness.

Our EPS revisions for FY15-16E are c.50% on average at higher/lower ASP/cost. We also expect dividend payment from FY15-end. Lower cyclical risk and higher shareholder return lead to bigger EVA (WACC down vs ROE up); clearly a different cycle.
This is quite a remarkable turnaround in opinion (and price target) and only deepens my suspicion of Wall Street institutions. Such a fundamental change in opinion is not something to be taken lightly and I am reaffirmed in my belief, that investors listening to Wall Street get terrible advice indeed -- on average.
However, the endorsement of Micron by Jim Cramer is even worse. Jim Cramer, former hedge fund manager turned TV personality, runs the hit show Mad Money on CNBC. When it comes to my investments, I actually like my stock to stay out of the headlines (especially positive ones) simply because it will attract the wrong crowds -- the short-term speculators, the traders and the Jim Cramer groupies who are only in for a quick buck.
Jim Cramer dedicated some time yesterday to Micron speaking about "an explosion in earnings" among other things (you can check out the video segment here). As said above, Jim Cramer and his fans are probably the last ones I'd like to invest alongside with. The time has come to be at least cautious.
Chart situation
Micron's chart clearly looks fantastic. Over the last twelve months Micron has gained more than 148% and returned about 43% YTD. As a consequence of increased buyer interest and optimistic sell-side price targets, Micron's stock edged from one 52-week high to the next over the last year.
With the Relative Strength Index standing at 76, Micron appears to be slightly overbought at the moment and I wouldn't be too surprised if the stock falls back to the $28 level.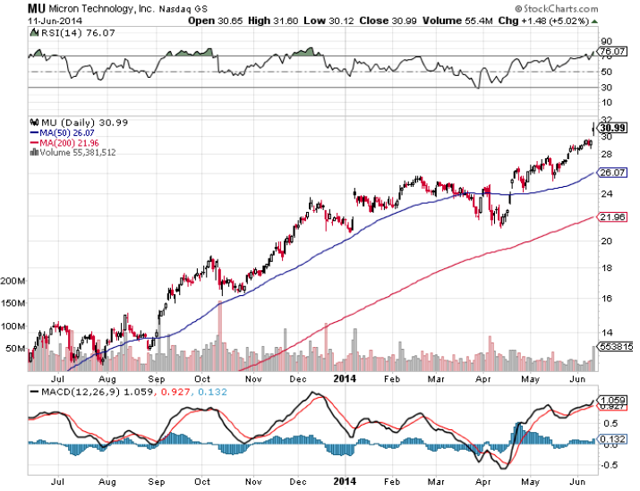 Click to enlarge
(Source: StockCharts.com)
Final assessment
As said above, Micron still trades cheaply on a cash flow basis. With an estimated full-year core free cash flow of $3.30, Micron now trades at roughly nine times core free cash flow or about ten to eleven times earnings. Those multiples do not indicate, that Micron is overvalued at the moment. However, I am getting increasingly uncomfortable with the optimism and lofty price targets of sell-side analysts and especially with Jim Cramer beating the Micron drum. My investing experience has shown, that investors should be very, very careful when the sell-side becomes optimistic very abruptly. Though Micron remains undervalued from a relative point of view, it clearly is time to take and protect some handsome profits.
Disclosure: The author is long MU. The author wrote this article themselves, and it expresses their own opinions. The author is not receiving compensation for it (other than from Seeking Alpha). The author has no business relationship with any company whose stock is mentioned in this article.